In the past few weeks, California has experienced a series of rain storms, which has brought much needed precipitation to our dry (and thirsty!) state after years of drought. We are grateful to patrons who have reached out to us as news of the storms travelled across the country.
Here in Alexander Valley, the rainfall has been consistent with about one inch per day – some days heavier and some days lighter. That balance has allowed the waterways respite after a bountiful day, so we have been lucky not to experience expansive flooding or extreme damage. We closely monitor the Alexander Valley bridge heading into Healdsburg, and it has not been closed, yet. We are thinking of our fellow Californians in other areas that have been hit harder by the storms.
It has been unusual to have such consistent rain for us these past years, so it has become a topic of conversation during our 10 am Break. ("How was your commute?" "Did you hear that thunder!?" "It's nice to see some blue sky today.") We compare potential rain accumulation and share our favorite weather resources. (I've listed those below.)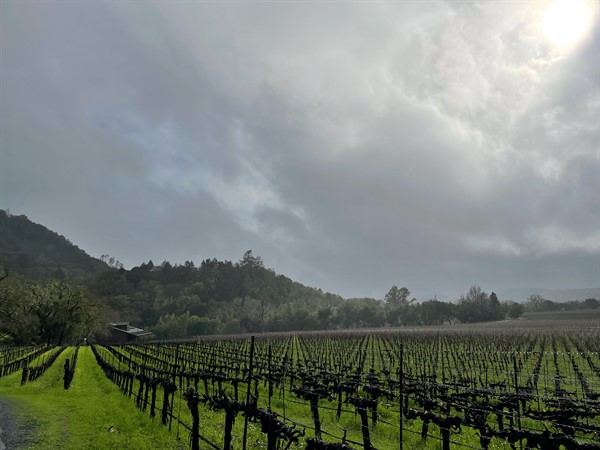 I thought it might be interesting to interview Winemaker Parke Hafner (aka Dad) and Vineyard Manager Dave Huebel for their perspectives on the impact of the rain on our vineyards and ranch.
How much rain have we received?
Parke: We've received 15" since January 1, about one inch per day. That's about one third of our annual rainfall. I'm glad that we have the new electronic rain gauge, so I don't have to run outside in the rain and dump the rain gauge like we used to.
We knew the rain was coming. How did we prepare?
Dave: We set up waddles to protect against erosion. Those seem to be holding. I have added a few since the rain started in problematic areas. We also plant a cover crop annually which among other things helps to mitigate erosion in the vineyard.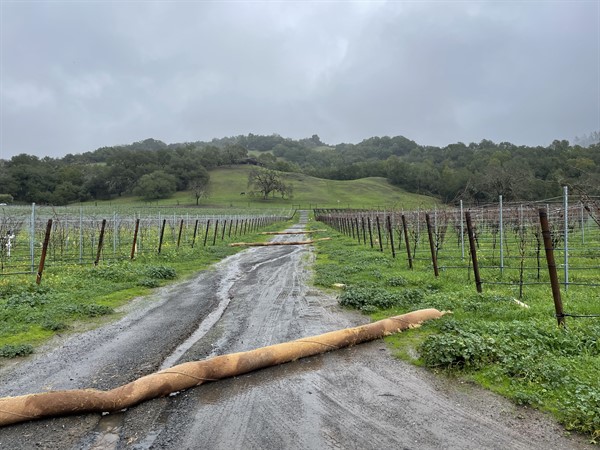 How has the ranch absorbed all the rain?
Parke: So far so good. Dave and I check the small stream that runs along the hillside near the winery and clear any debris. Sausal Creek that hugs the edge of the vineyard has not gotten up to flood levels thanks to the steady rain. Unfortunately, we've had two beautiful oak trees fall. 

What is the impact of rain on vineyard?
Parke: We cannot prune in the vineyard, so we will be behind. We've had a couple days free of rain, so the team is out there trying to catch up. The rain is replenishing our groundwater aquifers which we are grateful for. The vines are dormant, so there's no root activity and thus the occasional standing water in the vineyard is fine.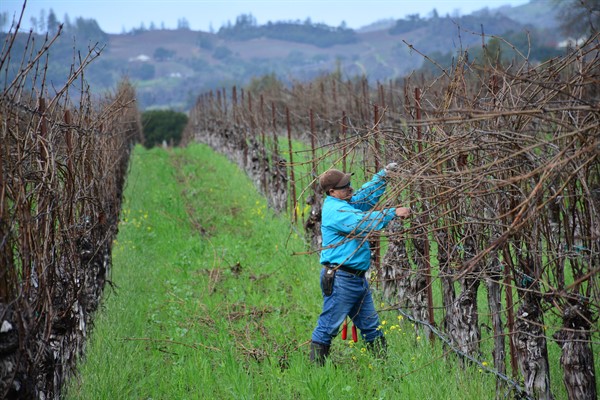 What happens if vines are in water for too long?
Dave: Generally nothing. It can cause a problem if significant standing water continues into the growing season. If it does, the vines can get "wet feet" caused by lack of oxygen to the roots. We have a small area of the vineyard that has more clay in the soil, which holds the water. It's rather unusual but I have seen some nutrient deficiency and weak grow in that section, but it needs to be very water logged. I have no concerns right now.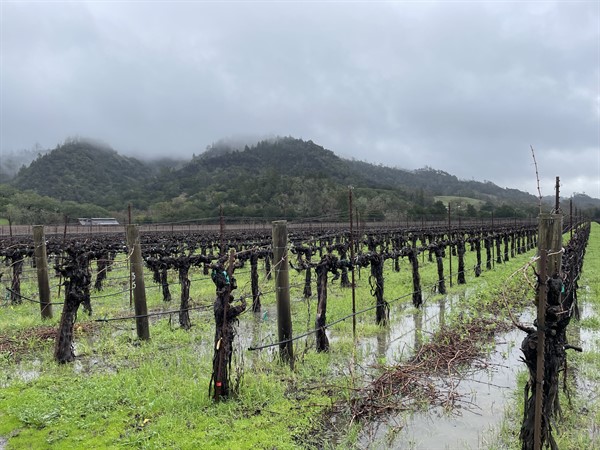 Is there a point at which you hope the rain stops?
Dave: If Mother Nature cooperates perfectly, I'd like the rain to stop mid-February then have some mild/sunny weather into March. The soil would dry a bit, allowing us to enter the vineyard with tractors, so we could mow and use our under-vine cultivator to cut the weeds since we don't use herbicides.
In receiving a lot of rain now, is there any impact for the future years of vine growth?
Dave: If vines have adequate resources during Bloom, it provides a better overall health of the vine and potential production. On the vine now, there are the buds that will yield the fruit for 2023 and within those buds also the potential canopy for 2024. So, yes, this rain should in theory help for this year and next year.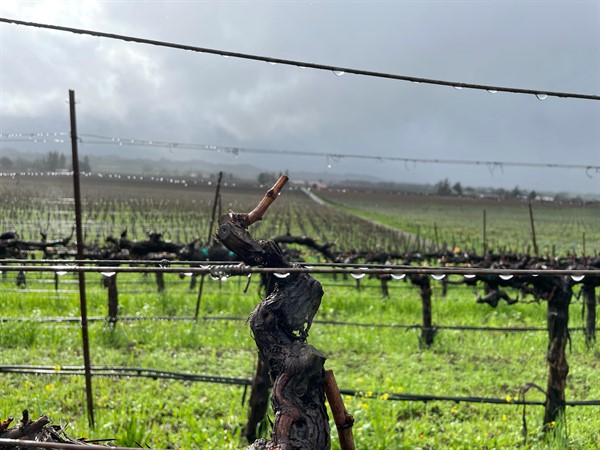 What happens if this is all the rain we get?
Dave: At this point, we have plenty of water to get us through this year and that gives me a sense of relief.
After the years of drought and anxiously awaiting rain that didn't come, we welcome the sound on our roofs, the luscious green hillsides, the birds happily chirping during a moment of dry weather, the rushing creeks, the joy of jumping in a puddle and the comfort in knowing that plants, trees and soil are nourished. With the consistent rain, we are reminded of the awesome power of nature.
Resources
California Drought Monitor 
Reservoir Water Levels 
PG&E Outage Map
Sierra Nevada's Snowpack
Snowpack Levels by Location 
Dave's 3 Favorite Forecasts:
Western Weather Group – farming focused forecast (Our closest station is Jimtown NE - Red Fan.)
Weather Channel – future forecasting radar map (quick extended forecast)
"The Forecast Discussion" on National Weather Service – for a detailed picture