Name: Scott Hafner
Number of years at Hafner Vineyard: Since 1967…age 9. In training for thirteen more years, full time beginning age 22.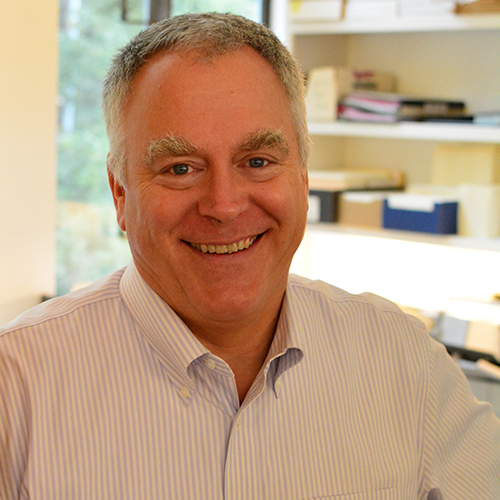 Department/Role: Marketing/Administration/Finance/Delivery mainly, and Production Assistant when Parke is really hard up
What's something most people don't know about you? The best part: very happily married for 39 years to Bill Glenn (pictured here)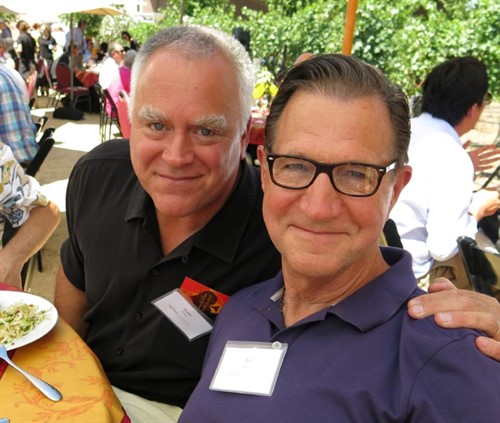 Where did you grow up? In Berkeley but still a work in progress
Favorite local restaurant: Sonoma County has many, many great restaurants but I do have a weakness for Central Market in Petaluma, mainly because chef Tony just loves feeding people, and he is so good at it.
What's your perfect weekend day look like? Up early (our Airedale, Sophie, usually wants to stretch her legs and run the fence line by 6 am), leisurely breakfast and newspaper, off to Peet's for another cup of coffee and then the Farmer's Market, followed by errands and shopping for the week at Oliver's, then home for lunch with Bill on the terrace. On Saturday afternoon, Dad and I run errands in Healdsburg and visit a couple of his friends and catch up (now from a safe distance…in the driveway outside their homes). Because of COVID, this is often the only time of the week he is able to get out, take a drive and see the beauty of northern Sonoma County. This usually includes getting a coffee (for me) and a mocha (for Dad) at the Flying Goat. Then back to his house for dinner.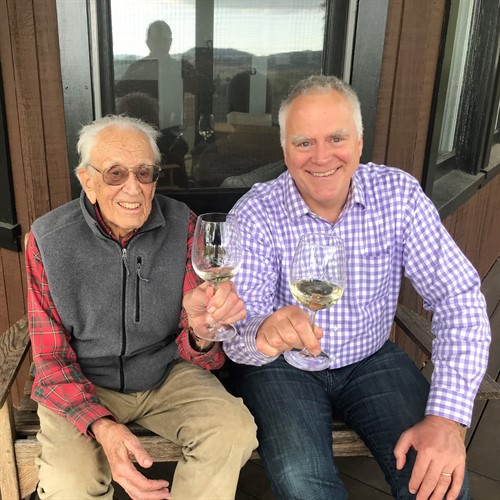 How else do you spend your free time? Hiking at one of Sonoma County's really incredible parks (Riverfront is my favorite) or going to the gym (in the olden days) or watching Scandinavian or English police procedurals in the evenings on NetFlix with Bill.
Favorite Hafner wine (yes, just one!): Older Cabernets all year or Rosé when it is available.
What's the best part of being part of the Hafner Vineyard team? The people. Working with fun, committed, creative, dedicated, kind, thoughtful people.
Question I added: what's the best part of working at Hafner Vineyard? The patrons. So many wonderful people and hundreds of conversations with them over four decades. And the deep honor of our wine and business being intertwined with their families. I look forward to these interactions every day.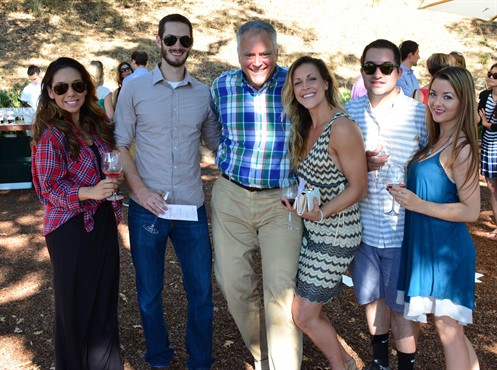 What's the most exciting time of the year at Hafner Vineyard? For me, it is the month of February. We bring in over a third of our gross income during the shortest month of the year. You can tell I am in the Finance Department!
What's the best part of living in Sonoma County? Towering redwoods, gentle mountains, crashing surf…and the ever-present breeze.
Personal motto or saying that you live by: Kindness is not overrated. And we are all accountable.

Favorite day of the year: Any day having a glass of wine with Dad in the evening on his porch, overlooking the vineyard and what he and Mom created and enjoying the quiet, gentle beauty of Alexander Valley.
What's a memory of when you started working at Hafner Vineyard? Delivering wine with Mom when we first started out. Driving throughout the SF Bay Area, delivering wine to people's homes. Sometimes in September when the Chardonnay was released, we would deliver over 120 cases in a single day. There was always laughter and stories, driving instructions (from Mom), a wonderful lunch for me (from Mom), a deep sense of accomplishment (for both of us).