August 25, 2020 at 4 pm
This will be our last entry (I hope) for this fire and hopefully the rest of 2020.  
Firefighters continued to make great progress on the Walbridge Fire. It is now 17% contained. Fog rolled in this morning, giving us all a breath of fresh air. As the fog rolled out, the smoke hung low across our area. More evacuation orders have been lifted, while a few still remain.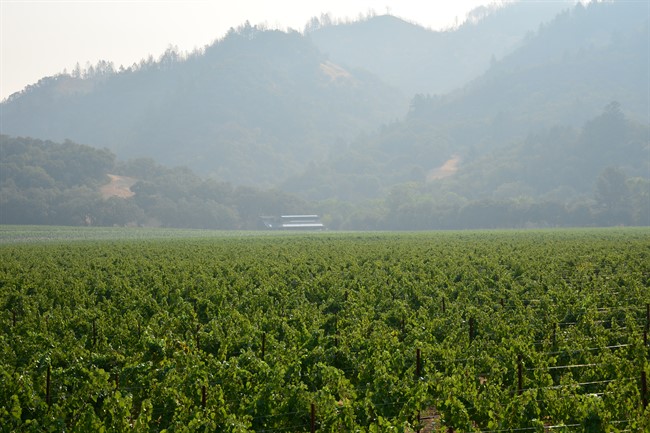 Our local newspaper, the Press Democrat, has done a thorough job reporting on the fire. Here are few interesting articles:
While we breath a sigh of relief that most of the immediate danger has been diminished, we now begin to realize the impact that the fire has had on our communities. This year has been challenging for everyone with COVID-19 and adding the loss of a home, business, or worse, a life, is devastating. It seems that these fires are an annual activity here, and our community always pulls together to support one another. We will continue to do that, but the support that you send from afar means a great deal to us. Your emails and calls (and toasts of Sonoma or Napa wine) lift our collective community. Thank you. 
We are deeply grateful to the men and women who put their lives on the line each and every day to protect all of us. "Thank you" does not seem to fully encompass our gratitude. They are the true heroes. 
Now, I hope that I will not be called upon for another "Fire Update" blog to be written in 2020 (or even better, for many years to come). 
August 24, 2020 at 3 pm
Predicted erratic winds and dry lightning storms did not transpire over night as we anticipated. That allowed firefighters to strengthen the lines by bulldozers and hand crews. The Walbridge Fire grew by 2,000 acres and is still 5% contained. The LNU Complex is now 350,030 acres. Since August 15th, 2020, more than 1.4 million acres have been burned in California which is roughly the size of Delaware.
Today, the smoke is thick and so the planes cannot fly, but fortunately the winds are calm for now. The National Weather Service cancelled the Red Flag Warning for the rest of the day, which lets us all breathe a little sigh of relief. Reports from Armstrong Woods (home to ancient redwood forests) have been positive. It sounds as though the fire is burning underbrush which is a natural occurrence in forests and benefits the redwoods. We remain optimistic for today. The fire is still miles from Hafner Vineyard and has not reached the floor of Dry Creek Valley.
Patching together information about any fire is exhausting and overwhelming. There's an abundance of information and yet it is not always accurate for that moment. (This is probably similar to most natural disasters.) Luckily for us, Grace Hafner (my younger sister) is an avid internet sleuth when it comes to fire reporting. From her home in Bordeaux (we call it "The Bordeaux Control Center" in our family texts), she combs the internet for information about the fire's progression. (She's done this for the 2017 Firestorms and 2019 Kincade Fire.) Knowing that she has her eye on it allows us to focus on our immediate situation and in this year, that situation is Chardonnay Harvest! Grace spends hours patrolling the internet, but luckily for her, she had a little taste of home while doing so. No not Hafner wine, but Sonoma County Lagunitas beer!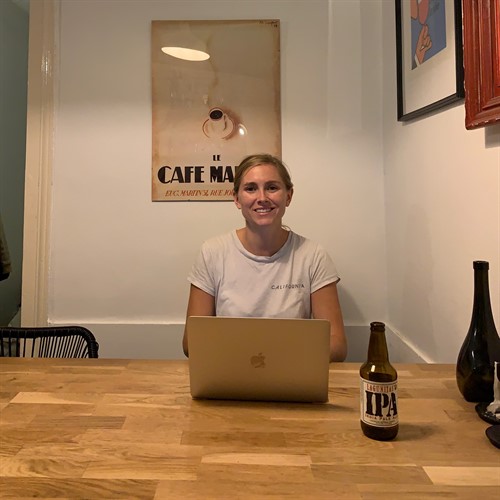 Grace's strategy is simple and focused: get information…and lots of it! Easier said than done. Here is her strategy:
Twitter

– using the hashtag of the fire (or any emergency) and sorting by date gives you a sense of the situation
Twitter – reliable sources for that emergency (firefighter accounts [CAL Fire], local authorities [Sonoma County Sheriff], elected politicians [James Gore, Mike McGuire] and reliable individuals [Sonoma County Scanner, Sarah Stierch])
Facebook – a quick look for any new videos from CAL Fire, James Gore or others
Maps – fire maps are helpful but delayed. They do help to piece together a general idea of where the fire has been. Here are our favorites: National Fire Situational Awareness, SarTopo Map, County of Sonoma Fire & Evacuation Map, and California Preparedness Platform 
FlightRadar24 – allows you to track aircraft and see their flight paths which gives you a sense of where the fire is and what the focus/priority is 
Local Police Scanner
Wind Forecast – the wind report helps to anticipate where the fire will move next and what the focus will be for the firefighters 
Fortunately (well I suppose unfortunately really), Grace has become quite the expert at this, and we rely on her support. We hope you never need to use her above strategy, but if you do, you have an outline for a way to gather information when timely, accurate information is critical. 
Firefighters remain optimistic about their ability to control the Walbridge Fire. With additional resources and a calm weather system, they will work to keep the fire out of Dry Creek Valley, towns like Healdsburg, Rio Nido and Guerneville, and away from any homes. In our research to find information about the fire, we always stumble upon stories and videos of incredible heroic acts by firefighters and first responders. Time and time again, they put their lives in harm's way to protect others. They are the true heroes. We are forever grateful to them.
August 23, 2020 at 12:30 pm
First, some exciting news from the crushpad... Harvest has started! This morning, we picked 20 tons of Chardonnay. Winemaker Parke Hafner is pleased with the quality and flavors of the fruit.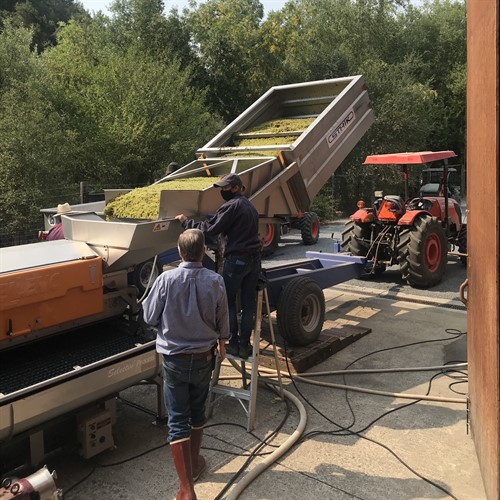 Parke and Sarah Hafner are processing the last gondola for the day with help from Ricardo, Benito and José Luis who are not pictured.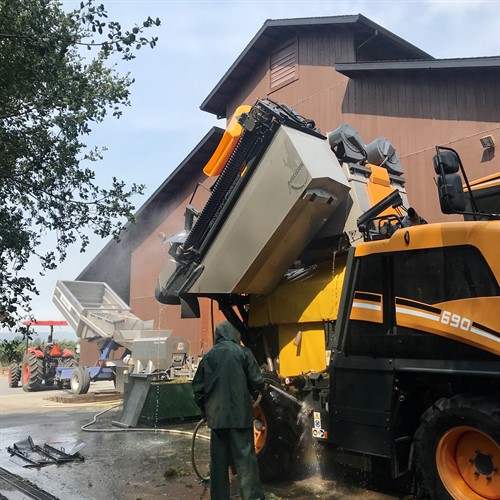 Time to clean the harvester!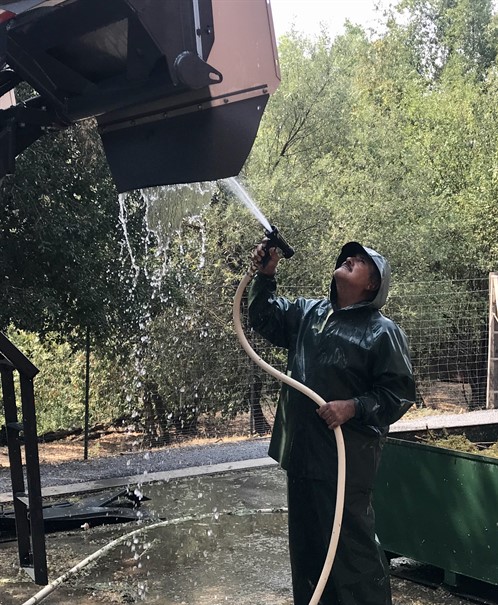 Gerardo sprays the harvester from the ground, while Antonio (not pictured) is on top of the harvester. So many nooks and crannies to clean.
Over night the winds were less than predicted, giving the firefighters a chance to hold some lines. The Walbridge Fire only grew 1,000 acres and reached 5% containment. The LNU Lightning Complex which includes the Walbridge and Hennessey Fires is now the second largest fire in California history. The SCU Lightning Complex that is actively burning south of San Francisco is the third largest fire. This is one of the reasons that the resources are stretched so thin. 
The firefighters continue to be concerned with the NE flank of the Walbridge Fire west of Dry Creek Valley. That vegetation is more oak woodlands, manzanita clusters and tall grasses. The terrain is very rugged and challenging to manuever. In comparison, the SE portion has a bit more moisture from the redwood groves, so not as dry. 
High and erratic winds (gusts from 40 - 50 mph) along with dry lightning storms (from Hurricane Genevieve) are expected to arrive Sunday afternoon, not only providing challenges to the firefighteres with these fires but also there is the potential to spark more fires. Lightning strikes can start a fire immediately or smolder for a day or two and then ignite. 
James Gore, our County Supervisor, is back at it with his Facebook interviews of firefighters. During the fires in 2017 and 2019, James actively pursued interviews with firefighters to get a sense of what is happening on the ground and shared that with folks via social media. This gives viewers a reassurance of information coming directly from those fighting the fire. The internet offers a plethera of information; however, it can be difficult to decipher what is accurate and if it is, when was it accurate. (I think we can all relate to this in some sense.)
Our State Senator Mike McGuire also does a great job of updating folks about the happenings with the fire, amongst many other aspects of life in our area. CAL Fire also gives daily updates at 11 am. Those can be viewed on Facebook. Our local paper, the Press Democrat, also has a running article of activities on the Walbridge Fire. The Sonoma County Sheriff shared a map that demonstrates how the fire has grown over the past days. 
Hafner Vineyard is still not in an evacuation zone, and we remain safe. Thank you as always for your notes of concern. It means a great deal to us. 
August 22, 2020 at 11 am
It appears the Walbridge Fire did not drastically spread overnight and it appears that the beautiful, old trees in Armstrong Woods have been spared, for the moment. With anticipated high winds that triggered a Red Flag Warning, hot temperatures and a potential wind shift, local authorities issued more extensive evacuations. The authorities have been thoughtful about separating our county into zones, and very specific zones. Here you can see an up to date evacuation map. If there is time, the authorities usually issue an "evacuation warning". As the fire creeps closer and the threat is more imminent, they will convert the warning to a "mandatory evacuation". 
The Walbridge Fire remains a priority for the state, so we are hopeful more aerial support will come for these brave men and women on the ground. 
We have found this map particularly helpful as it date stamps when the fire was detected. Again, the fire maps will be behind the actual fire. They are not accurate of that exact moment you view it. The other interesting piece of the above map is that you can check a box on the right side that will display fire history, so you can see where previous fires have burned in the past. 
Thank you to all who have expressed concern for us. We deeply appreciate it. For now, Hafner Vineyard is safe and away from any evacuation zones. We are thinking of all those in harm's way and our fellow wineries in Dry Creek, Russian River and Napa Valleys. 
August 21, 2020 at 3 pm
Every day of a fire is different and unpredictable. The challenge with the Walbridge Fire (aside from the rugged terrain) is that so many fires are burning in our state that resources are stretched thin. During last year's Kincade Fire, aerial support arrived at dawn the first morning it broke out. (You may remember that first drop was on our property.) The Walbridge Fire (burning in the western hills of Healdsburg) is relatively small, in comparison to the Hennessey Fire in Napa and Lake Counties, not to mention the fires in Santa Cruz and Monterey Counties, the Mendocino National Forest as well as down in Southern California.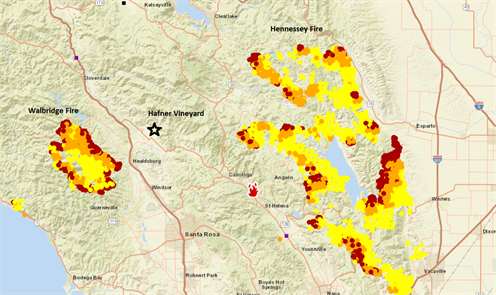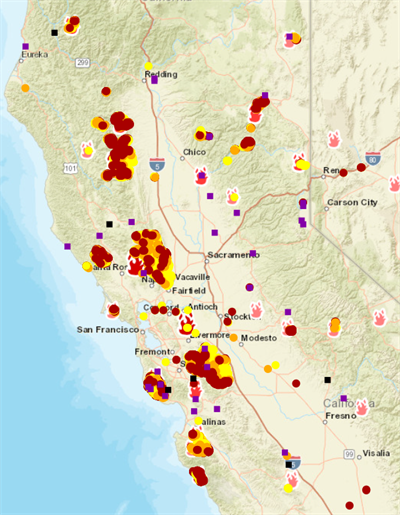 As large fires have become an annual occurrence for us, we've learned that there are two factors that can make a big difference in the progression of a fire: wind and air support.
Yesterday afternoon, aerial support came and in full force. The Walbridge Fire was creeping closer to Healdsburg, so the authorities brought in "the big guns" – the Global Supertanker, DC-10s and other air tankers. They pounded the NE flank of the Walbridge Fire near Lake Sonoma and west of Healdsburg and Geyserville. We watched them fly right over the winery. My assistant, daughter Marie, helped wave to them as I tried to capture images and videos. She has a sweet innocence and excitement over seeing the planes was comforting, not understanding the gravity of their purpose.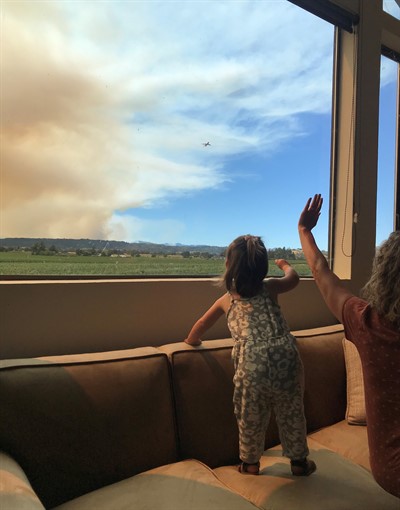 The planes cannot drop fire retardant at night, so it is on the shoulders of the men and women to do their best to contain the fire and save structures. They are true heroes. From a camera, you can see firefighters working to protect Mt. Jackson through the night as the fire rages around them. You can watch a timelapse here and play the 12 hour relay. (This will only work if you watch it within 12 hours of when it occurred.)
Today, more support has arrived – both on the ground and from the air. The Global SuperTanker (a 747 retrofitted to carry 19,600 gallons of fire retardant) flew in from Sacramento numerous times throughout today, making drops on the fire. Hafner Vineyard is in its flight path, so we were treated to its flyover. You can see it in the distance of the coming photo. It seems that the photos always make it look farther away than it actually is.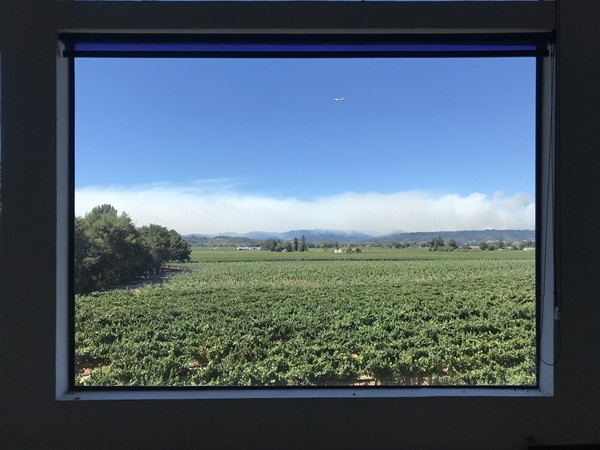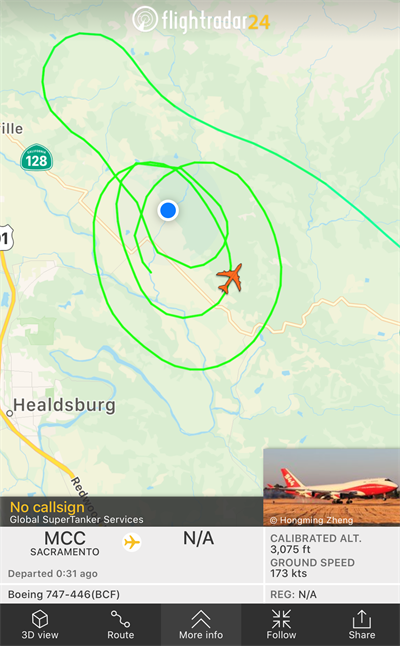 This is far from over for all of us, our community and our region. The weather service has alerted the area to likely dry thunderstorms from Sunday through Tuesday, potentially prompting more fires to start. For now, our eyes on these fires and we hope the weather forecaster's prediction is incorrect.
August 20, 2020 at 2 pm
It seems too early in the "fire season" to be starting a Fire Update Blog, but here we are. Thank you to all who have emailed or called with concern for us. We deeply appreciate it. 
We want to share a brief update with you and a few information resources.
On early Sunday morning, a series of rare thunderstorms rolled through Northern California with lightning that sparked numerous fires around the area. The firefighters have done an amazing job of putting many of them out but a still some remain here. The one closest to us is the Walbridge Fire. (It has merged with a smaller fire called the Stewarts Fire, so you may see reference to that as well.) The larger group of fires is called the LNU Complex which includes fires burning in Sonoma, Lake and Napa Counties. (There is a large fire burning in Napa Valley called the Hennessey Fire.)
The Walbridge Fire is burning in rugged terrain west of Healdsburg and Geyserville, north of Guerneville. This is densely forested and sparsely populated. Concerns rise as it moves towards towns. Healdsburg is a main focus. The winds are key and we are watching the eastward advance from the hills towards Dry Creek Valley and the town of Healdsburg. The wind has a dramatic effect on the smoke. Here are two photos from the office of the winery. We are looking south west, so in yesterday's photo, the winds were blowing the smoke directly towards us. This morning the winds are blowing the smoke more south. (If you didn't know it was smoke, you might think it was the fog rolling back out to the coast.)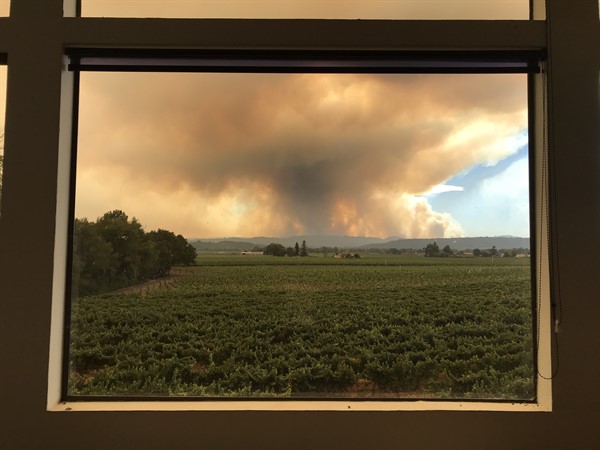 Wednesday, August 19 at 4:15 pm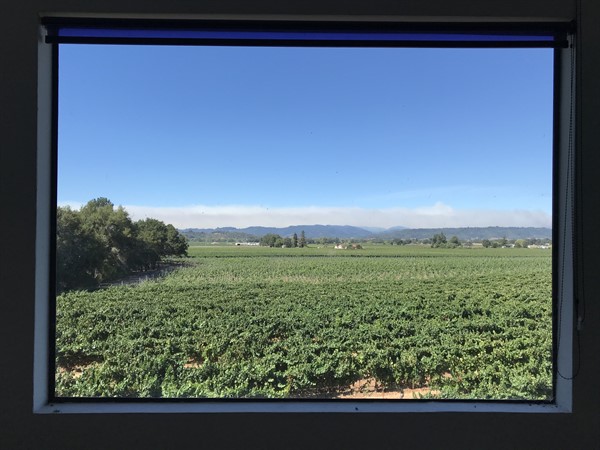 Thursday, August 20 at 9:15 am
We wanted to share a few resources with you, so that you can monitor the fire if you wish. (Remember that the fire maps are not accurate in the moment. They have a delay to them.)
Fire map with evacuation notifications
Fire map
Fire map by the SF Chronicle
Press Democrat - our local newspaper
Fire camera footage
Wind report for Healdsburg
Flight radar (This helps us see where the aerial support is working.)
As you might imagine, everyone is on pins and needles, and we are especially concerned with friends, neighbors, wineries and businesses who are closer to the fire. The situation is ever evolving. We will update this blog daily going forward.
The firefighters and local authorities are doing an amazing job. It's incredible the countless hours that they are committing to keeping us all safe. Resources are stretched thin as so many fires are burning across the state, so we are deeply grateful to those men and women who are putting their lives on the line for our communities.
It's been humbling for us knowing that many of you are following this fire journal along with the previous ones as well. Thank you.