40 vintages! This month, we will begin our 40th year of making wine here at Hafner Vineyard. We thought it would be fun to look back over the years to see what has changed and what has remained the same. We're sure that Mom and Dad would have never thought about the possibility of us reaching this milestone when they purchased the property in 1967. Dad, now 95, is excited to witness our 40th vintage; sadly, Mom is no longer with us.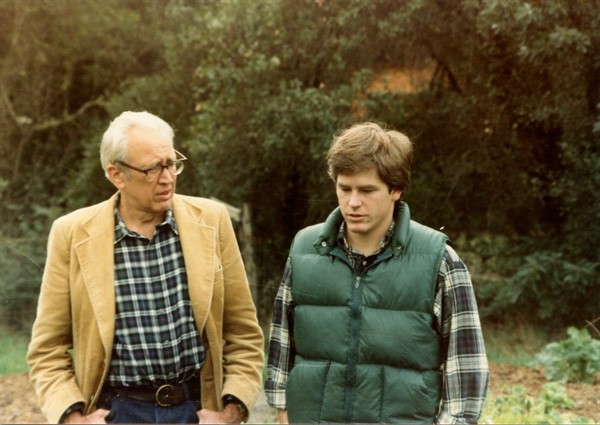 Dick Hafner and son Parke in the early 1980s
As students at UC Davis, we (Parke and Sarah) took a class with Mom and Dad entitled: The Elements of Establishing a Small Family Winery. It now seems remarkable that the four of us gathered every Thursday evening in Wellman Hall for the Spring Quarter and we (Parke and Sarah) were not yet married! Even more amazing to us is the fact that Mom and Dad had a dream to build a winery and they entrusted us completely to do it. They never questioned our decisions about equipment or winemaking techniques. Yes, Dick did prefer the prices of American oak barrels, but when we explained the impact of the barrels on the wine, he endorsed our preference of buying French oak barrels.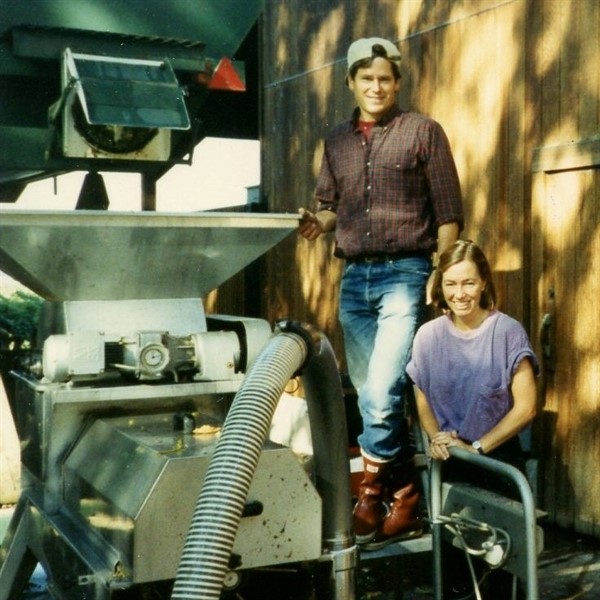 Parke and Sarah on the crushpad during Harvest in the early 1980s
We have been working together to make our wines since our first vintage in 1982 and our winemaking philosophy has remained unchanged. Influenced by our working honeymoon in Burgundy, France, we focus on making wines that compliment food and age well. For us, there is nothing better than a dinner with friends and 15-year-old Hafner Cabernet.
When we began harvest in 1982, construction was not quite finished…the fermentation and barrel rooms were done (tanks and barrels were in and ready to go), but the upstairs (lab and kitchen) were not. On our third night of harvest, with our press full of grapes, we lost power for several hours, so we slept on the winery floor waiting for the power to be restored. It came back on around 3 am and we went back to work. We are still experiencing power failures (thanks to PG&E's PSPS), but we now have a generator on hand during harvest to mitigate those outages.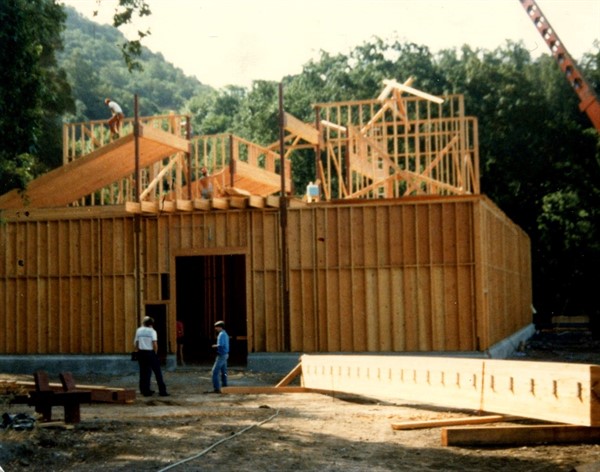 Building the winery in 1982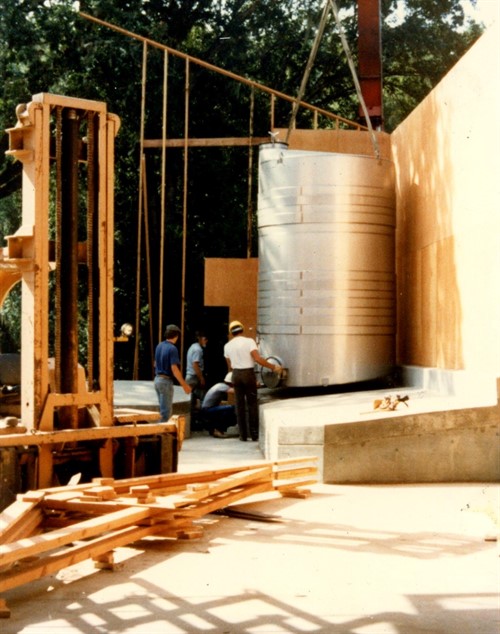 Installing Tanks
In the beginning, our harvest days were long because we had only one press and there were only the two of us. Today, we have two presses and 4 people (Parke, Sarah, Ricardo and an intern). Instead of processing 20 tons in 16 hours, we are now able to process 20 tons in 10 hours. Harvest now is almost relaxing!
In 1985, we were approached by a young French enology student who asked for an internship. As a way to recognize the importance of our internships in France, we invited him to come. Since that time, we have had 35 French interns, one per year (except during COVID), with the goal of inspiring them as we were inspired in 1981. Many have become lifelong friends who we visit frequently and with whom we exchange winemaking ideas and techniques. Our internship program has extended to the next generation (we have had sons of former interns) and our daughters, Kate and Grace, have both interned with several of our interns.
Our chief concern in 1982 (after all the new equipment was tested and operated correctly) was the forecast of rain during the Cabernet harvest and rain it did. We had picked a portion of our grapes before the rain and the remaining after the storms. After tasting the wines several times, we downgraded the post-rain wine and only bottled 500 cases of Cabernet under the Hafner label. Today, our main concern is wildfires, but our commitment to bottling only high-quality wines remains the same.
In many ways, harvest was easier in 1982. We made only two wines: Chardonnay and Cabernet Sauvignon. Since that time, we have added a second Chardonnay (our Reserve), a Malbec based red wine (our Next Red) and a Rosé (of Malbec). And for the past 30+ years, we have maintained our production at ~12,000 cases per year. For us, it is important that our wines are Estate Bottled (which means we grow the grapes, make the wine and bottle it all here on the property). It gives us both control and knowledge. We know our vineyards and wines intimately, so that we produce the best wines we can from our land.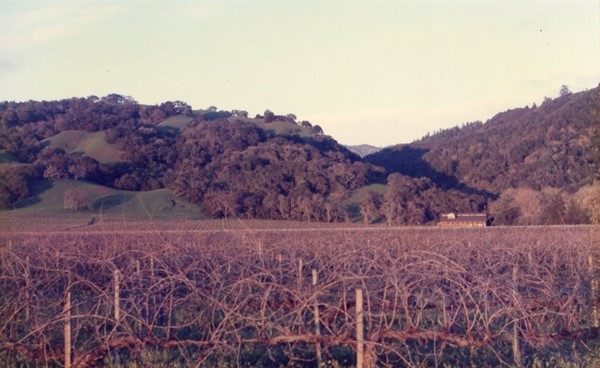 Hafner Vineyard in early 1980s
When young, we worked to develop our palate by tasting many wines from various regions. While you might consider our palates to be refined and experienced today, we strive to expand our palate by continuing that practice. Learning how our wines develop and age was an interesting endeavor. When we released our 1982 Cabernet, people asked how long it would age. We had a good idea because we made the wine to age well, but in reality we didn't really know. Five years ago, we opened several bottles of 1982 to celebrate 50 years of growing grapes and we were all pleased to find it still lovely and wonderfully drinkable.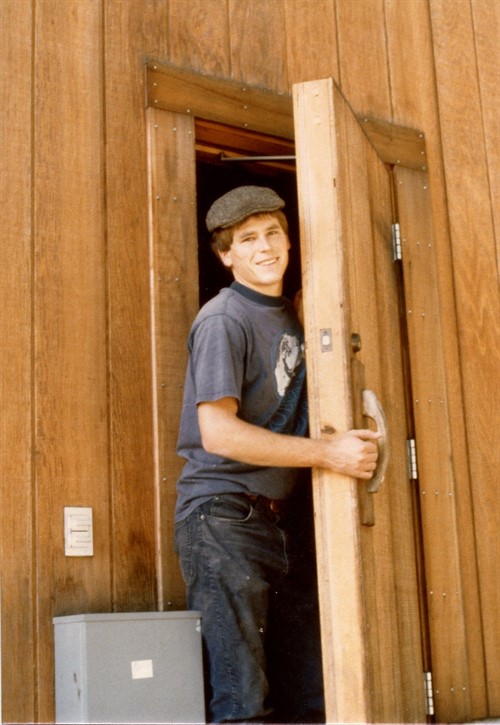 Parke Hafner at the winery in 1982
Every year since 1982, we have done experiments in both the vineyard and the winery. Whether it focuses on equipment like a new trellis system or a fruit sorter or on winemaking components like yeasts or barrels, it is those experiments that challenge us and make our work interesting. As a result of those experiments, we have upgraded equipment and improved our techniques both in the vineyard and winery which has made our jobs easier and our wines better. What hasn't changed is that our winemaking decisions are based on our tasting, our careful consideration and our experience of working together for 40 years.