Each weekend morning, I join my friends for a bike ride around Sonoma County. It's a fun way to get some exercise and enjoy the beautiful country where we live. (Well, that's what we tell our wives…actually, it's an over 50s male support group.)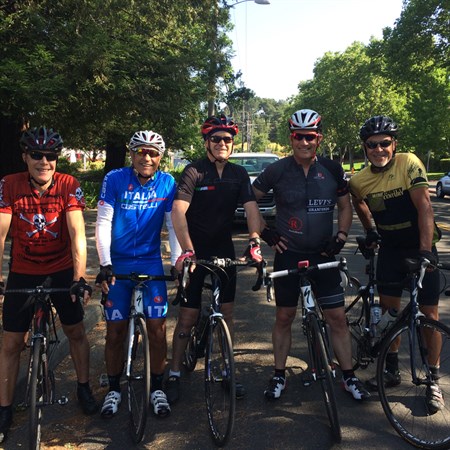 To take advantage of the early morning fog and empty roads, we hop on our bikes around 8:30 a.m. We have several routes to choose from, but our favorite takes us along the northern edge of Alexander Valley, then up and over to Dry Creek Valley along which we weave our way back to town. It's a fun, challenging and beautiful ride; one that we all know well.
We leave Healdsburg by heading north on Healdsburg Avenue and follow Geyserville Avenue through the eponymous town. Then we go west on a slight climb up and over Canyon Road, dropping down into Dry Creek Valley. At Dry Creek Road, we take a right and after about a half of a mile, we turn left on Yoakim Bridge Road which then dead ends at West Dry Creek Road. There we head south. Although narrow and windy, West Dry Creek Road has the infrequent vehicular traffic that drives relatively slowly. At Westside Road, a left turn leads us back to town.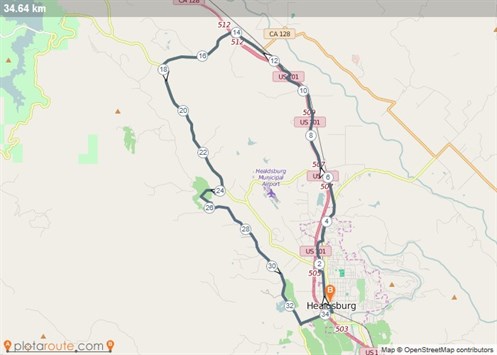 Another fun route that we enjoy is the newly paved (and great for cyclists) Eastside and Westside Roads that wind through the Russian River Valley. It's a complete loop and simple to do. We ride south from Healdsburg on either one of these two roads and then cross over Wohler Road and head back up to Healdsburg on the other road.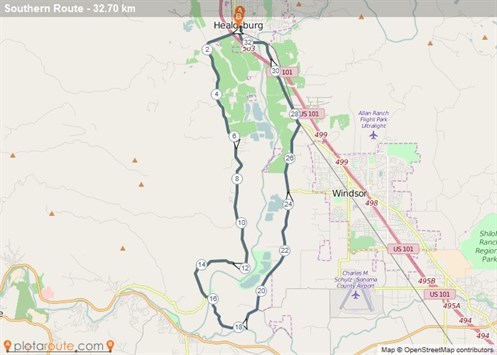 Both of these rides are about 20 miles with one small climb in each.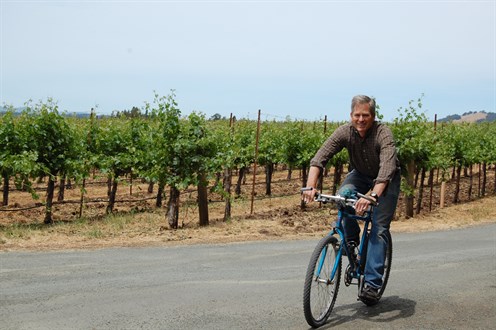 The real reason for riding is the end of every ride. We reward ourselves with lattes and a sweet treat from our local coffee shop, the Flying Goat, and chat outside reliving our day's ride. "Road Tar" as we call ourselves is a group of longtime friends. We began riding 15+ years ago on mountain bikes and baggy shorts. We have upgraded to road bikes and spandex, but the camaraderie has never changed. Several of us are also winemakers, so often we swap stories from the cellar and vineyard. Cycling is a great way to stay in shape and visit with friends. But also as I ride through the different vineyard appellations, I am reminded of what a beautiful and unique area Sonoma County is.