Ludovic David was our intern back in 1990 (yes, 25 years ago…we were all much younger then!). Ludo was studying at an agricultural university in Toulouse, France named ESA Purpan when he took the internship with us. (We started an internship program here at Hafner Vineyard after we were interns in Meursault, France: I at Domaine des Comtes Lafon and Sarah at Bouchard Père et Fils.) It was Ludo's first experience making wine. He had not planned to go into the wine industry, but through his time here, he found a passion for it. Now, 25 years later, he is the General Manager at Chateau Marquis de Terme, a Grand Cru Classé winery in Margaux.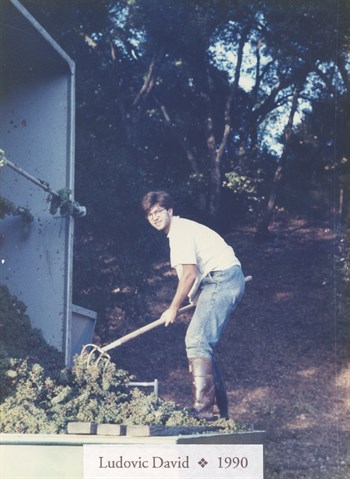 Ludo recently returned, bringing along with him his 17-year-old son, Guillaume. Two days after they arrived, Guillaume received news that he had passed the Baccalaureate (the post-high school test in France) and was accepted to Purpan, the same university that Ludo attended. We celebrated with champagne and toasted to the possibility that in two years (between his sophomore and junior year), Guillaume may come back as our intern. A second generation intern!
Ludo brought six vintages from Chateau Marquis de Terme so we had a vertical tasting of the Bordeaux wine and Hafner Cabernet. While it was fun to taste the two different wines (and they are quite different), the most interesting aspect of the evening was the discussion we had about winemaking techniques, marketing strategies and business structures.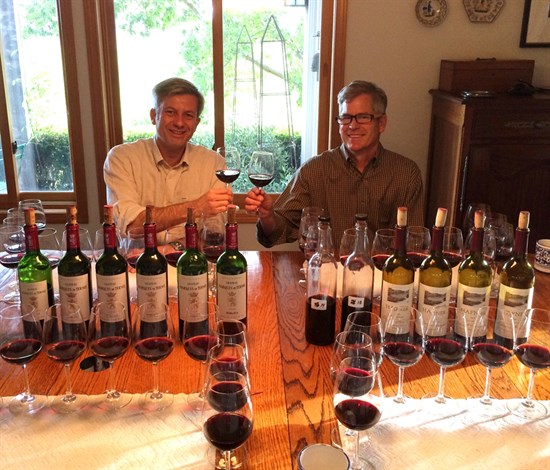 With two Frenchies visiting, a third has arrived! Aymeric Laturelle (our 31st intern!) is now here at Hafner Vineyard. "Rico" (as we've nicknamed him) is 19 years old and between his second and third year at Purpan. He is from Bordeaux where his family has roots in the wine industry. He hopes one day to go into the wine business.
After five short days here, Ludo returned to France and left Guillaume with us for a two week mini-internship to improve his English. Guillaume (left) and Rico (right) jumped right into cellar work – washing barrels, topping wine, doing the ever-exciting recycling run and now bottling the 2014 Chardonnay.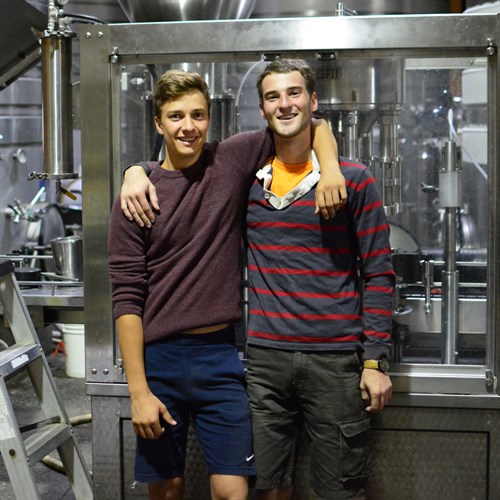 Guillaume will leave shortly and enjoy the rest of his summer before college starts in September. Rico will remain, living with us and working the Harvest until the middle of October. While he is here, Rico hopes to "discover California" by exploring Sonoma County, visiting Yosemite and spending time with our family (including enjoying lattes at Break).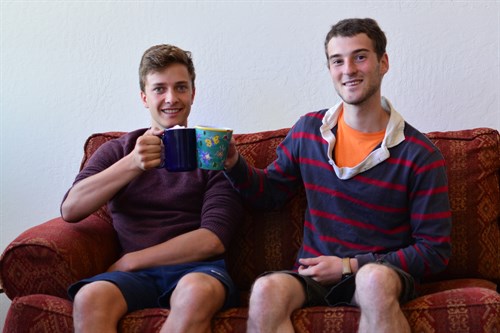 With the return of Ludo, the arrival of Rico and the acceptance of Guillaume to Purpan, we are reminded of the importance and joy that the interns (past, present and future) bring to us. They arrive as strangers but leave as friends. And with many, we become lifelong friends, for which we are truly grateful.