Week of December 18th
As we bring our Holiday Traditions blog to a close, it has been wonderful to hear the many different rituals across families. Each time I read a new entry, I smile, just imagining myself there experiencing those moments. No matter how different traditions can be, the essence is still the same – family. These final two stories are a perfect segue into the final days before Christmas. 
Ahh… the holiday season in San Diego. The cheerful music that fills the air, the laughter from cozy living rooms, and the joy that fills the air makes me believe that the holidays are the absolute best time of year.
As I reflect upon my childhood, I can remember countless traditions that made my Christmas season magical. There was nothing better than picking up a wooden pencil and making my case for the "Nice" list to Santa. Fast forward to 2001, I turned the ripe old age of 21. I was engulfed into the restaurant industry and began to learn a lot more about wine working at a four-star restaurant. I became fascinated with wine and loved how it could transform a meal into a memory.  As I learned more about wine and its ability to enhance a dining experience, I began to experiment with pairings with my family. In no time, wine would soon become a Beechler staple. As our love for wine grew, we began to enhance our Christmas traditions with a little vino. Thus, the Beechler Holiday Wine Vertical was born. Every Christmas Eve, my dad and I create a mouthwatering meal that is typically comprised of aged ribeye, or filet mignon. While we have paired various wines with our meal, I must say that it is the Hafner wines that make this tradition so fun, and oh-so delicious!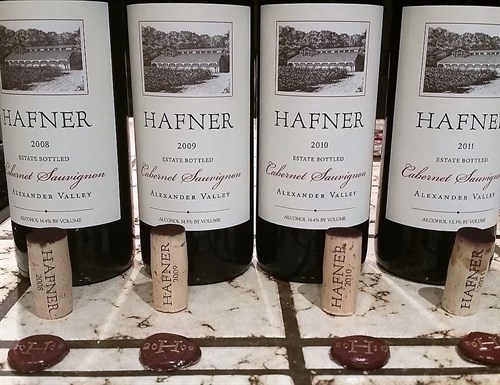 For our very first Hafner Vertical, we enjoyed the amazing Cabernet vintages from 2008 to 2011. I remember gathering around the dinner table, huddled warmly next to the fire.  My mother poured the first glass, setting precedent for our future vertical tasting sessions. As we swirled our glasses, identified characteristics, smelled aromas, and drank delicious wine, a few hours of wine tasting would soon turn into a Beechler family tradition. 
Since a San Diego Christmas is a constant 70 degrees, the Hafner Chardonnay is always a staple in our wine collections. We tend to open up this around noon and do a Chardonnay Vertical. This past year we enjoyed the 2009 to 2011 vintages, making for a refreshing and delightful afternoon.
So, if you are looking to add a new family tradition to your holiday season, you might want to consider implementing a Hafner holiday wine vertical in your household. You can make it a tradition to go up every year and grab your wine, like my family does, or just enjoy it at their beautiful estate yourself! May your holiday season be bright and merry. Merry Christmas from the Beechler family to yours!
BB in San Diego, CA
My favorite Christmas traditions revolve around the food (no surprise there). Every Christmas Eve is spent eating the most incredible chili and spinach salad plus sharing copious bottles of wine (always a Hafner or two)! On Christmas morning, my sister and I force ourselves to sleep in - or at least not go downstairs - until the sun is up at which point we roust our parents and tally the goods Santa delivered. (Old habits die hard!) Midway through presents is when the best meal of the entire year is finally put into the oven - a Quiche Lorraine that is literally to die for. Gift unwrapping with coffee and mimosas continue, until the oven timer rings, and it is finally time to dig into that Quiche Lorraine. As the day progresses, my family continues to cook. Dad spends hours getting the prime rib perfectly full of garlic. Mom runs around the kitchen while somehow making four dishes at once. My sister and her boyfriend chop vegetables like the healthy pros they are. All the while my grandma and I attempt to help/supervise it all with our cocktails in hand. I look forward to these two days of incredible food each and every year, but my favorite part of all is getting to spend such quality time with my favorite people on this planet - my family. 
PD in Denver, CO
Week of December 11th
Although each of us have our own Holiday traditions, this time of year we are reminded of the variety of Holidays that are celebrated around the world. While many of the Holidays may have a religious affiliation, all of them have an underlying thread of love and care between family and friends.  
Chanukah in our family is all about celebrating the big and little miracles in our lives and being together as a family. Chanukah has become more fun and magical since our son, Theo, was born 4 years ago. Some of our family traditions during the 8 days of Chanukah are baking Chanukah cookies (think flour and sprinkles EVERYWHERE!), spending cozy winter nights with family and friends in the light of the menorah, and playing dreidel. My favorite part is lighting the candles after dinner and watching each night as the menorah grows brighter with each added candle. Theo has been lighting the Menorah with our help the last couple of years. Watching the wonder in his eyes as we light the menorah is so heartwarming.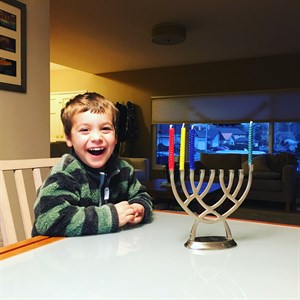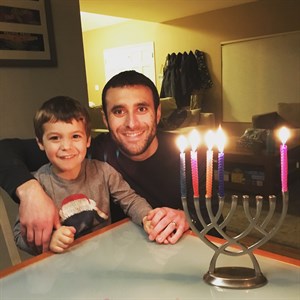 This year, our 11-month-old daughter, Stella, gets to join in the celebrations and I can't wait to see the magic in her eyes when the candles are lit. And maybe if we are lucky, once the kids are tucked into bed we will get to put our feet up and enjoy a bottle of our favorite wine made by our dear friends.
LR in Petaluma, CA
My favorite Christmas traditions are somewhat non-traditional. (Is this hypothetically what makes them so special!?!) They generally involve sports, two to be specific - the NBA and an incredibly intense ping pong tournament with family and friends. Every Christmas morning, after the gifts have been opened and coffee has been served, my sister and I snuggle up on the couch with our 97 year old grandmother (who we fondly call "Tutu") and settle in for some good basketball. While many families spend Christmas Day watching "It's a Wonderful Life" or "A Christmas Story", our TV is fully tuned into TNT and NBC for a day full of hoops. We love every minute of it. In the early evening, we host many very dear friends for a spirited and often rambunctious dinner, followed by the biggest sporting event of the year in Northern California - our annual Christmas Ping Pong Tournament. In its 11th year, the tournament includes a four foot custom bracket drawn on the back of a Christmas Macy's box, bountiful wine, and a heck of a lot of laughter. A new champ is crowned each year and maintains bragging rights until the following December! While the Holidays are filled with "typical" traditions, each family crafts their own and I think those are what makes the Holidays unique and special to each of us.
CD, San Francisco, CA
Growing up in Palo Alto, Mexico, we celebrated Posada, which honors the Virgin Mary. This is a celebration that starts on December 15th and lasts nine days until the 24th. Each day represents a month that the Virgin Mary was pregnant with Baby Jesus. The tradition is celebrated throughout the town, but the most excited were the children. Each evening, a different part of the town would host Posada with homes opening up to the neighborhood. I remember being with my friends and sometimes my siblings too. We would stroll the neighborhood, singing religious carols and stopping at the open homes for a bite to eat. An added bonus at each house was when we received an "Aginaldo" which was a gift bag with candy or bread. It was a wonderful feeling of freedom wandering from home to home together with friends. Our town had a population of about 2,000 people, so the daily celebration of Posada brought together families, friends and neighbors. It was wonderful having a tradition that our tightknit community could celebrate together.
Ricardo Juarez, Hafner Vineyard Assistant Winemaker
Week of December 4th
Selecting a Christmas tree is no easy task. Do you get a live tree? If so, how tall and what variety? Where will you put a tree? And when will you decorate it? All these logistics and details are often rooted in a family's tradition. No matter the tradition of your Christmas tree, the outcome is always the same – the tree brings smiles to our faces, regardless of our age. Here are three unique stories.
It all started around 1993 or 1994 when I was having shelves built in my entry way.   I was going away for Christmas and didn't want to decorate the house because I wasn't going to be there.  I somehow got the idea of drawing a Christmas tree on the wall of the entry way, knowing that the shelves would cover it up.  And what fun for some future home owner if the shelves were ever torn down to find a drawing of a Christmas tree!  So my friend who is an artist drew the outline of a tree, I invited friends over for some holiday cheer, and we drew ornaments on the wall-tree.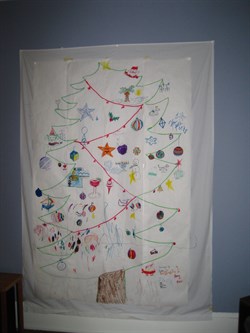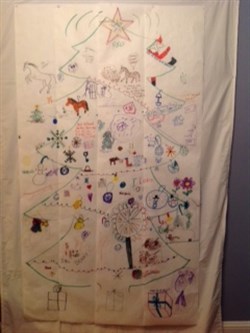 The next Christmas rolled around, and the shelves were up, and all the other walls painted with no plans to repaint.  So I went to the local butcher and bought a roll of butcher paper.  I cut strips, taped them together, and had my artist friend draw the outline of a tree.  I've been "drawing on the wall" every Christmas since (except a few interruptions for work travel). It's a lot of fun to see what people draw – lots of horses and dogs, some sport team mascots, a menorah, and "Santa Swine" at the top.  The kids' drawing are often the best – even if they are just boxes with bows or even scribbles at the bottom of the tree.  Miraculously, I have not heard of any kids going home and drawing on the walls! But I have to confess, I'm not sure if people come to draw on the tree or to enjoy the Hafner wine!
BH in Washington, DC
The Christmas season in my household starts with the hunt for the "perfect" tree. But first a good, hearty, old fashioned, stick to your ribs kind of breakfast at a local café, because it's going to be a long day. And dinner on the way home is hours away. Deep into the Mendocino National Forest we go on the hunt for a spectacular (ahem!) specimen. All legal, of course, as Christmas Tree Permits and accompanying map of designated tree cutting areas are available for purchase at a local ranger station. We can't just wander in a cut a tree anywhere, you know! And speaking from experience, can't forget to bring a saw, because it's a seriously long walk back to the truck if you do. Freezing cold with snow some years, sunny and warm others. Always an adventure, always fun, and deeply missed if the weather does not permit.
Sandy Wilson
My favorite Holiday tradition began when I was a child. My parents would pile us all into our Country Squire station wagon and head up to Napa Valley from the East Bay. We would have a tailgate picnic along Silverado Trail and then once well nourished, we head out on our quest to find the perfect Christmas tree. Of course, we would select the one farthest from the car, but it was always perfect. 
We have continued that tradition, and as it was when I was young, it is the kids who do the choosing. Our kids (now 30 and 26) still make the call. In the past few years, it has been a little tricky, but thanks to cell phones and imessaging, we still choose our tree as a family. Kate will select a couple; Parke and Martin will hold them and I'll snap a quick photo of the selection and send it off to Grace for her approval. Fingers crossed that she doesn't say: "I don't like the three you're holding, but the one in the back, the really tall one, that's the one I want." Tall trees are what my kids covet and lucky for them, we do have a high ceiling in our living room. We have been known to select trees that completely cover our long-bed pick-up. One year our tree was so tall that we had to cut 3 feet off the bottom before it would fit in the house! Every year, regardless of the size, we always stand back, admire our selection and agree that we found the perfect tree.
Sarah Hafner
Week of November 27th
Thanksgiving is a holiday rooted in American tradition that dates back to the first documented celebration in 1621 in Plymouth, Massachusetts. Every family has their traditions for this day – the "must-have" mashed potatoes, the epic Bocce ball game or the three flavors of pie. But sometimes, we adjust our traditions to new environments – perhaps you're hosting the feast for the first time in your home or you're gathering with friends abroad, teaching them the Thanksgiving ways. No matter how the day transpires, the feeling of gratitude, thanks, love and friendship fill the day. Here are a three sweet Thanksgiving stories.
Thanksgiving doesn't always go according to plan. Our daughter, Emily, hoped to have her kitchen functional for Thanksgiving, as her house in Seattle has been going through a massive remodel since July. With barely 3 days to go, the counters still had yet to be installed, while neither appliances nor the sink were functioning. Just under the wire, on the day before Thanksgiving, Emily had everything up and running! She had transformed the construction site into a warm home. Kate, Emily's partner, who is a fabulous pastry chef, dug through boxes of packed cookware, but managed to find all the necessities to make three pies, the turkey and all the trimmings.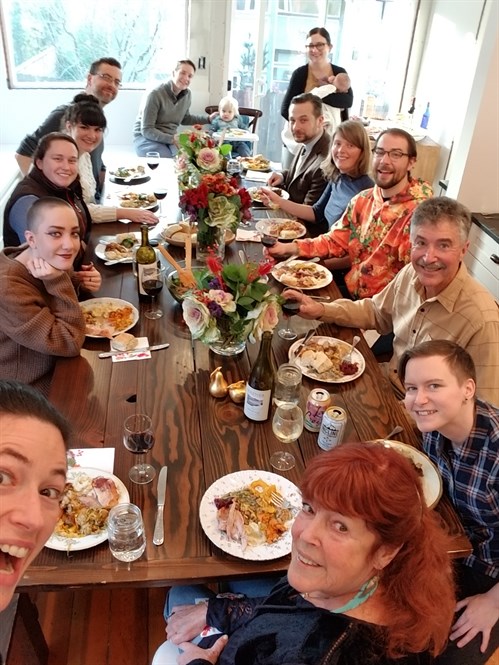 With 13 of us and two children nestled around the table, we feasted. Emily and Kate pulled it off! The Hafner Chardonnay and Hafner Cabernet started the meal, and closed it out with Kate's desserts. Thank you, Hafner Wines for being such a wonderful addition to our Thanksgiving celebration.
AS & MS in Belmont, CA
Our family Thanksgiving starts out every year on our Bocce Court. We usually play 'winter' bocce which means the court can be soggy and bumpy. Bocce is a great equalizer because the best roll can can come from any age!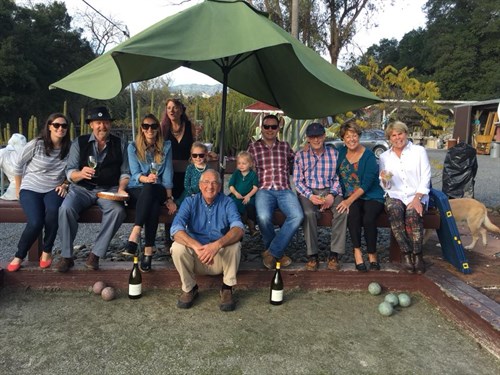 Hafner Chardonnay Magnums are a great way to share the court. Later, we always end up back in front of the fire after Thanksgiving meal toasting the day with Hafner Chardonnay.
MB in Healdsburg, CA
The wonderful thing about holidays is that they can be celebrated anywhere. Even if the tradition isn't shared amongst your friends, they are still usually willing (and happy) to jump in and celebrate. Since I'm living in France, I didn't get to have my "typical" Thanksgiving at home. Instead, I celebrated with my classmates and friends the following Saturday. There were 25 of us at dinner, including two professors. The six Americans in my class made all of the food, sharing our family's traditional dishes with our classmates [from Europe to Argentina to Mongolia]. There was green bean casserole, pumpkin pie, rolls - the list goes on. I made "Grammy's famous stuffing", along with some other goodies. We pushed three tables together to create one long table that all 25 of us could fit it, and we decorated the tables and the room to make it feel more festive. One of the traditions I couldn't let go of was taking a time-lapse of dinner. All of us have found ourselves away from our family at some point during the holidays, but this year, sharing our traditions with my friends made it feel like they were with me, and it opened me up to new experiences and strengthened my new community in Bordeaux.
Grace Hafner in Bordeaux, France
In addition to these three wonderful stories, we received many photos from patrons across the country. These photos speak from themselves, and we appreciate you sending them. They bring us such joy. They represent many hundreds of Hafner patrons who enjoyed our wines during their Thanksgiving. We are deeply grateful to know that our wines add to the festivities surrounded by your family and loved ones.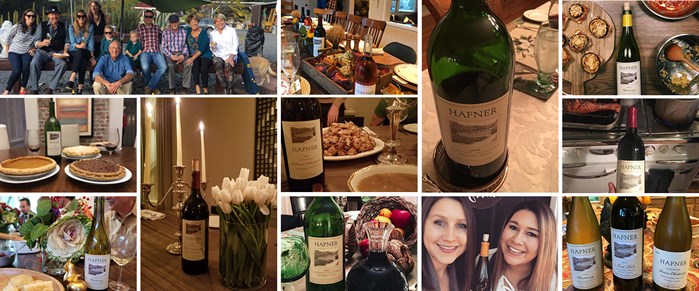 Week of November 20th
The week leading up to Thanksgiving sends the Holiday cheer into full swing. You begin to notice the festivities popping up all around you. The first inflatable snowman on a neighbor's front lawn. The first Christmas tree lot near City Hall. The first Starbucks coffee mug with Holiday imagery. (The 2017 graphic is a nice reminder of what this season is about. Read about it here.) The first cranberry display in your grocery store. The first twinkling lights on a home illuminating the sky off in the distance.  These small tokens of the Holidays set the tone bringing cheer and joy to your daily routine.
It's been very fun to hear traditions from our team members and patrons. Sandy Wilson, who wears many hats here at Hafner Vineyard, shares her Thanksgiving tradition in anticipation of Thursday. Below are two others from patrons – a much anticipated gingerbread recipe and an annual Friendsgiving dinner. We invite you to send us yours. We'll post more next week. Until then, enjoy these and have a wonderful Thanksgiving. 
My Thanksgiving morning starts with what else? The Macy's Thanksgiving Day Parade, the televised version, of course. I've watched it every year since I was a kid and have asked (forced, if you ask them) my family watch it too. Accompanying the parade are my special Holiday Cinnamon Rolls with brandy soaked raisins and walnuts from the tree in the yard. And a Mimosa. Then up and working on the very traditional Thanksgiving meal. Celebrating with family and friends, my most favorite part of Thanksgiving! Gobble Gobble!
Sandy Wilson
Back in the early nineties, a pastry chef friend of mine who worked at Gramercy Tavern in New York City slipped me this gingerbread recipe. I have made it every single year since. I have modified things a bit. I add less sugar, more salt and vanilla. Although it's modified, I have always been particularly fond of my tweaked version. It feels like a part of our family.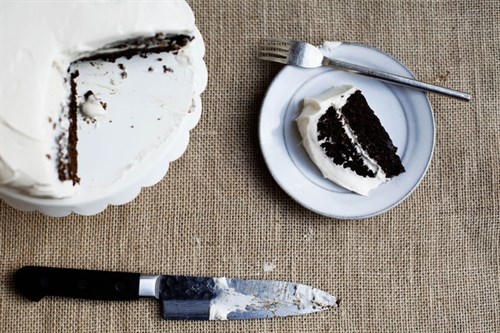 There is something very powerful about making the same recipe year after year. I remember the first time I made it for my baby daughter, and the last time I made it for my dying grandmother. I used to make it in my parents kitchen in Berkeley when I came home for the Christmas break. Everyone would stay out of the kitchen because I would get a bit intense about the process, and I would make such a mess. I swear it dirties up dozens of dishes from pots to pans to strainers to sifters to bowls to spoons. The final step requires you to pass the batter through a chinois (fine strainer) and occasionally the batter would even hit the kitchen ceiling! But the results are well worth it. This moist and spicy cake isn't too sweet and it a wonderful finish to any meal from Thanksgiving turkey to Christmas Prime rib. I love eating it for breakfast. Every year, when I ask my husband what he wants for Christmas, he always says, "Gingerbread. That's all I want. Your gingerbread."
PG in Oakland, CA
Sending you a few snaps from our annual "Friendsgiving" table in Washington, D.C. Our tradition dates to 2011.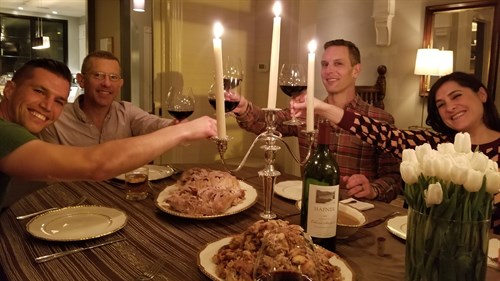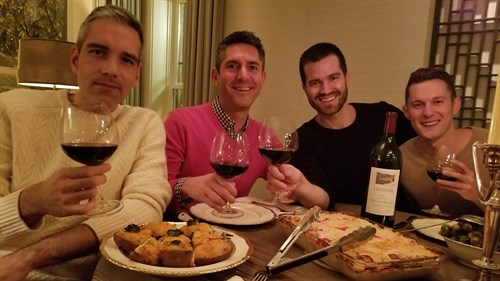 Earlier that year, our friend Adam, to celebrate his 30th birthday, organized a group trip to Peru to hike the Inca Trail to Machu Pichu. There were fourteen of us of varying degrees of relationship and friendship. However, after three days of trudging through the Andes liberally fueled with Peruvian beer and roast chicken, and the absence of hot showers, we became thick friends. Friendsgiving became an annual ritual to showcase culinary prowess, share splashes of red wine, good natured ribbing, and, above all, remember the gift of each other. A bottle of Hafner is the perfect pairing for the evening. Cheers and Happy Thanksgiving!
BG & DS in Washington DC
Week of November 11th
Parties and festivities fill the Holidays, but we sure love the simple pleasures of traditions and rituals. We want to create a collection of HV community traditions to get us in the spirit. Send us yours! Last week, we kicked off this blog series by inviting you to share your stories. Now that the Holidays are upon us and as we begin to plan for Thanksgiving, we started receiving stories of rituals. Here are a few:
Our tradition is non-traditional! One, in fact, that has minimal consistency. For the last decade or so, we have spent most of our Holidays away from our home, spending the holidays with friends. Luckily, our friends welcome us in and happily relinquish some of the cooking to us, which we love. This non-traditional tradition started when our friends had children and was easier for them to stay at home and have us travel to them. Now that tradition has stuck! Today, it's not just children, but grandchildren!
GH & SM in Fremont, CA
Every year to kick off the Holidays and the beginning of California crab season, I host an annual crab feed. When I started it a few years ago, the dinner included a small intimate group of girlfriends. Now it's become a much-anticipated event amongst my friends. Between 20 to 30 hungry people pour into my house with a bottle of wine in tow. Often Hafner Chardonnay makes an appearance… or two. It's a very fun (and messy!) evening but a great way to spend time with friends before the Holiday Season rush. 
KC in St. Helena, CA 
We also thought it would be fun to share a few of our traditions, so here is one that my husband, Martin, and I have recently started:
We know that the Holiday Season upon us when the Hachiya persimmons begin to ripen. It's become our tradition that we harvest those persimmons in early November as a start to the festivities. In the Japanese tradition, we peel them then dry them over the next months. These are known as "Hoshigaki". The harvest often takes place just before the first big rain, so as we peel them, we frequently hear the drip-drop against the windows, a sign that Thanksgiving isn't far away.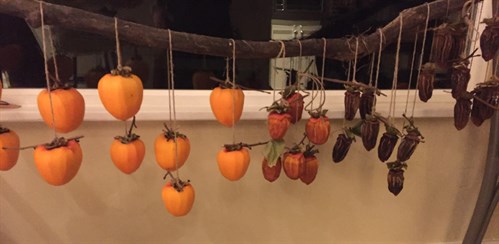 Freshly peeled persimmons on the left, about three weeks dried and two months old. As they continue to dry, their sugar comes to the exterior creating a speckled white layer.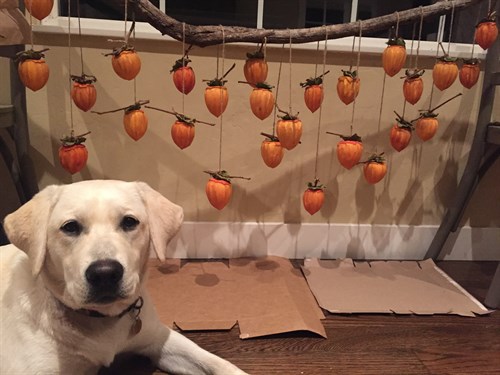 Millie guards the 2017 Harvest. Although she thinks they might be tasty, she knows she'll be in big trouble if she samples any.
November 6th
The Holidays are filled with family and friends, parties, clinking glasses, laughter and traditions. Often it is those traditions that have us looking forward to the Holidays. They bring a comforting sense of belonging and consistency in one's life. No matter what the year held, we expect certain things during the Holidays to be the same. It's a wonderful way to bring the year to a close.
Traditions come in many different forms. Large events are monumental in Holiday plans:  Thanksgiving feasts squeezing everyone around one table, the debate of which Christmas tree to choose, cookie decorating parties, annual ice skating on the frozen lake, caroling through the neighborhood, Black Friday 5 am shopping sprees, craft fairs and the Nutcracker ballet.
Other traditions may seem small, but sometimes symbolize your Holiday Season even more: wrapping gifts with loved ones, noticing the first home decorated in lights, finding the perfect gift for someone special, opening your mailbox filled with holiday cards, enjoying Thanksgiving leftovers, pulling the cork on a bottle of wine you've been carefully cellaring, dropping coins into the Salvation Army bucket outside of the department store, and so much more.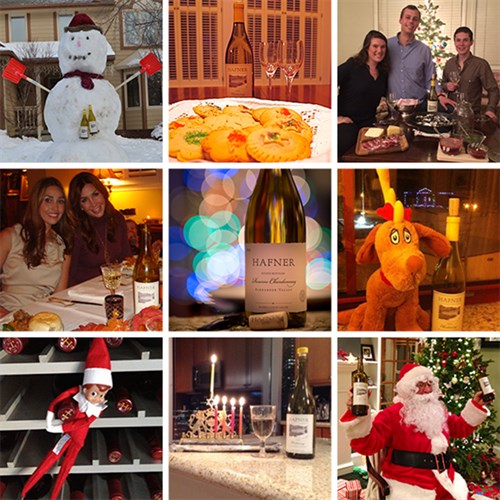 Traditions, new and old, are the cornerstone to the Holiday Season. They fill our datebooks and cover our Facebook feeds. Although it can be a hectic two months, this time of year wouldn't be the same without those rituals.
As the "go to" wine purveyor for many of our patrons, we have been privileged to hear about Holiday traditions that are celebrated in our patrons' lives. During this Holiday Season, we thought it would be fun to share some of those stories (plus new ones) from patrons and add some special customs that we, here in the winery and vineyard, celebrate. We also want to hear from you! Each week, we will post one or two new traditions that we've received from patrons. (Don't worry, we will use initials in lieu of names to protect the innocent.)
How it will work: Write me about your Holiday tradition and include a photo if you have one. Check back here each Thursday for a new series of rituals. We'll keep a running timeline of them, starting with Thanksgiving and moving through New Year's.
For many families, enjoying Hafner wine during the Holidays has become a tradition. It is such an honor for us to know that our wine plays a very small role in the joy that this time of year brings. Our thanks to you.