The office is a flurry with Holiday gift orders coming in by email, phone, online, mail and even fax. We check all the details, confirm items, input the orders, handwrite the gift notes, package them up and ship them out… sometimes all in a matter of hours. Often, we push the shipping date out a few days, allowing us to send a postcard to gift recipients letting them know that a gift is on the way. This builds excitement and helps with any potential delivery issues (a change in shipping date or an incorrect address). There is still plenty of time to send gifts to friends and family. We are happy to help!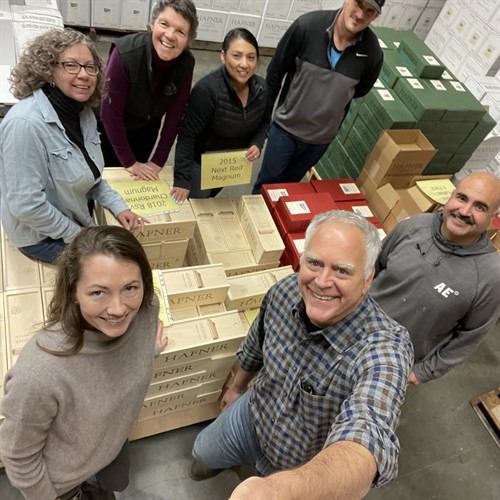 This time of year, we are constantly moving, but we are tickled by the sweet notes that arrive from gift givers sharing why they give Hafner wine. These are wonderful reminders to us! It brings us pleasure knowing that we are helping to make patrons' Holidays more exciting and joyful.
Here are a few of the comments from patrons about why they give Hafner:
"I give Hafner because the wines have limited availability (no retail shops). It makes the gift special, like they're in on a best-kept secret." – M.B.
"You guys do it all! You make my Holiday gift giving easy and my friends always love the wine." – J.G.
"Thanks for offering the Gift Pack. Recipients are really blown away to receive a properly aged bottle of California Cabernet. It is reasonably priced and avoids the need to decide to send red versus white wine." -T.J.
"I love the idea of a totally family owned and run winery. I love the business model of only selling to restaurants and direct to customers. And, oh, I don't know…the wines are pretty good too and a good value." – D.A.
"You make gift giving sooooo easy!!" – M.H.
"I give Hafner because it is always a quality product at a fair price. We only give experiences like wine, food, restaurants and travel. Hafner fits nicely into this model." – D.W. 
"Hafner offers a bit of a secret to friends and clients. I send the Gift Pack with Cabernet and Chardonnay and I often hear that the wine goes directly to the table for Christmas. There's a personal touch to how my orders are fulfilled. I am confident that my recipients will receive a nice package." – T.R.
"I give Hafner wine because it is good wine and superior service." – M.S.
"We love Hafner. Good wine; easy to deal with. Feels like we are good friends. Keep the old school approach going! Thanks for being you!" – S.R.
Thanks to all who have sent emails to us expressing your gratitude for our help. It is our deep pleasure to serve you. Thank you for trusting us with your gift giving.
Want to share with us why you give Hafner wine? We'd love to hear! Email us.