Thursday, October 31 at 5 pm
We are hoping that this post will be the last post about the fire. It has been a long week, but it appears we are out of harm's way. The Kincade Fire is now 60% contained. We are back at work. Being here has a sense of normalcy and there's an immediate comfort in seeing each other after a week apart during such an uncertain time. We are grateful that our homes, winery and vineyard survived.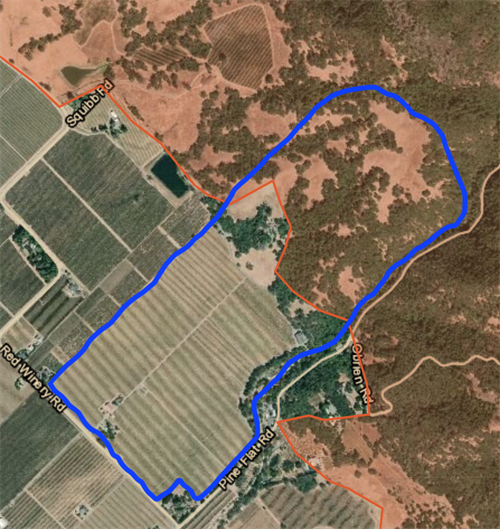 The thick blue line roughly outlines the Hafner Vineyard property. The thick orange line outlines where the fire burned.
However, our outcome from the fire in our area is rare. As you drive into Alexander Valley, you look across the hillsides; they are now darkened from the fire. The smell of smoke hangs in the air. All a reminder that we were incredibly lucky, but at the same time, we feel a deep sadness for our friends and neighbors whose stories are not the same as ours. Our hearts go out to them, and as a community, we will stand together and rebuild stronger.
Now that we are home and a bit more rested, we want to share a few stories from the fire and photos from the past week.
One evening, Parke went back into the vineyard to check on the fermentations. Eight bulldozers and multiple strike teams were there, continuing to protect the property. The teams came from all over the county and state. It was a humbling experience to see their commitment to us.
Parke wanted to thank these men and women, and he did so in true Parke fashion… make them pizza. With the help of a few neighbors who were there, Parke made 12 pizzas for the firefighters on the property.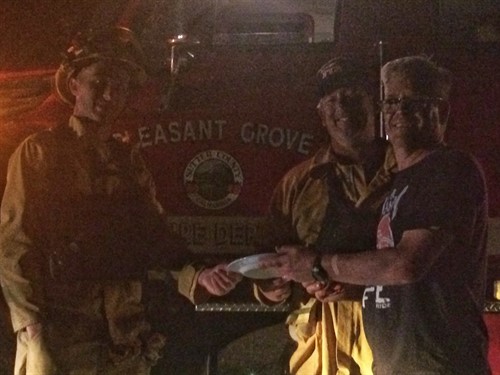 As you can imagine, they were grateful, but it was a tiny favor compared to what they did for us. Later, we received a Facebook message from one firefighter who enjoyed Parke's hot meal.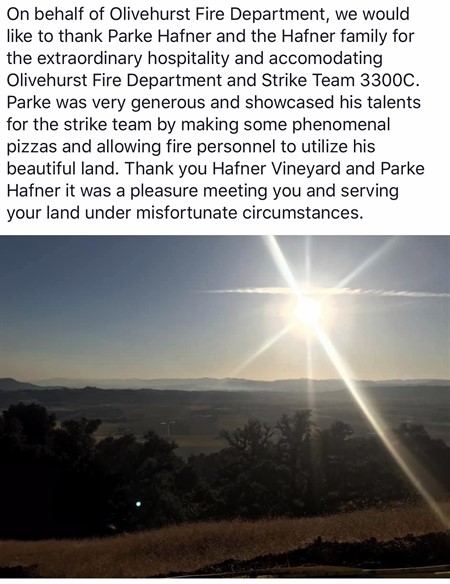 Thanking us? We cannot believe this firefighter's appreciation and kind words when it was he and his team who saved our ranch.
Parke has taken a few hikes up the hills – once with the dogs and once with Martin. Here are some photos.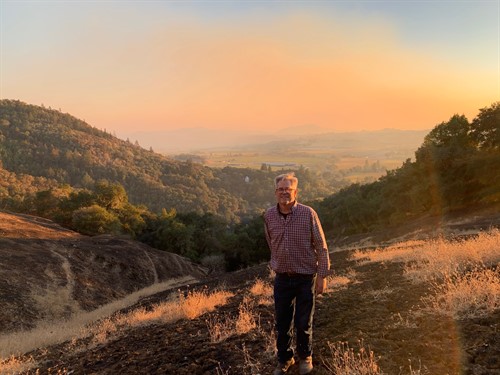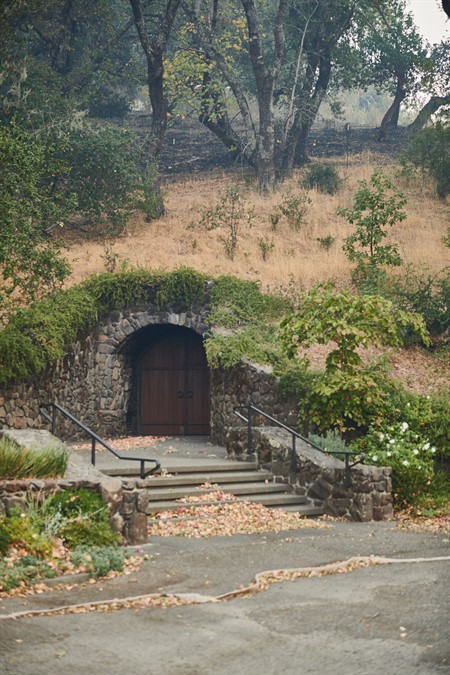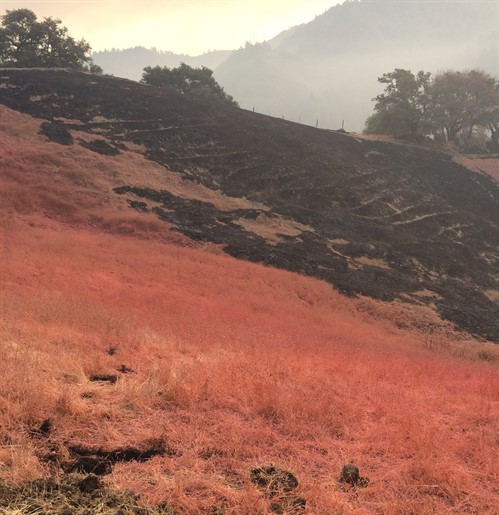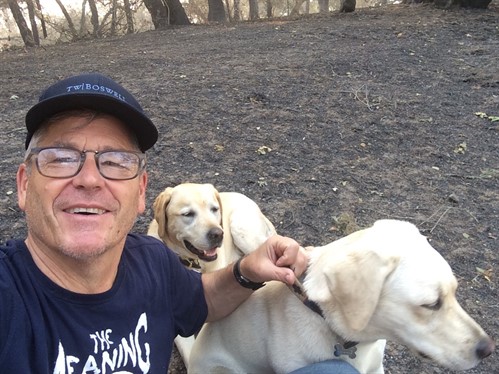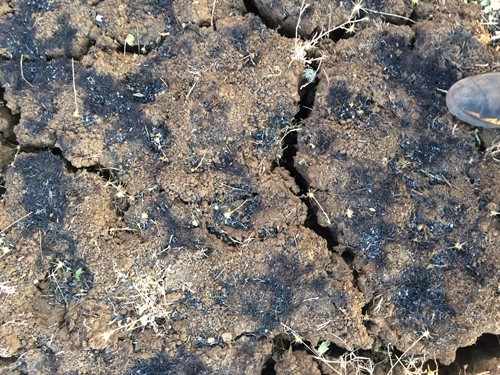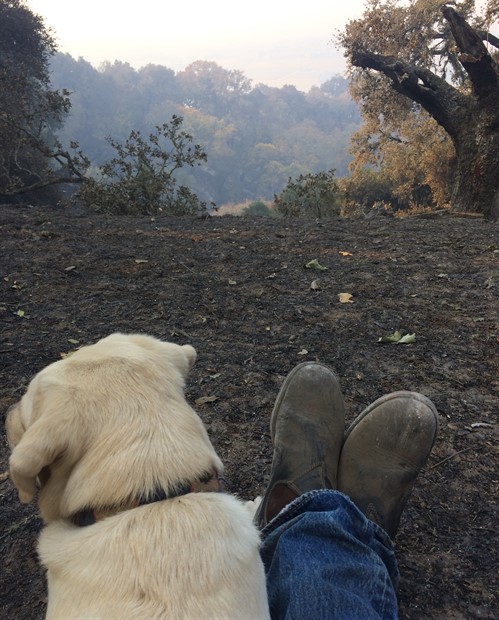 During the evacuation, Scott, Bill and Dick stayed at the La Quinta hotel with their dog Sophie,
who quite took to the hotel life. She made herself very comfortable in the middle of their bed!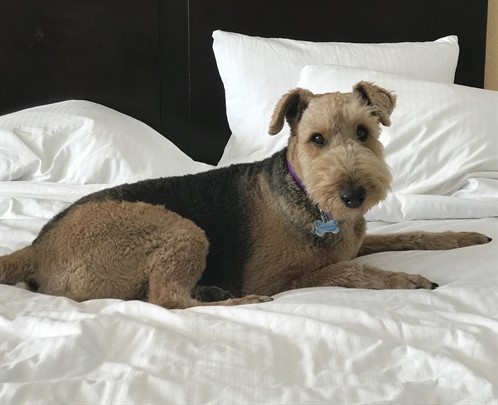 We feel fortunate to have such a wonderful team. Every HV team member has helped in one way or another. We are not just co-workers, but we are an HV family. Even Grace in Bordeaux manned the fire information desk round the clock, feeding us information.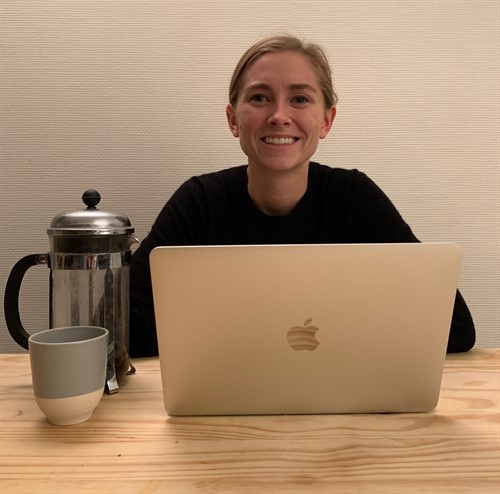 The outpouring of support from patrons has been humbling and heartwarming. Thank you to all of you for your emails, phone calls, texts, comments on social media, you name it. We deeply appreciate it.
People have asked how they can help our community. Many of you are already supporting our community more than you realize by serving wines from Alexander Valley and visiting our region. A non-profit that is doing great work to help displaced people in our community is Corazon Healdsburg. Another non-profit that does great work in our region is the Redwood Empire Food Bank.
Although we are returning to normal life, nothing will quite be normal for awhile. The charred hillsides will be a constant reminder of our neighbors and friends who are suffering and also of the men and women who put their lives in harm's way to protect us. HV team member, Sandy Wilson, has a son who works for Cal Fire. We will be toasting him and his colleagues for many days, weeks, months and years to come. What they do is incredible and selfless. They are true heroes.
To every firefighter, police, sheriff, first responder, local authority, any one who played a role in battling the blaze (big or small), from the bottom of our hearts, we thank you.
Thursday, October 31 at 8:15 am
We are happy to report that with agricultural permits, we were able to come to work today. The cellar team is busy harvesting Cabernet Sauvignon. The office team continues to work on our Holiday mailing and a much needed catch up on emails from the outpouring of support from patrons and friends. As always, our deep thanks to you. 
Esther Mobley from the San Francisco Chronicle wrote an article about the wine industry and the Kincade Fire and highlighted Hafner Vineyard, along with some photos. Read her article here.
We will share a longer update later today with some stories and photos from the fire. 
Wednesday, October 30 at 6:30 pm
Even with the Red Flag Warning, firefighters made great advances on the Kincade Fire, reaching 30% containment. 
Scott set up a Hafner Vineyard office at his house, where Sandy and Laurie joined him, Dick and Bill to work on assembling the holiday mailing. (Watch for it to arrive in your home soon!)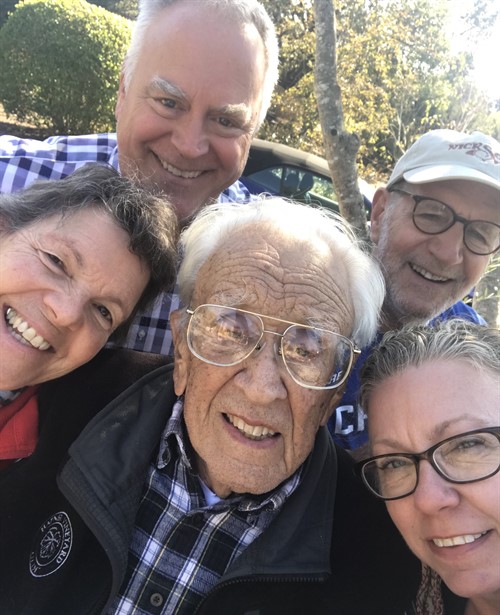 It's literally all hands on deck! Dick (at 93 years old) even wanted to join in on the fun by sealing envelopes. 


Back at the winery, Parke, David, Martin and two neighbors (Chris and Jenean Bingham) were able to harvest 20 tons of Cabernet Sauvignon. Again, neighbors came to our rescue! There was no way we could have done it without them. Yet again, "Thank you", just doesn't cut it. Chris took a few photos from the day.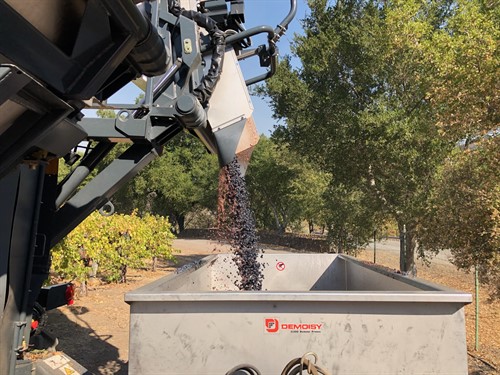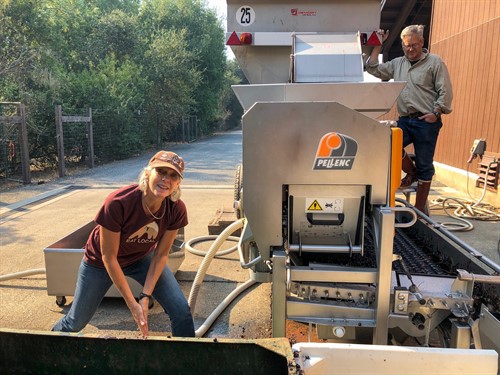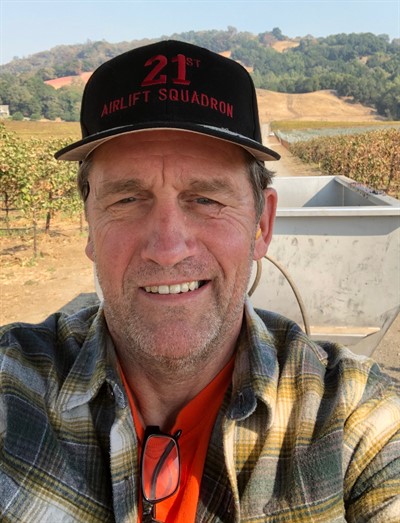 Most evacuation orders were lifted, so people are returning to their homes. 
We are hoping to return to work tomorrow, although it won't be quite the same. The smell of smoke permeates everything. The hillsides charred. Places where homes or businesses were that are no longer. It will be nice to be back home and back to work but no, it will not be the same. 
Tuesday, October 29 at 5:30 pm
In times of crisis, you realize you are better off as a community, and our community has gone above and beyond to help us. We have been without power since October 23 like most people in our area. We have active fermentations and Cabernet Sauvignon grapes still on the vine. But no generator to do any work. (It is nearly impossible to find a generator in the state of California right now.) 
One neighborhood family and business did something extraordinary and unimaginable for us. Their winery burned in the fire, but their generator did not. In an unprecedented act of kindness and selflessness, the Jackson Family (of Jackson Family Wines) without a second thought told us to go get their generator and use it at our winery, offering all the help they could, even sending an electrician late last night to get it up and running. Another neighbor and friend, Clay Green, picked it up from the Jacksons' burned winery, filled it up for us with 350 gallons of diesel and delivered it to our winery.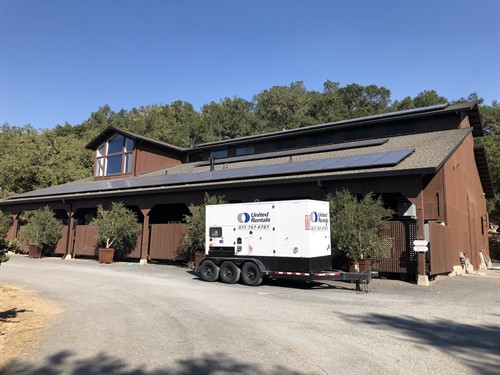 Without the generator, our 2019 vintage would be in serious jeopardy. No amount of thanks will ever express our gratitude to Clay and the Jackson Family. Ari Jackson's response... "Just happy to be good neighbors." Ari, you all are not just "good neighbors", you are "extraordinary neighbors". 
With the generator up and running, Parke and Martin (my husband and winemaker at another winery) did pumpovers late last night. Today, vineyard manager David, assistant winemaker Ricardo and Parke were able to get back to work.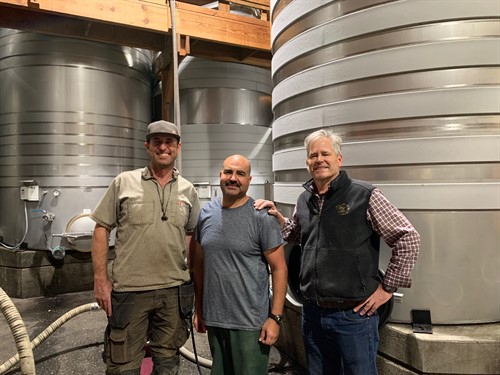 Scott and Dick came to grab a few more necessities and some office work then headed back to Santa Rosa.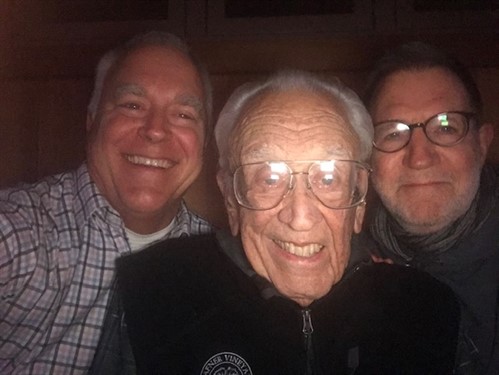 Scott, Dick and Bill are making the most of being home in a power outage. 
Kate (me), Sarah and daughter Marie are in the mountains hoping to come home soon when the air is a bit more clear. It remains quite smoky.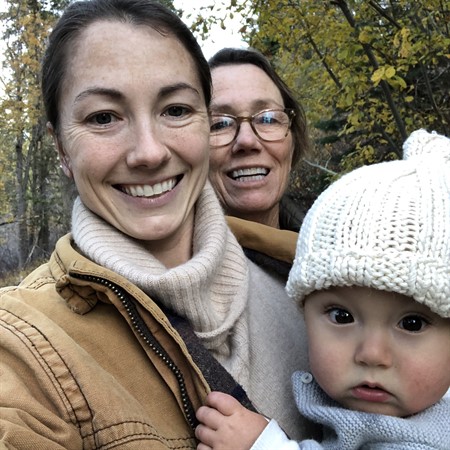 All HV team members are safe. The Red Flag Warning continues through the night with high winds, so we will all be watching the fire closely. 
Monday, October 28 at 3:30 pm
Every day with a fire is a new day, and a day with little news is a good day in our book. That is the type of day today. Hafner Vineyard is still safe. As the winds subsided today, the firefighters have been able to make good progress. Last night they also did an incredible job keeping the fires out of neighborhoods in Windsor even with the fierce winds. As of this morning at 9am, the Kincade Fire was 66,000 acres and has destroyed 96 structures. There are over 4,000 firefighters battling the blaze. 
A "quieter" day (so to speak) today has allowed for some evacuation orders to be downgraded from "mandatory" to "advisory". This included western Sonoma County and parts of unincorporated Santa Rosa. Scott, Bill, Dick/Grandfather and Sophie (their airedale) were able to return to Scott and Bill's home, so some life may be going back to normal, or so we hope. Tomorrow morning at 8am marks the beginning of another Red Flag Warning that will continue into Wednesday. We are expecting high winds yet again.
Here is an all-encompassing article by the SFGate on the latest with the Kincade Fire as well as an extensive photo gallery. 
Neighbors have been starting to trickle back into the valley. In times of crisis, you realize how important a community is. People come together – whether you're new to the area or you're an "old-timer", a resident or business owner, friends or not. Even when people have lost everything, they still selflessly try to support others and strengthen the community as a whole.
This fire came incredibly close for us, and we aren't out of the woods yet. But to be on the receiving end of the support and generosity from neighbors is an extraordinarily humbling experience. We are beyond grateful for all our neighbors. Even this morning, we received these photos from our neighbor, dear friend, and photographer Chris Bingham.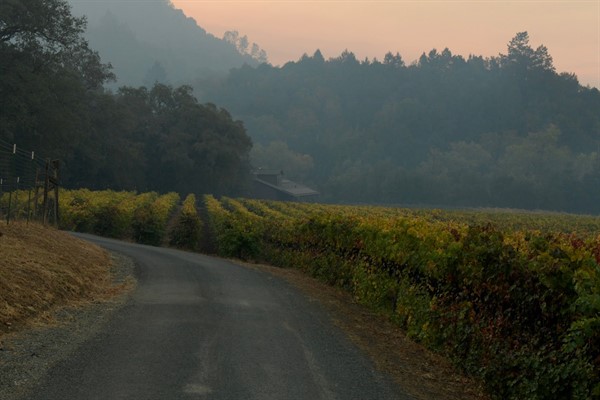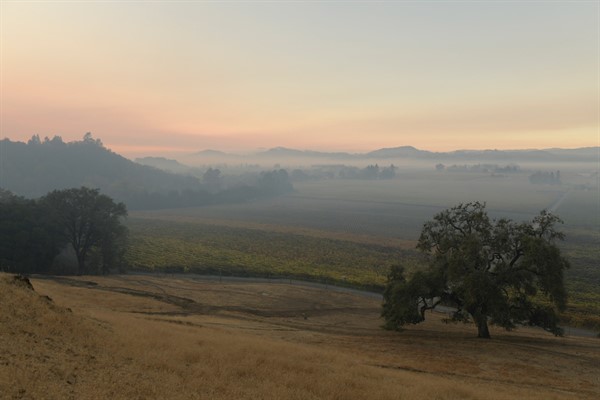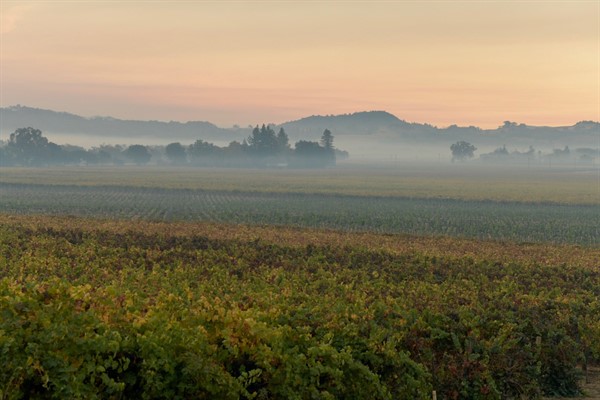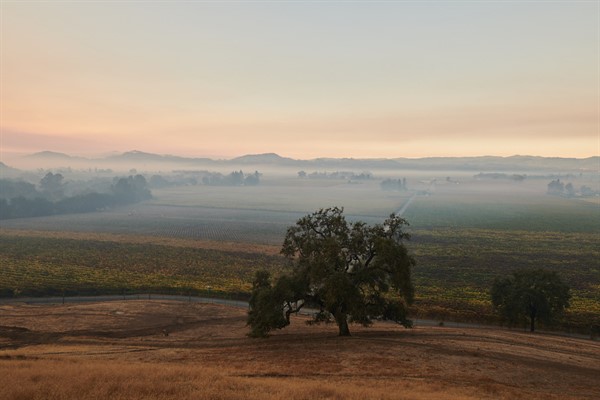 You can imagine the emotions we felt when we saw these images of the winery and vineyards untouched by the fire.
As the fire leaves our area, pushing south and people begin to repopulate, the grim reality of the impact of the fire begins to set in. We have started to learn of friends who have lost their homes, wineries, businesses and vineyards. While we feel incredibly lucky that the fire only scorched our hillsides, we have an enormous feeling of devastation for others who were not as lucky.
We hope that overnight, the firefighters are able to contain the fire even more. Thank you again for all your calls, emails, comments on social media, texts and photos of you enjoying your Hafner wine.
Sunday, October 27 at 10 am
The Kincade Fire spread rapidly early this morning starting after midnight and continues to be on the move. As we write, it appears the fire moved as the firefighters predicted southwesterly towards Healdsburg and also into Knights Valley towards Napa County. We believe that at this moment, Hafner Vineyard is safe. That can change at a moment's notice, as the winds have been very strong and unpredictable.
The fire nearly doubled in size over night. It is over 30,000 acres and 10% contained.
The winds have reached unprecedented speeds. At just before 8am, Cal Fire News tweeted: "Winds picking up in Norcal Sonoma with recorded wind gust of 93 mph, winds can carry embers over a 1 mile with 90% chance of starting spot fires." Those winds were in the peaks. The winds fan the fires and throw embers that in turn can ignite new fires. This is extremely challenging as firefighters have to react at a moment's notice. The red flag warning for wind continues until Monday at 11am. They are already anticipating another wind event late Tuesday night into Wednesday.
Since our last post, many more evacuations were enforced. Now more than 185,000 residents have been evacuated. The San Francisco Chronicle has an article about the evacuations.
In anticipation of the winds that could cause down power lines and start fires, Pacific Gas and Electric (our power company) shut off power to almost one million people.  
There are many news articles covering the fire. Here is an overview of the Kincade Fire by the New York Times.    
Here are some helpful resources. Some are the same as yesterday and some additional new ones:
Press Democrat - our local paper (They have been doing a great job of reporting.)
State Senator Mike McGuire
Supervisor James Gore's Facebook page
Fire map
Fire map from local paper
Evacuation map
Sarah Stierch Twitter
Cal Fire News Twitter
Kent Porter Twitter

Please note that the fire maps are not updated in real time and may not necessarily be accurate, especially since this fire is moving so fast. 
A great deal of our information about the fires has come from our personal fire reporter and my sister, Grace Hafner. She is in Bordeaux and has been monitoring the scanner, twitter, press conferences, news releases, you name it. Often she knows about happenings before we know. She has been working around the clock to gather information. Many of the resources above are her go-to sites for news. It has been remarkable at how fast information travels and how tirelessly reporters and local authorities work to share news. 
We have also been in close contact with neighbors and friends who share information about the fires. In times of crisis, you come together as a community. We are extremely grateful for this. Unfortunately, we have learned of neighbors losing homes, wineries and property. We stand with them. 
Thanks as always for your support and thoughts. Some patrons have shared photos of themselves enjoying Hafner wine over the past few days. Seeing your smiling faces with family, friends and our wine brings us joy in a time of great uncertainty. Thank you.
We will never be able to express our deep gratitude to the firefighters, first responders and local authorities. They are true heroes, particularly during this time of great uncertainty where they risk their lives for our community. 
The situation is extremely fluid and changes by the second. We hope to share more information soon. 
Saturday, October 26 at 2:30 pm
With every fire, every day brings new challenges. Overnight the fire grew moving south in the hills of Pine Flat Road and spreading northeast towards Lake County. 
A "historic" wind event is predicted for this evening through Monday morning. Officials are comparing the winds to the Firestorm of 2017, 40mph winds with gusts up to 80mph. 
In anticipation and to be prepared for the worst case scenario, officials are evacuating residents of Healdsburg and Windsor (50,000 residents) and evacuation warnings for many more. This is a map of the evacuations at the time of the post. According to a press conference this morning, one of the lessons from the 2017 Firestorm was that it was nearly impossible for firefighters to evacuate people and fight the fire simultaneously, so these evacuations are to get ahead.
Power will be shut off to most of our county and surrounding counties. You can do an address lookup here: https://psps.ss.pge.com/
The firefighters and first responders are working tirelessly. We are so grateful for them. Massive air tankers have been dropping fire retardant on the fire. The Press Democrat has an up-to-date article with details on those drops and the evacuations. We use FlightRadar24 to track the planes and helicopters.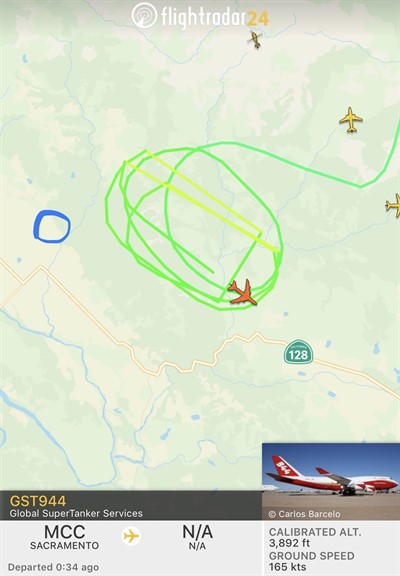 This is a screenshot of the SuperTanker's route. It does not denote if or where it dropped fire retardant. The blue circle is roughly where Hafner Vineyard is.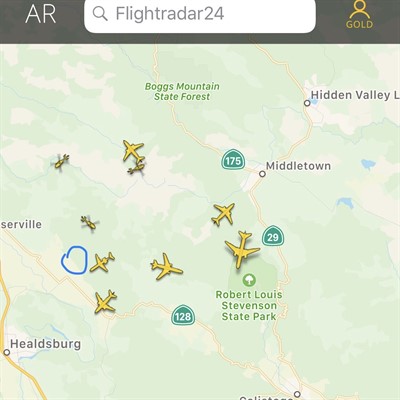 Another screenshot of FlightRadar24 showing most of the planes in the area. Again the blue circle is roughly where Hafner Vineyard is. 
Here are some helpful resources:
Fire map
Fire map from local paper
Press Democrat - our local paper
Evacuation map 
Supervisor James Gore's Facebook page
We applaud city, county, regional and state officials for working so hard to provide up-to-date and transparent information to those of us impacted and the millions of people who are concerned about residents of Sonoma County. 
Thank you for all your thoughts, support, prayers, you name it. We are deeply grateful for them. 
If you do not hear from us, it may be that our power has gone out. Don't worry, we will be back in communication soon. 
Friday, October 25 at 11 am
After an uncertain (and scary) day yesterday, we are a bit more optimistic today. Our property borders Pine Flat Road. Firefighters were concerned that if the Kincade Fire jumped Pine Flat Road, it could spread quickly south in the hills, potentially threatening the town of Healdsburg and other communities nearby. For this reason, the firefighters used our ranch as their southern border line to hold the fire.
Bulldozers drove up the front face of our hill from the vineyard to Dick's house and into the hills just behind that cutting lines. Airplanes followed by dropping fire retardant to secure that line. (You will notice the pink/red hue on the hills in that photo below, which is the fire retardant.)
Reports this morning from neighbors nearby and a video by Supervisor James Gore and Battalion Chief Marshall Turbeville (watch it here) tell us that the firefighters were successful in holding the fire to that line, saving the homes and winery on our property. (The Battalion Chief mentions Hafner and our area at minute 5.)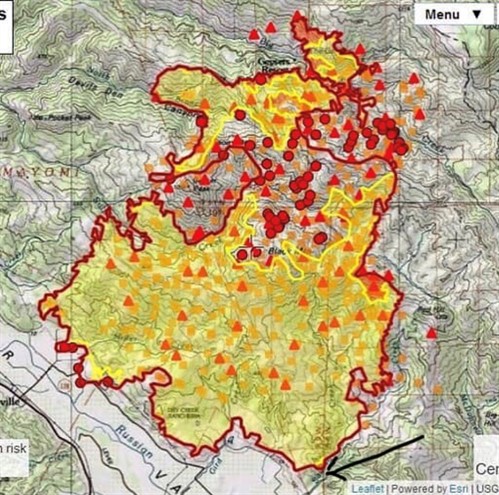 Here is a map (and link to the map this will be updating) that our neighbor/local sculptor T Barney made. The arrow points to his home. Hafner Vineyard is just to the left of that. We share a property line together.
We all breathed a deep sigh of relief, but the threat is not completely over. A high wind event is predicted for Saturday and Sunday again. For now though, we are safe. Unfortunately, this is not the case for all our neighbors. We are thinking of them during this challenging and uncertain time.
We have not made it back to the property yet. We have heard reports that people are able to go in for work reasons, so we are hopeful to get in and check on our fermentations. Once we are in, we will be able to assess the burns in the hills.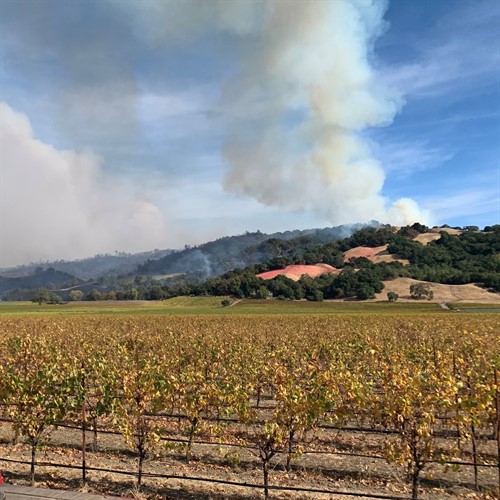 This photo was taken by a neighbor yesterday (10/24) midday. The winery is just out of the photo to the right. 
We have been so grateful to the outpouring of support. Thank you for your continued thoughts.
It is moments like these when we owe deep gratitude to the men and women who put their lives in harm's way to save others. "Thank you" does not do it justice.
Stay tuned for more reports.
Thursday, October 24 at 2:30 pm
Late last night we got word that a fire had broken out in the hills north of Hafner Vineyard. It is being called the Kincade Fire.
Dick left the ranch with Scott to go to his home in Santa Rosa where they were safe for the evening. Parke, Sarah and Martin stayed in the vineyard to watch the fire's progress. Around 6AM we received a mandatory evacuation so the three of them left and we all convened at Scott and Bill's in Santa Rosa. 
Around 8 AM this morning, we learned that the fire had made it onto our property in the hills above the vineyards.
Reports from neighbors and news outlets have told us that planes are actively dumping fire retardant in our hills above the vineyard. Some of the drops have been directly over Parke and Sarah or Dick's home. We have shared some footage on our Instagram stories.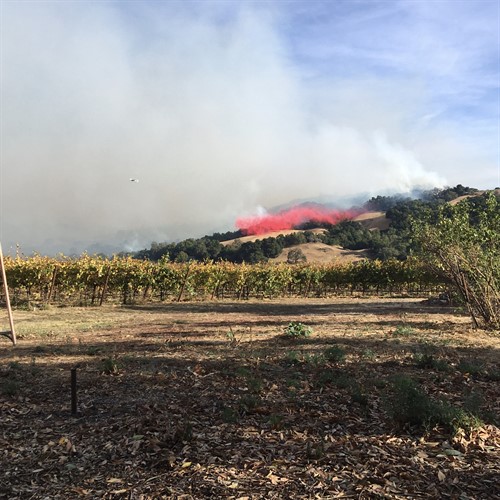 Taken by a neighbor from the southern corner of our property off Pine Flat Road. Just below the fire retardant, you can barely make out Dick's home. The winery is tucked off in the right corner but not visible.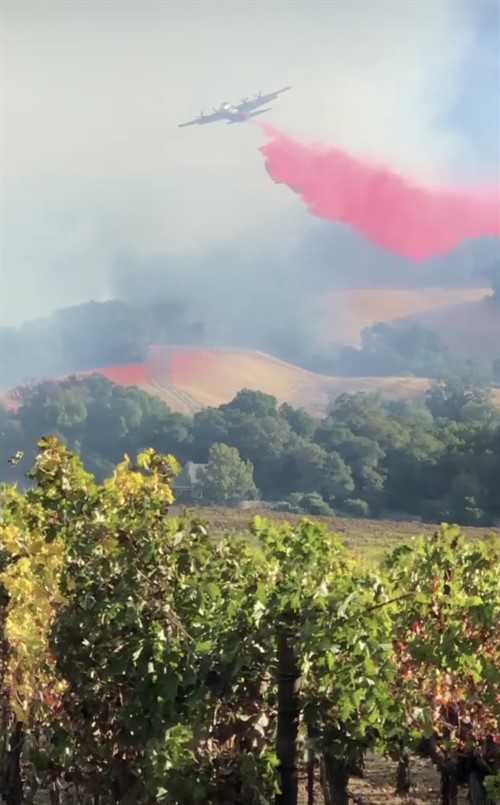 Image from a neighbor's video of a plane dropping fire retardant over Parke and Sarah's home. Dick's home is outside the photo to the right and the winery is still farther right/south from there. 
Some of the news footage has shown Hafner Vineyard. Here is an article where our vineyard manager David Huebel is quoted.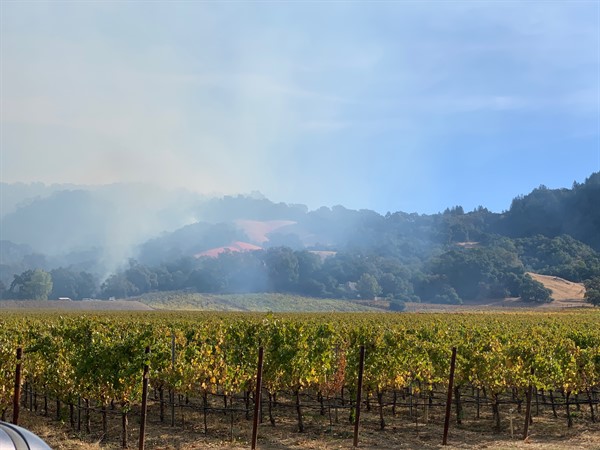 Taken by a friend looking towards Parke and Sarah's home. Their home is the northern most border of our property. 
The homes and winery are still standing but near some danger. The fire is now over 10,000 acres. As with any fire, the situation is very fluid. We hope for minimal wind and low temperatures. 
We are thinking of our neighbors who have lost homes or have uncertainty about their homes. 
Here are some resources:
Press Democrat - our local paper
Kent Porter Twitter - fire photographer 
Fire map
Thank you to everyone who has sent emails, texts, messages and comments on social media. We are touched by the outpouring of support. We apologize in advance if we do not respond as promptly as usual. 
We are so grateful to the quick reaction from the firefighters, first responders and local authorities. Our words cannot express our true gratitude to them. 
We will keep you updated as we learn more. For now, we are safe.