In 2020 when the pandemic hit, there was much uncertainty, but one thing was clear: people lost their jobs and were struggling to provide enough food for their families. At the same time, we had about 13 acres of vineyard land resting fallow before we replanted the next year. We have a longstanding family tradition of supporting a nearby food bank by donating our extra fruits and vegetables, so the empty field got us thinking…let's plant a garden specifically to supply produce for those in need.
When talking with friends about our idea, they said "How wonderful; you're planting a victory garden!" "Victory garden" originated during World War I and is defined as "a vegetable garden, especially a home garden, cultivated to increase food production during a war or period of shortages." And so, our victory garden began.
It was a great idea, but there were many hurdles to overcome. Where would we get all the necessary vegetable starts? We wanted to ensure that the vegetables we grew were what our community wanted, so what vegetables should we plant? How would the produce be harvested? Who would it be distributed to?
This has truly been a group effort.
When we explained the victory garden concept to our vineyard crew, Jose Luis, with us now for 30 years, stepped right up and offered to donate all the plants we needed. He is an avid gardener and passionate about farming. At his home, he raises vegetable starts, fruit trees and produce that he sells in his free time.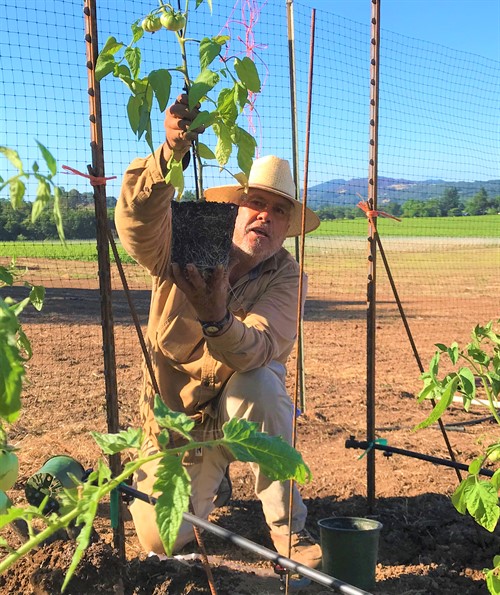 A neighboring grape grower with a big heart, Bret Munselle, heard about our idea and offered to bring a tractor and rototiller (which we didn't have) to prepare the ground. Our vineyard crew laid the irrigation and Jose Luis taught us how best to plant the starts.
We found the perfect partner to get the produce to those in need. Farm to Pantry is a Sonoma County based non-profit that gleans food and distributes it to their partner food banks, low-income housing projects, churches, etc. We met their dynamic Executive Director, Duskie Estes; her enthusiasm for the project rubbed off and we were in business. Duskie provided the gleaners, counseled us on what to plant and matched our produce with the food banks, churches and more who would use it.
Our vineyard crew maintained the garden: weeding, checking the irrigation, adjusting the deer fencing. When gleaners weren't available, our winery staff eagerly joined in and harvested boxes of produce. During our first Summer (2020), our victory garden produced over 2,500 pounds of tomatoes, tomatillos, peppers, squash and cucumbers. And we learned a few things…cherry tomatoes while delicious take hours to harvest and tomatillos are a bit invasive and require more ground than other plants, so we no longer plant those.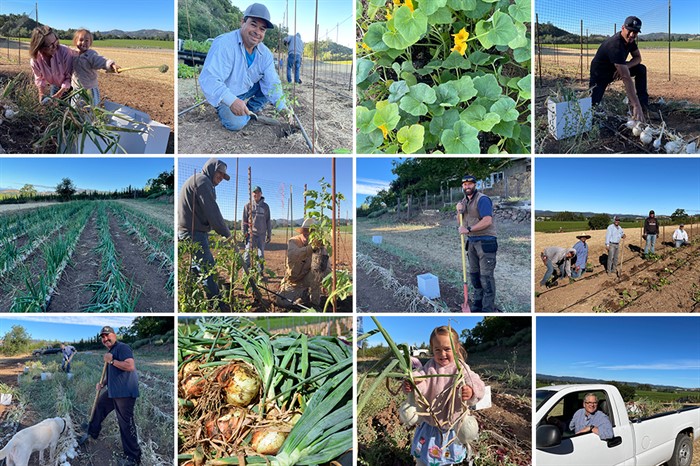 After the Summer success, we planted a Winter garden with 2,000 onions, half red and half yellow. They grew through the Winter and were harvested and distributed in the Spring of 2021. In addition to the onion harvest, our 2021 Summer garden produced over 3,300 pounds of tomatoes, squash, cucumbers and peppers for those in need in our community.
Although much of our lives are back to a semblance of normalcy, hunger is an ever-present problem for our community. For this reason, we did not plant our entire acreage to grapes, but rather we decided to continue our victory garden for the foreseeable future. When we planted the last block of grapes this Spring, we have left the equivalent of three vineyard rows unplanted, so our victory garden has a permanent home.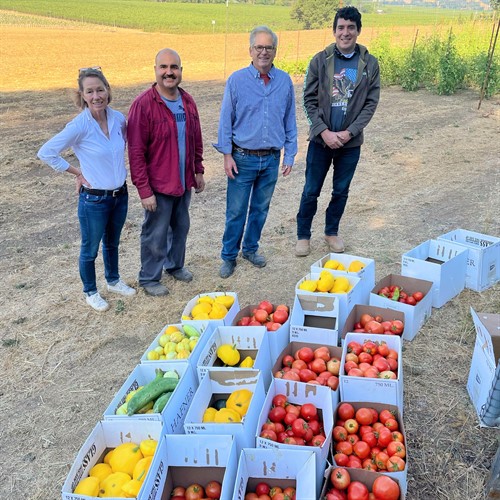 The collaborative effort continues. A good friend and neighbor, Dan Magnuson of Soda Rock Farms, grows vegetable starts and produce that is sold at the Healdsburg Farmers' Market. He provided all the starts we needed in both 2021 and 2022. A few of our friends have watched our garden thrive…and they now bring extra produce from their gardens to add to ours.
Earlier this Spring, our vineyard crew harvested our second winter garden of 2,000 red and yellow onions yielding 1,000 pounds. We recently planted our 2022 Summer victory garden and are starting to see the vegetables.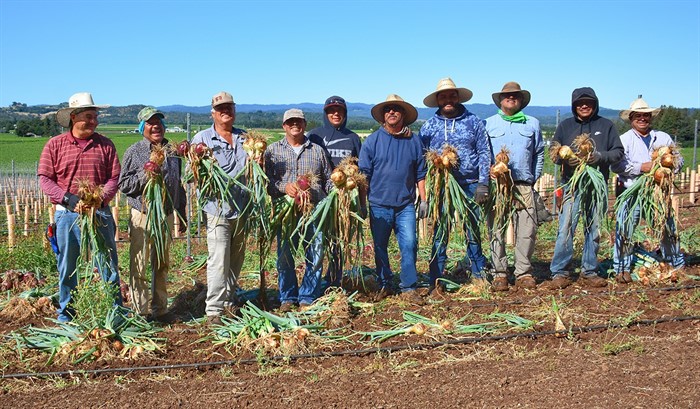 Since its inception, the garden has provided over 8,800 pounds of produce with more coming this Summer. For us, there is nothing better than to look out in the field and see how one victory garden can impact the lives of many.