It may not come as a surprise to anyone, but my one of favorite Holiday gifts to give is a bottle of wine. Sometimes it is a bottle of Hafner; sometimes a bottle we have discovered. Parke and I enjoy buying wines from small French producers…from Bordeaux, Burgundy, Côtes du Rhone, Provence, Languedoc…and then sharing them with family and friends. We love perusing our cellar to find the perfect bottle to give.
Once the selection is made, I enjoy wrapping them. Thanks to the influence of Kate and Martin, we try to reuse as much paper as we can. When we receive empty bottles before bottling, each pallet is covered with a large piece of kraft paper, similar to the paper of grocery bags. We save that paper and reuse it for wrapping paper. The best part of using kraft paper is that you (or your child or grandchild) can decorate it with pens, stamps or stickers. It is one of my favorite activities to do with my granddaughter, Marie, now 4. She decorates the paper and then I wrap. While you may not have large pieces of kraft paper, the inside of shopping bags is a perfect alternative.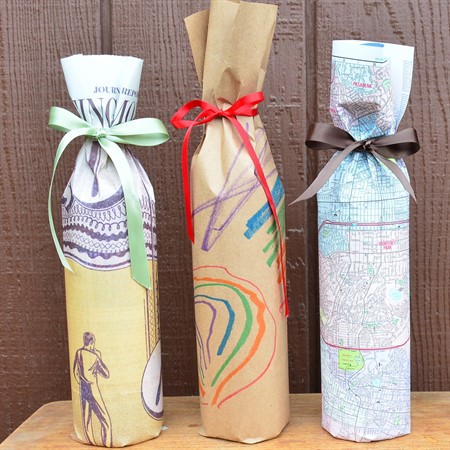 Kraft paper is useful, but sometimes it is not as decorative as I want. I enjoy reading the Sunday New York Times and looking at the ads. The full-page ads (or photo spreads) are perfect for wrapping paper and it's fun to choose the subject that matches the personality of the recipient.
Thanks to our car's navigation system, we don't use all the paper maps we've collected over the years…they are perfect for wrapping gifts. I try to connect the map with the person we're giving to by putting their alma mater or their hometown at the center of the gift. (Kate and Grace both went to school in Boston and we had several maps of the city; they were perfect to use for their gifts.)
I have the benefit of owning a large format printer. Sometimes I create my own wrapping paper by printing it myself. Here are a few options that you might enjoy. (The paper size is 11" x 17", but if you use have a letter size printer, print out two sheets and tape them together to make a larger size sheet.)
Printable watercolor barrel paper
Printable grape leaf illustration paper
Printable watercolor basket paper
Wrapping wine bottles is not an easy task, thanks to its shape. I try to have a small amount of paper at the bottom to push into the bottle's punt and then twist the top and tie with a ribbon and twine. Have fun!