It's a Rorschach Test!
....what do you see?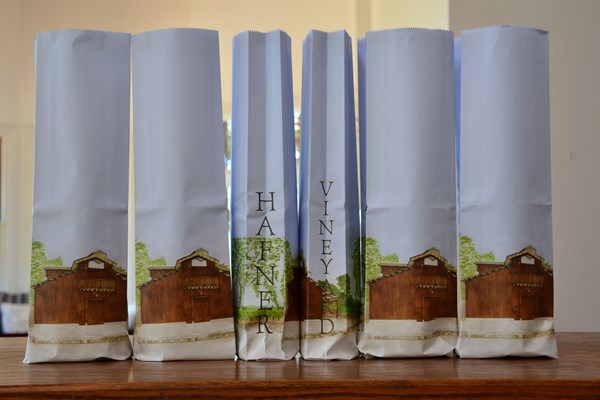 A familiar and beautiful watercolor painted by Sarah Hafner of our winery built in the classic 19th century California barn style?
The lovely blue skies that Sonoma County is blessed with so many days each year?
Maybe Lily...the eternally sweet yellow Labrador resting in the shade on a warm day?
For me, I see all these but foremost I see the generosity of our patrons.
We had these gift bags made in response to patron feedback about tissue-wrapping our Reserve Chardonnay. Patrons spoke of how much they enjoy sharing their Hafner wines with family and friends. You can imagine how grateful we are for that!
We know how fun it is to give gifts that are exclusive and not easy to find. Plus we all look for gifts of a high quality and good value.
We wanted to make giving Hafner wine easier with style and elegance. Hence the gift bags!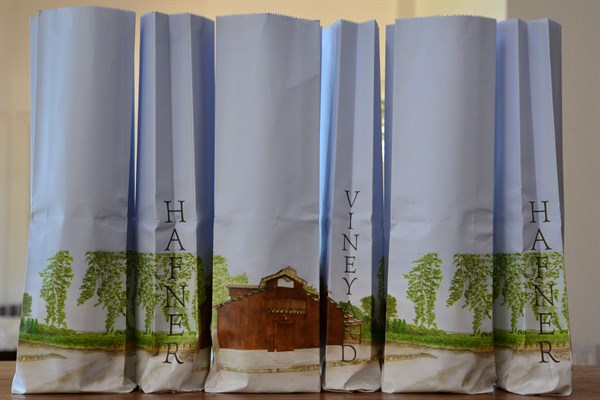 We send along two of these bags whenever a patron purchases a case or more of our wine as a sign of our appreciation for case orders. And the response has been fantastic! 
We hope you find these bags helpful and fun.
They are also available for purchase of $5 for a set of two.
Thank you again for sharing your Hafner. We appreciate that.