In addition to the 100 acres of vineyards we cultivate, we have 150 acres that we have left untouched. Untouched by humans that is…the hillside has become home to numerous species of animals and birds. We have grown accustomed to sharing the land with our wild (and domestic) neighbors. 
The largest resident is Sarah's retired show horse, Cody.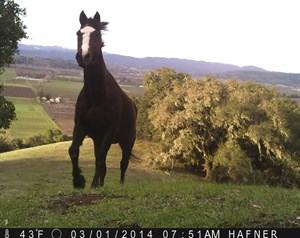 Not only does he have a lovely bucolic home (and view!), he also keeps the hillside grasses short to minimize fire danger. He is joined by a herd of mother cows who come to birth here during the summers. They are owned by our neighbor and staff member, Michele. (She is the second generation of Cadds to work at Hafner Vineyard!)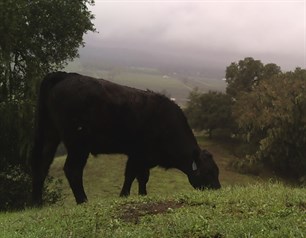 While we see Cody often, we wondered exactly who else may call the hillside their home. We mounted a wildlife camera in different locations. It senses movement and snaps a photo 30 seconds later. Here are some of our highlights:
(From top, left to right: a coyote, bobcat, opossum, woodpecker, buck, curious blue jay, raccoon, small bird sunning himself, skunk and Dick Hafner caught feeding Cody a carrot!)
Although we often don't hear or see these neighbors, it brings us great joy knowing that they roam the hillside. While we have been here almost five decades, it is a very short time in the life of this land. We feel privileged to steward it and conserve habitats for the flora and fauna during generations to come.