I carry a small vineyard map in my wallet showing each block with its planting dates, rootstocks and clones, so when I walk the vineyard, I know the exact history of each area. We thought it would be fun to share a general map with you. Painted by my wife, Sarah, this vineyard map denotes the blocks by color: the yellow blocks signify Chardonnay vines, while the green ones represent our red varieties – Cabernet Sauvignon, Malbec and Petit Verdot.
Comparing this new map to my Dad's (Dick) hand-drawn map (scroll down), I am struck by what has changed and what has remained the same since we bought the ranch back in 1967. The basic outline of our plantable area has increased just slightly, by extending the area to the base of the hill. You will see "Mary's Tree", a beautiful Valley Oak that my Mom, Mary, determinedly saved from the bulldozers, marks the upper most section of our vineyard; Sausal Creek and Red Winery Road still mark our southern and western borders. The tractor shed, shop and ranch manager's home remain the same. Two old barns and a house are gone and in the place of one of the barns, our winery and caves now stand. We still have our "Central Avenue" dividing the vineyard and we have added a few more crossroads to facilitate harvesting grapes.
The most interesting aspect of this map to me is how our vineyard has evolved. In 1967, most of our acreage was in fruit trees (grapes were grown here before Prohibition) and there was a small block of head-pruned Zinfandel. Soil types were not considered as important for fruit trees as they are today for wine grapes. Our most troublesome fruit tree blocks due to rocky soils are actually now our most coveted vineyard blocks. And interestingly in the 1800's, Sausal Creek did not flow directly to the Russian River as it does today; rather it meandered through this section of our vineyard creating a giant alluvial fan. Today, those blocks–Fox, Kellogg (where the Zinfandel once grew) and House–require added attention. Every year, we provide additional hand-work, compost, irrigation to those blocks.
The overall color of our new vineyard map is reflective of the largest change here at Hafner Vineyard. In the late 1960's through the early 1990's, 70% of our grapes were white varietals (primarily Chardonnay with a few acres each of Johannisberg Riesling and Gewürztraminer) and the remaining 30% were red (primarily Cabernet Sauvignon and just 6 acres of Zinfandel). Today, Chardonnay is our only white grape and is 43% of our acreage, while the reds are now 57% (primarily Cabernet with 7 acres of Malbec and 1 acre of Petit Verdot.)
Planting a vineyard today requires more thought and time than it did in the past. Soil types, microclimates, rootstocks, varietal clones, vine spacing are all taken into consideration. In the 1970's, we had one rootstock and one clone per variety. Today, we have used six different rootstocks and up to five different clones per varietal. If all of those differences were reflected on this map, the variations of color would be mind-boggling. That is why I keep a detailed map in my wallet and we asked Sarah to paint a more representative and pleasurable map. I hope you enjoy it.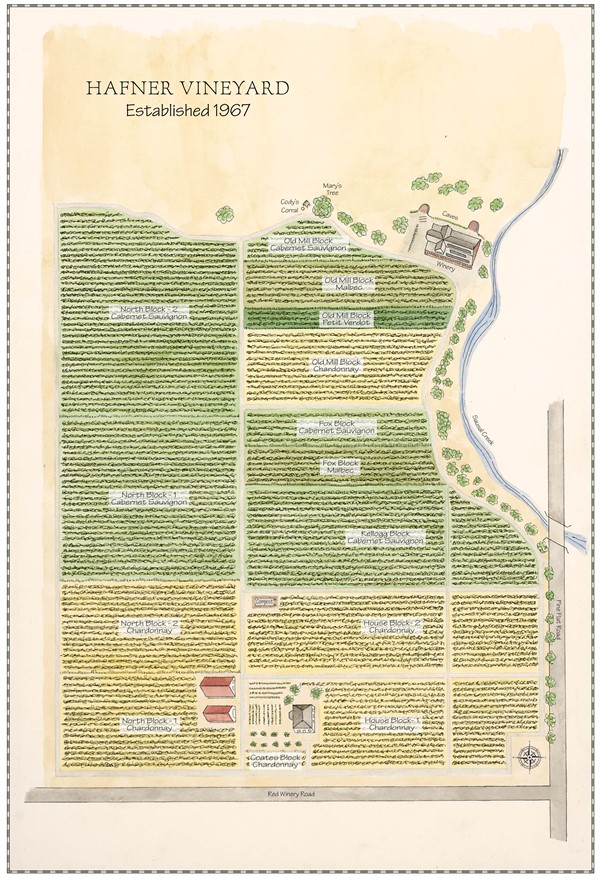 Sarah's watercolor map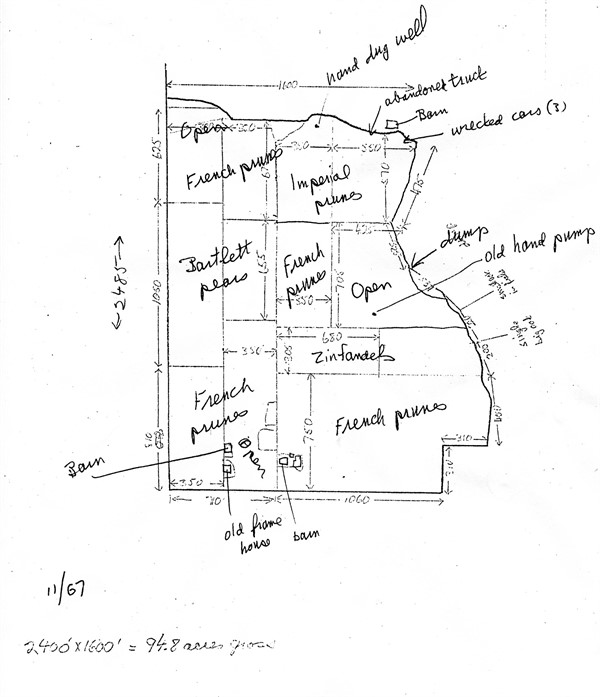 Dad's original hand drawn map