Our Grandmother (Mary) taught us the fun of shopping local and "eating with the seasons". She shared her love of the farmers' market with us, so this Spring when the market opened, we found ourselves continuing the tradition.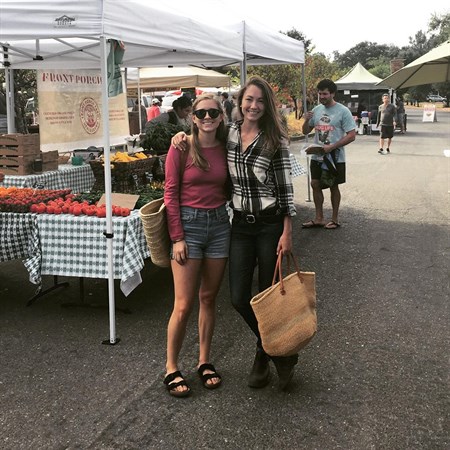 Kate (who works at Hafner Vineyard and lives nearby) visits the farmers' market most every Saturday, while Grace (who lives in San Francisco) shops at many markets - the Ferry Building, Fort Mason or her neighborhood one. With the bounty of produce, we are inspired to create dinners with as much from the market as we can, just like Grandmother did. We thought it would be fun to share how we both build a meal around the farmers' selections.
By Kate: Saturday mornings are dedicated to the Healdsburg Farmers' Market. My husband (Martín), our puppy (Millie) and I head there first thing. We take our market essentials: our favorite woven bag, coin jar and Bento bags for produce.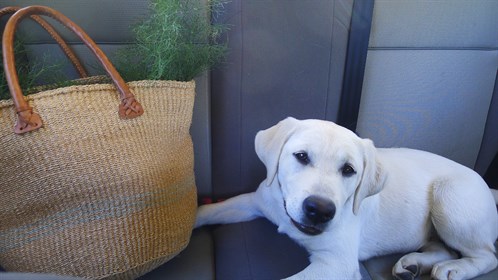 Millie - The Produce Protector
In the peak of the Summer, the fruits and vegetables at the market are irresistible. Everything looks delicious, so when planning a dinner with my parents and our hungry French interns, I decided to create a family style meal that would bring the farmers' abundance to the table.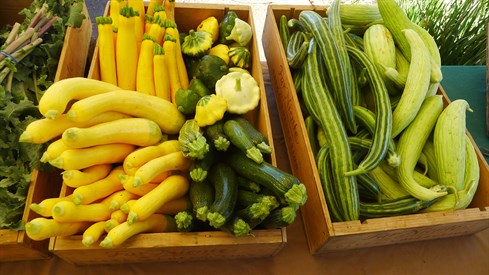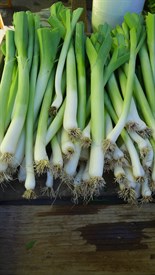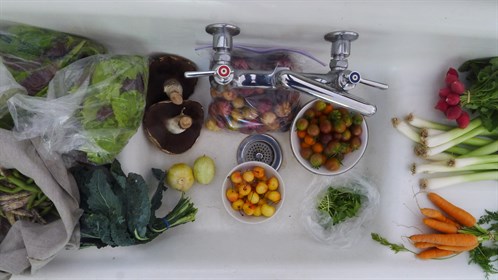 The dinner was vegetable rich – a green salad, green beans with walnuts, steamed leeks tossed in vinaigrette, tomato and basil salad and potato salad with pancetta. To offset all the veggies, I added plates of local cheeses, eggs from our neighbor across the street, delicious bread from Shed in Healdsburg and some prosciutto and hot coppa. Particularly with heat in August, a room-temperature meal is a welcome sight. This was always one of Grandmother's favorite meals because it meant that she wasn't manning the kitchen while everyone else was having fun in the living room. With the variety of dishes and the difference of seven people's personal preferences, we like offering both red and white wines – something for everyone.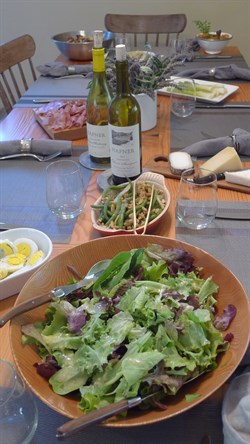 By Grace: One of my favorite things about San Francisco is that there are so many farmers' markets! On Wednesdays, there is a farmers' market just down the street from my apartment; sometimes, I'll rush home from work, just so that I can stroll through the stalls. On Saturdays, there's a large one at the Ferry Building - I love this one because the Downtown Bakery (from Healdsburg) brings their truck down, so I always grab a sticky bun. On Sundays, there's my favorite one at Fort Mason, which is smaller and less crowded compared to the one at the Ferry Building. At each of the markets, there's always a few things I pick up: fruit to snack on, padrones for hors d'oeuvres, and a baguette for the week.
When I get home from the market, I take stock on what I've purchased, since I don't always stick to the list and I tend to buy more than I've planned to.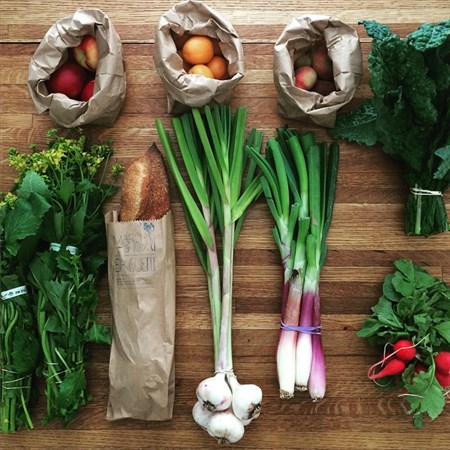 I love going to the farmers' market in the morning and then making a big feast from all the goodies that I've purchased that same day. If I don't get everything I need at the farmers' market, I often pick up the rest of my supplies from the Fatted Calf, San Francisco Wine and Cheese, or Lucca. Most farmers' market dinners consist of a large salad with bread and cheese and sometimes charcuterie meats, which is probably my favorite dinner, but when it's from the market, it tastes that much better.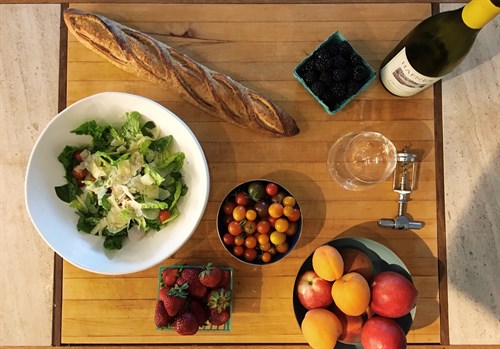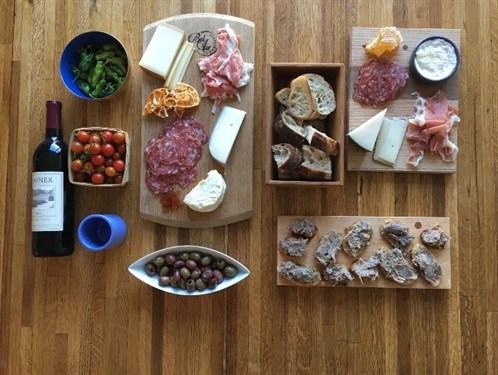 Occasionally, I'll pack up a meal or picnic to share with friends, and I always take a bottle of Hafner, too. Shopping locally was something Grandmother always did, and I love following in her footsteps.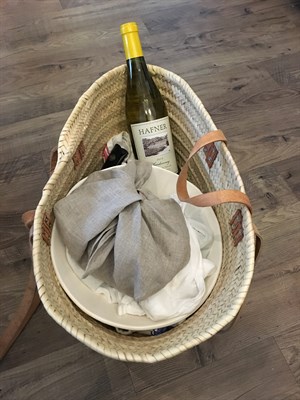 Being in a family business focused on agriculture, we enjoy supporting our fellow farmers. We are grateful for their countless hours of backbreaking work to bring amazing food to our table and our community. Thanks to all the farmers!
With gratitude, Kate and Grace