A new set of hands has been working with Ricardo and me in the cellar for the past couple of months. He's fun and he's French…he's Guillaume, the intern!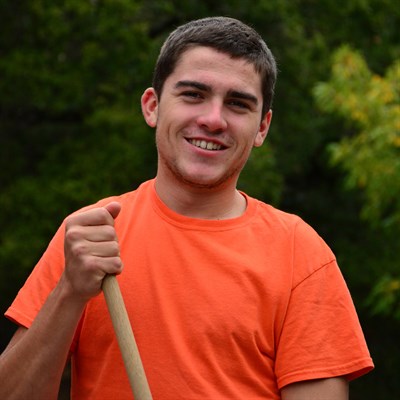 Guillaume Marre hails from Cadalen (between Gaillac and Albi, in the south of France) where he grew up with his parents, older sister and younger brother. His family has been in the wine business in Gaillac since the late 1990s. They make red, white and Rosé wines from local varietals that include: Duras, Braucol, Syrah, Prunelard, Loin de L'Oeil and Sauvignon Blanc. Currently, Guillaume is a third year student at a university called LaSalle Beauvais. He has always been interested in winemaking and in particular, eager to learn Californian techiques, so he made that dream come true by coming to Hafner Vineyard.
He arrived in California on June 10th. He lives with my wife, Sarah, and me. Shortly after arriving, he jumped into the thick of bottling, which now he coins as his "favorite job" with an eye roll and a big laugh.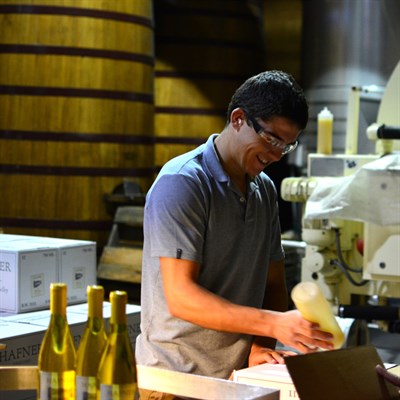 Bottling is the most stressful part of my job. To mitigate some of the tension and relax a bit, my brother, Scott, often brings the special box of treats…donuts! Every day at 10am, we have "Break" and gather together for lattes and sweet treats. When we see that pink box, our faces light up with happiness and anticipation, particularly the French intern. This year, we decided to start an annual competition, the Coupe de Doughnut Hole. It is a competition to see who could eat the most doughnut holes at Break. Ricardo and I learned long ago that our stomachs do not tolerate more than five or maybe six, hence Guillaume and Christian (the son of a friend of mine who worked the bottling line) competed for the title, each trying to outpace the other. In the end, the Frenchie took the lead and sprinted ahead to eat 17 doughnut holes, in comparison to Christian's 12.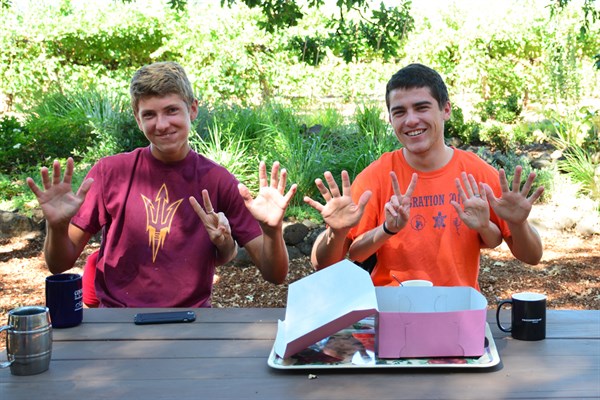 After bottling, Guillaume has been helping Ricardo and me prep for harvest-- clean, rack, stack barrels, and many other cellar jobs. He and Ricardo make a great team. I often walk into the caves and hear them working away, but also laughing hysterically. Guillaume said he enjoys coming to work, especially since he and Ricardo have so much fun together. He's teaching Ricardo a few choice French phrases and Ricardo's helping him perfect the art of Mexican Spanish.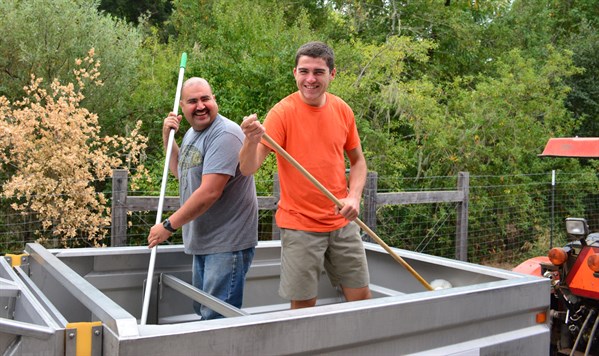 While Guillaume has been learning many aspects of winemaking, he said that what he really enjoys at Hafner Vineyard is our 10am Break. Not just for the mocha and sticky buns he assures me. "It's really nice. There's so much laughter with everyone and it's very fun. I love it!"
He has tried to explore as much of the state as possible. He has visited San Francisco, Armstrong Woods, the Pacific Coast, Yosemite, Sequoia, Kings Canyon and Napa. Still on his bucket list… Lake Tahoe! But with the beginning of harvest looming, he knows that he may not make it this trip. "I guess I will have to come back!" he says with a grin.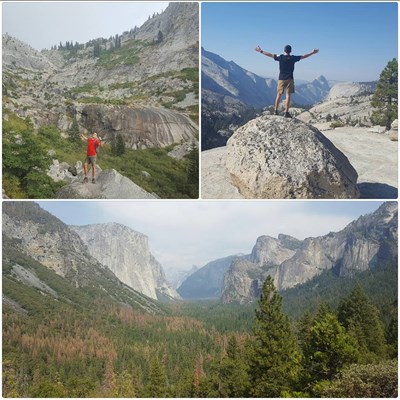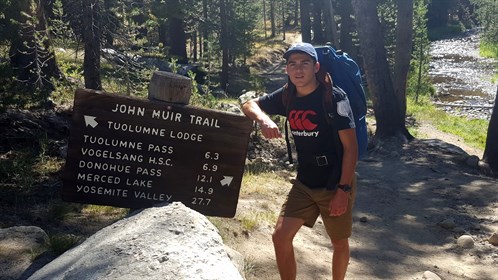 After a long day at work, he relaxes by going swimming (and sometimes allowing Annie, our yellow Labrador, to join him). Having raised two daughters, I'm always struck with how much the French interns can eat, and Guillaume is no exception. "Oh come on!" he says. "I've gained 3 kilos…you are a very good cook." While lifting barrels together, Ricardo assures Guillaume that he may think that my cooking is adding 3 kilos of fat to him, but in reality, it is Ricardo who is adding the 3 kilos, 3 kilos of muscle that is. (Each barrel weighs 110 lbs!) 
Guillaume has brought great life, energy and laughter to the winery. He will be staying with us until September 28th, just before school begins. It's been a very fun few months so far, and we look forward to the remaining weeks with Guillaume but also to the future, as we know we'll see him again in the years to come either in France or Alexander Valley.