Once Autumn arrives, Mother Nature dictates our schedules in the cellar and vineyard. At the beginning of August this year, we anticipated our earliest Harvest yet because the growing season started early. Temperatures were warmer and the conditions drier than in previous years. This led us to believe that Harvest would start about two weeks ahead of normal.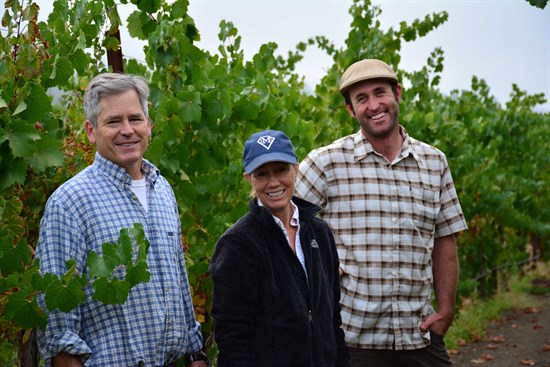 Or so we thought. Mother Nature always keeps us on our toes.
After rapidly readying the cellar for the grapes' arrival, the weather shifted. The two following weeks in August were cool; the temperature some days barely reached 80 degrees. This slowed the grapes' ripening. Ultimately, we welcomed this because grapes develop sugars first and flavor second. The added "hang" time is allowing the grapes to mature with the full flavors.
Now nearing the end of August, Sarah, David and I walk the vineyard daily tasting each block to monitor the grapes' progress. We always harvest Chardonnay first; it begins growing a few weeks before the reds and hence ripens earlier. When I taste the Chardonnay, I wait for the tart apple flavors to diminish and the ripe golden pears and sweet grapefruits characteristics to come forward. These bright fruit characters should be complimented by a crisp, bright acidity. This flavor profile will help ensure that we create a wine that is representative of Chardonnay and consistent with the style we have been making for decades.
This is my 33rd Harvest at Hafner Vineyard and I have confidence that in time the grapes will develop the flavors I want. However, even after all my vintages, I'm always anxious to start the Harvest, but I remember the words of my boss, Monsieur Lafon, in Meursault, France…"On doit attendre." Which translates to…"One must wait." This phrase reminds me that ultimately patience is rewarded. We mustn't rush. So we wait.