Our vineyard and winery in Sonoma County's Alexander Valley are nestled where the hills, creek and vines meet. Of our 250 acres, 100 are cultivated with vines. Grapes have been grown on this piece of land since the late 1880s. We farm our vineyard carefully and sustainably so that this tradition can continue for generations.
We grow Cabernet Sauvignon, Chardonnay, Malbec and Petit Verdot. The vineyard is comprised of many different rootstocks and clones depending on each block's soil and grape variety. Below you will find a vineyard map.
The vineyard is nurtured by a tenured team guided by Vineyard Manager, David Huebel, who lives on the proprty with his family. David often shares updates and vineyard happenings on our blog. 
To ensure the land is preserved for generations, we focus on vineyard sustainability and implement many sustainable practices. That is a guiding principle for not just the vineyard but the entire business. We are CSWA Certified Sustainable.  
Winemaker Parke Hafner believes in the old wine country adage, "Wine begins in the vineyard." He can often be found in the vineyard working closely with David to ensure that every year we are cultivating vines that will produce excellent fruit and top-quality wine.
We feel fortunate to witness the seasonal cycle in the vineyard: barren vines in the Winter, that burst with verdant life in the early Spring, and in the Summer grow into ripe, plump grapes, followed by the excitement of Harvest in the Autumn. Twelve months a year, many hands help with tending to each vine, ensuring their vigor and success for the years ahead. Learn about the team here. 
Here is a vineyard map painted by Sarah Hafner. On our blog, Parke shares his views on the evolution from Dick's original map of Hafner Vineyard when he bought the property in 1967 to this new one. Read it here.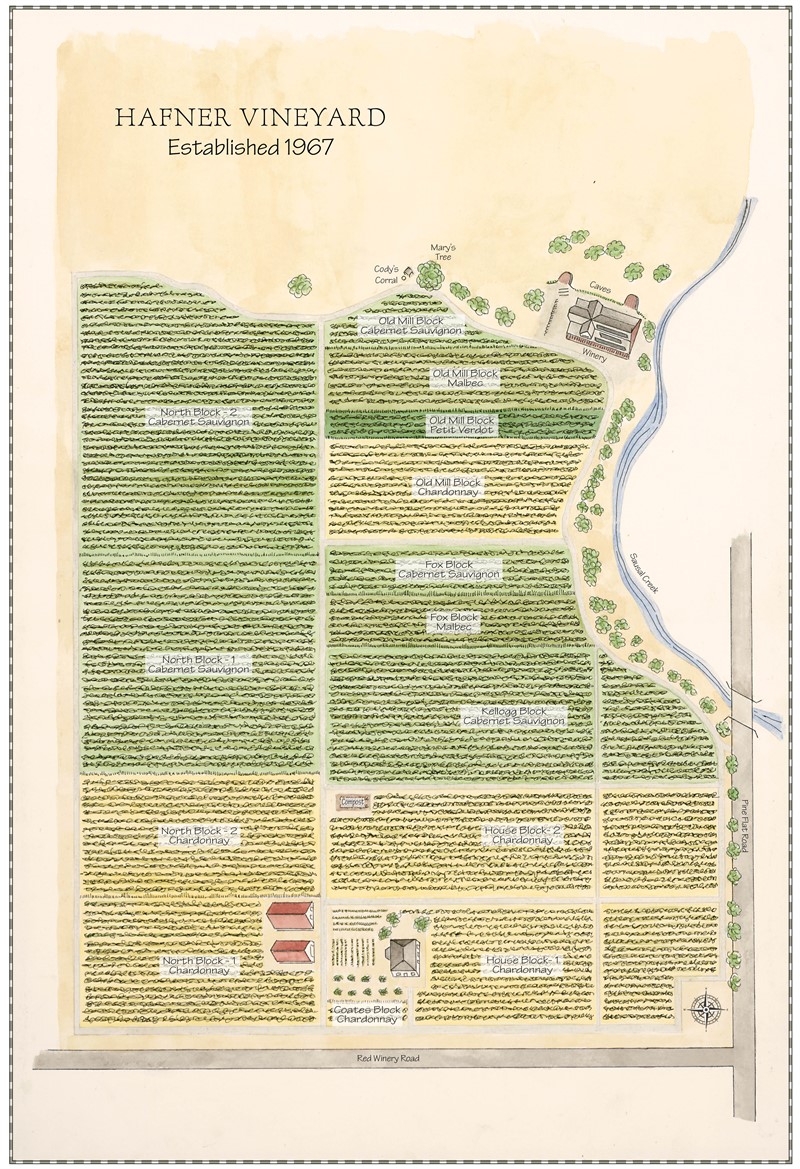 Here is the original map that Dick Hafner used when he and wife, Mary, purchased the land. It is dated November 1967. Although the prunes, pears, Zinfandel vines and abandoned cars are gone and in their place are grapes, the footprint remains the same.