If you've called us on the phone in the last 35 years, most likely you spoke with Laurie. If you visited us here at the winery sometime since 1989, chances are Laurie greeted you. It is increasingly rare that someone devotes the majority of their professional career to one business but we have been lucky that Laurie has, and Hafner Vineyard and our patrons have been the beneficiaries. And now, Laurie is "retiring" to enjoy a more leisurely pace and not having to get up so early each morning! I put retiring in quotes because Laurie will still be on call and we count on her helping us during peak periods in the office.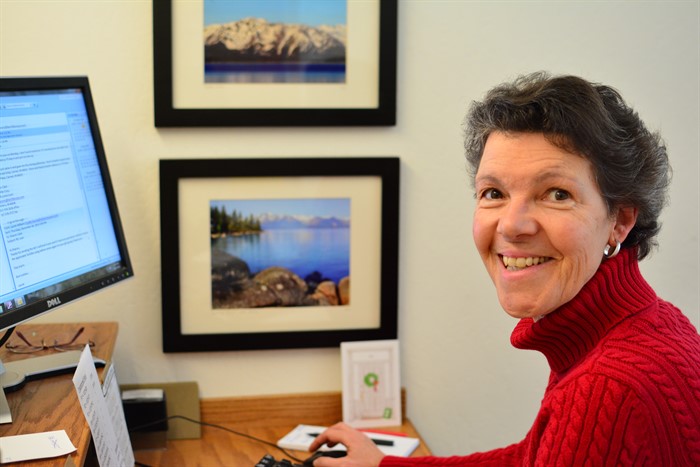 I wanted to share Laurie's answers to a few questions about the long arc of her time here where she has been an integral part of our operation. I hope you'll enjoy her reflections.
What stands out for you from your first year or two at Hafner Vineyard?
How much the company has grown! When I started, it was just Scott and me in the office. Now there are five of us working here, some part-time. Since 1987 we've added new wines, the Annual Tasting Program as well as Standing Case Orders, plus the huge change in technology. There was no internet when I started! I think the funniest thing looking back is that we used to charge credit cards one at a time by calling the credit card processor, giving them the account number and amount, to obtain approval...for each transaction! 

Has your appreciation for wine changed over the 35 years?
Most definitely! I started with no knowledge about wine. I learned a lot about Hafner wines listening to Scott talk with patrons on the phone when just the two of us shared an office. Serving our wines at the Barrel Tastings was also helpful as were our team tastings (both educational and fun). Learning about the different grapes we grow, looking for descriptive aromas and flavors deepened my appreciation for what was in the glass. I appreciate our philosophy about wine: If you know what you like, you're an expert. This reduces the pressure and allows for more enjoyment.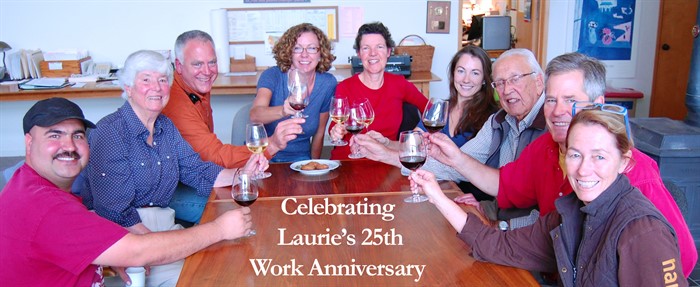 What was your favorite time of year at the winery?
Harvest and the Holidays!
Harvest is exciting because there is a lot of activity in the cellar. Big machines at work, wonderful smells in the winery and watching the grapes go through the sorter was always fun. I appreciated having a career that is in rhythm with the seasons and nature.
I always loved working on holiday orders even though November and December are crazy busy. I'm a detail person and enjoyed combing through orders and making sure any new information was updated and all the details were correct. It is always amazing how much our small team gets done during the Holidays. I was proud of the effort, starting with the quality of the wine, then, how the wine, handwritten gift notes and Winemaker's Notes looked in the box, even down to the shipping containers and the fun stickers that exclaim, "A gift for you!" 
35 years working for one company is a long time. What are some of the reasons you stayed so long?
Mostly I stayed because I really enjoyed working with the Hafner family. I felt valued and appreciated by all the family members and that is a huge gift. I enjoyed my colleagues and the environment was fun and pleasant. I was allowed the flexibility to pursue other interests, all the while having steady employment. And I enjoyed my interactions with our patrons. It was great when I would recognize someone's voice on the phone. Or a patron would call and ask to speak to me specifically because we had had previous conversations and enjoyed talking with each other. That always felt good.

What were the experiences that meant the most to you?
Probably when someone would call because there was a problem with their order and we would resolve it quickly. They ended up feeling happy, heard and taken care of. I ended up feeling good about the service we provided. I also enjoyed the camaraderie among the work team when it was someone's birthday. We are big on giving each other cards and it was fun to read the amusing, sometimes touching cards that someone got when we celebrated a birthday at our morning break. I appreciated those acknowledgements. Also, the way we all support each other when there were challenges in our personal lives was really wonderful and means a lot to me. Having a friendly, supportive, fun work environment is priceless. I feel very lucky to have worked for so many years in a place that provided so many positives.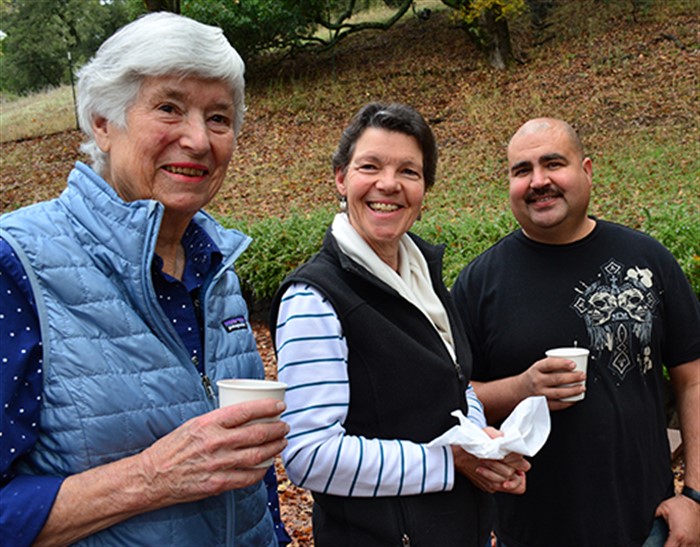 Don't be surprised if during the Holiday Rush you hear Laurie's voice on the phone, and perhaps at other times when we need her expertise and another set of hands. You can also reach her at laurie@hafnervineyard.com when she isn't traveling and visiting friends.
Laurie leaves Hafner Vineyard with many things but chief among them is our deep and abiding gratitude for sharing her kindness and thoughtfulness with her colleagues and all our patrons.