With the release of our 2018 Chardonnay and 2016 Next Red, we thought it would be fun to taste them virtually with patrons. Virtual talks have been a nice way to "be with you" in your home during these uncertain times. This tasting gave us the opportunity to dive deeper into the wines and winemaking practices. We also tasted the two previous vintages of each wine (2017 and 2016 Chardonnay along with 2015 and 2014 Next Red).
Below we invite you to watch the recording of our conversation on September 25th. Scott Hafner welcomes viewers, then winemaker Parke Hafner discusses how the wines are made, followed by his wife Sarah who tastes through each wine. We finish with a lively Q&A and a short film revealing each of our favorite wines.

During the talk, we asked viewers to share descriptors of the Chardonnay and the Next Red. We took those descriptors and created a word cloud for each wine. The larger the word, the more frequently it was listed.
Chardonnay Descriptors

Next Red Descriptors

We also asked viewers to select their favorite wine from the day's tasting. Here are the results: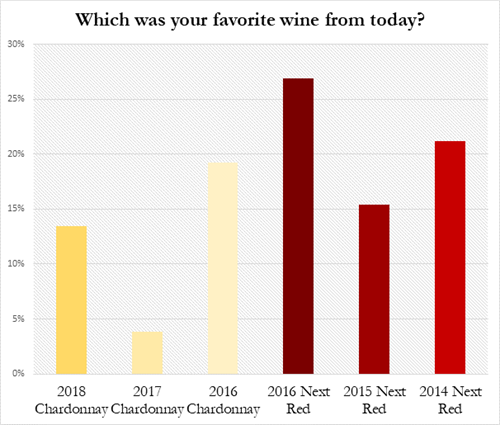 We hope you enjoyed the talk. If you would like to join future virtual tastings, please visit this webpage.