Name: David Huebel
Number of years at Hafner Vineyard: 7 years
Department/Role: Vineyard Manager/Ranch Problem Solver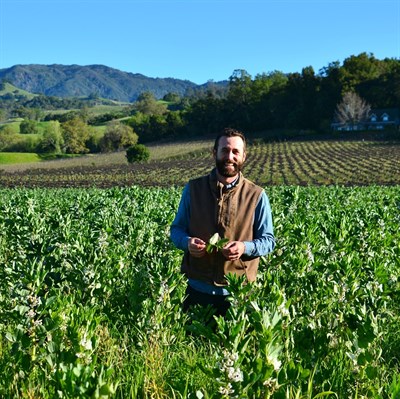 What's something most people don't know about you? I have a degree in pure mathematics from UC Santa Cruz. Pure mathematics is theoretical, rather than applied.
Where did you grow up? Healdsburg, CA. In fact, I went to all the local schools. The town has absolutely changed and has made significant shifts at pivotal moments in my life. As a senior in high school, the neighboring town, Windsor, opened a high school, so my senior class size dropped dramatically. Shortly after came the restaurant revolution in Healdsburg which allowed me to work at some high end establishments. Today, the Healdsburg restaurant scene is booming. After college, it was a completely different town. Even with the changes, our community seems to have grown closer.
Favorite local restaurant: Oh that's a tough choice! It would be between Diavola and Campo Fina. I love the food at both places, and I have known the chefs since they were sous chefs at Santi which was about 18 years ago. If my family is going out to dinner together, we split our time between two Mexican restaurants in Healdsburg, El Farlito and Agave. These restaurants are owned by two brothers who generously give back to our community.
What's your perfect weekend day look like? Up before the sun and on the trail with my wife, Tiff, by sunrise. Running for four to six hours. Then an afternoon on the river with the kids and friends.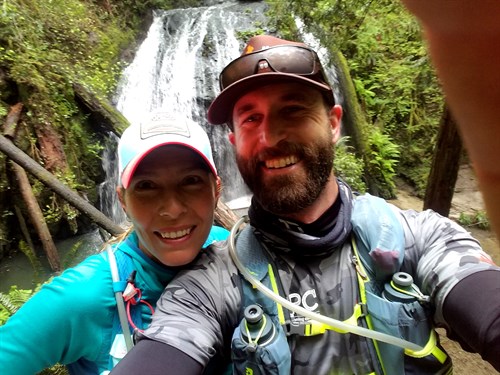 Tiff and me at mile 7 of 33 during our race in Mendocino.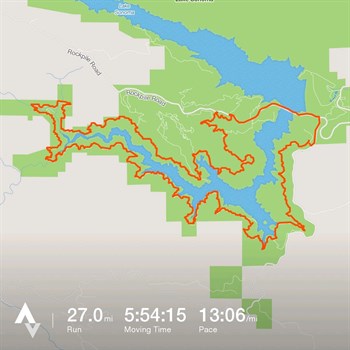 This is a run we did recently one weekend morning around Lake Sonoma.
How else do you spend your free time? Practicing and competing in archery competitions.
Favorite Hafner wine (yes, just one!): Next Red
What's the best part of being part of the Hafner Vineyard team? My job is more than just a job; it's a lifestyle. My family and I live on the ranch. I'm surrounded by my colleagues, family, vineyard and the outdoors every day. The best part is the whole experience.
What's the most exciting time of the year at Hafner Vineyard? The busiest time is the Spring because the work is really diverse and every day is a new adventure, but the most exciting time is Harvest. My wakeup call varies from 11pm to 3am, depending on the grapes we are picking. (Normally I'm up at 4:30am.) It's such an exciting time because it's the culmination of a year's hard work. (Last Harvest, I wore a GoPro to share what it's like driving the machine harvester. Check it out.)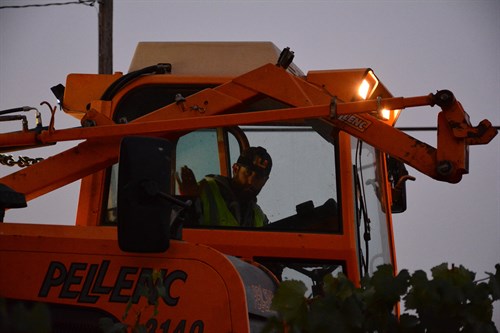 What's the best part of living in Sonoma County? The people here are wonderful and the diversity of activities is never ending.
Personal motto or saying that you live by: Live like I'm the hero of my own movie, then everything will work out.
Favorite day of the year: The last day of Harvest. It is the greatest sense of relief and accomplishment.
What's a memory of when you started working at Hafner Vineyard? In April after I was hired but before I moved to the ranch, the vines were going through budbreak. Something was eating the Petit Verdot leaves. Parke and I thought it might be pincher bugs, but I needed to confirm this at sundown. So, my family and I came out at 8:30pm after dinner to check. Sure enough, loads of pincher bugs were snacking away on the leaves. Being very excited, I picked up my two-year-old daughter, Fia, to show her my discovery. She was less enthusiastic. It felt great to be able to identify the problem quickly on my new job and even better that it wasn't a long term threat! Three weeks later, we moved here. Today, Fia still comes out to the vineyard with me on the weekends, particularly when she knows the blackberries are in season. Together, we take a pit-stop to snack on a few before continuing around the ranch.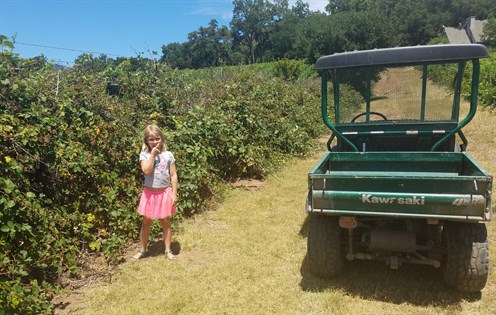 What's the craziest/funniest job you've done here? Since I live on the vineyard, I help Parke (who also lives here) make sure everything is safe. Normally that includes repairing water lines or removing fallen trees. In December 2014, it took another form – flood emergency preparedness. It had started raining at 2:30pm and went through the entire night. At 4am, I was woken up by a downpour, so I grabbed my rain suit and went out to check the drainage ditches around the ranch. One area by the winery accumulates branches, so I went there first only to find Parke soaking wet up to his waist trying to clean out the creek. I quickly relieved him and continued pulling sticks and debris out until 7:15am or so. It was quite an adventure. Over 48 hours, the storm brought 9" of rain. I wrote a blog about it and shared some photos. Check it out here.