During Spring and Summer, friends often visit and ask about our favorite day trips in the area. There are many to choose from! Sonoma County is incredibly diverse, reaching from the Mayacamas Mountains to the Pacific Ocean. I frequently suggest an excursion to the coast because it is one of our favorites.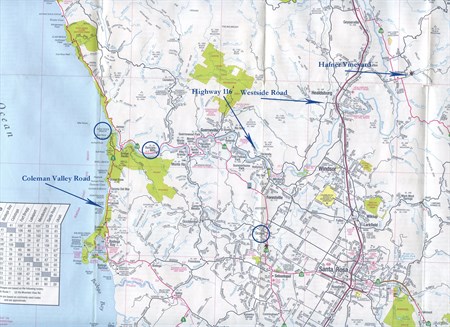 The best days out there are the crisp, clear ones. (It can be quite foggy.) When Dick and I go to the coast, we leave early in the morning, choosing a scenic road. From Healdsburg, we often drive along Westside Road – a small county road, lined with vineyards and wineries. It ends at River Road/Highway 116 just outside of Guerneville. (While in Guerneville, if you who want a longer day, Armstrong Woods offers easy walks through 850 acres of redwood groves.)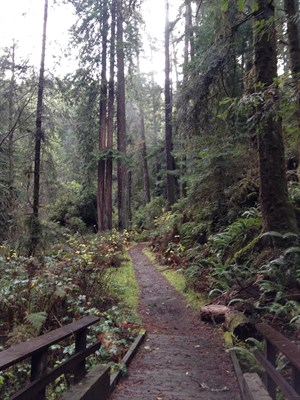 River Road parallels the Russian River all the way to the ocean. Sometimes we take a brief stop for coffee in the small, quaint town of Duncans Mills and to browse its art galleries.
When we reach Highway 1 (one mile before the ocean), we take Highway 1 heading south. Less than one mile on the right side, there is a wonderful park called the Sonoma Coast State Park (popularly known as Goat Rock). Here there is easy beach access and by this time, we are ready for a walk. When most people think of California beaches, they imagine palm trees, lying in the sun and swimming in the ocean. Our Northern California beaches are very different. The coastline is dramatic – tumultuous waves crash against the cliffs or hit the beaches, making surfing (in wetsuits!) a popular but challenging activity. The wind can be strong, so we often take windbreakers, and wildlife is abundant.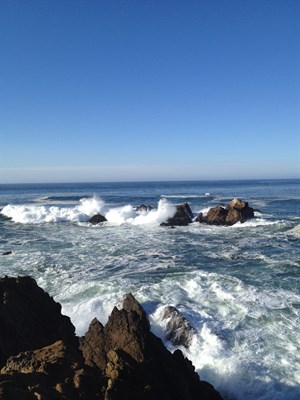 We stroll north along the beach, enjoying the fresh air and the vastness of the Pacific. Eventually we reach the place where the ocean and Russian River meet. Sea lions often lounge on these banks; it is wonderful to share the space with these enormous creatures.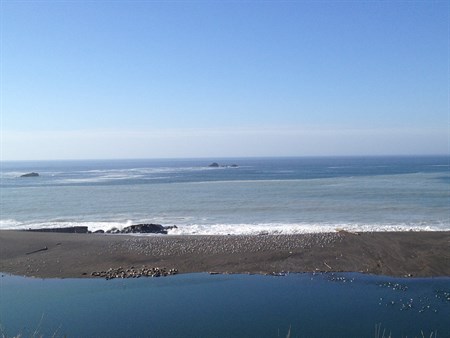 Back in the car, we drive south on Highway 1, passing smaller beaches where we might stop briefly. Less than a mile after Schoolhouse Beach, we head inland on Coleman Valley Road. This is a very narrow, unlined road that climbs to the top of the hills, giving breathtaking views of the ocean and countryside. For us, it is one of the most beautiful, undiscovered gems of Sonoma County.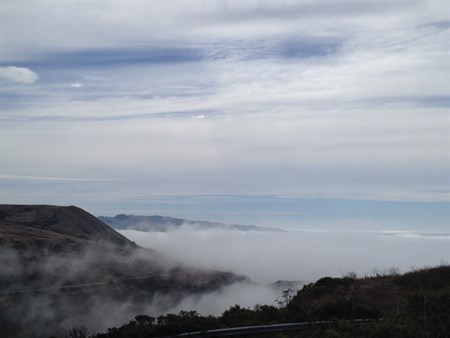 The coastal environment turns to cattle grazing lands, and eventually we drop down into the town of Occidental. At this point, it is nearly lunchtime, so we head to our favorite restaurant in nearby Graton, Underwood Bar and Bistro. It is a wonderful locals' spot that serves salads, flatbreads, hamburgers and more. Sufficiently full, we head home. 
This trip often makes me think about how grateful we are to live in an area with such diverse landscapes all of which we can enjoy in just one short day. 
Click here for a detailed Google Map itinerary with the roads and stops along the way.