October 7
Ten days after the Glass Fire broke out in the eastern hills of Napa Valley, there are signs of optimism: containment over 50%, evacuations orders lowered to warnings, roads opening and clearer skies. But as the smoke lifts and ash settles, it becomes apparent the devastation the Glass Fire has left. As is the case with these massive fires, each day we learn of another friend, patron, community member, business or stranger who has lost everything. Over 600 homes burned, split almost equally between Sonoma and Napa Counties.
The northern part of the Napa Valley wine region was hit particularly hard. As of October 4, the San Francisco Chronicle reported that 17 wineries have been damaged. The New York Times also shared an article about the devastation, both the destruction and the emotional price of losing a vineyard and winery, all the years of hard work…gone. The destruction is devastating, but if we have learned anything from these past few years with fires, it is that our community works together to lift each other up and rebuild.
Many have asked how to help. Our community is deeply touched by the outpouring of support. Below you will find four non-profits that are helping fire victims. One other way to help is to open a bottle of Sonoma or Napa County wine and enjoy it! It means a great deal to all of us in the wine industry knowing that you and your family are enjoying what we spend our year making.
California has hit a grim fire milestone – over 4 million acres burned this year, surging well past the previous record from 2018 of 1,670,000 acres.
In 2020, we have had five out of six of the largest fires in California history. The August Complex Fire, burning in the Mendocino National Forest, is now 1 million acres on its own and considered a "gigafire". 

Fire is a normal and natural event. However, this expansive fire destruction is not normal. Climate change has led to less rainfall causing drier conditions and lengthening the fire season. It has brought extreme weather with record heat, rare Summer lightning storms and strong Santa Ana winds that produce and fuel the fires.
Here is what Cal Fire states about the 2020 Fire Season:
While wildfires are a natural part of California's landscape, the fire season in California and across the West is starting earlier and ending later each year. Climate change is considered a key driver of this trend. Warmer spring and summer temperatures, reduced snowpack, and earlier spring snowmelt create longer and more intense dry seasons that increase moisture stress on vegetation and make forests more susceptible to severe wildfire. The length of fire season is estimated to have increased by 75 days across the Sierras and seems to correspond with an increase in the extent of forest fires across the state.
The Native Americans burned underbrush of forests, ultimately strengthening the health of the forest and reducing "ladder fuel", which has not been done in recent decades. Californians are now faced with this new reality. Here at Hafner Vineyard, we will continue to reduce ladder fuel on our property and aim to reduce our carbon footprint to help do our part to mitigate climate change.  
We are hopeful that expected rains will arrive shortly, although the forecast predicts less than 0.10 inches. Any little bit will help ease our nerves. We are anxiously looking forward to the Winter. In the meantime though, we are deeply grateful for the support coming from across the state to help begin the recovery process for these recent fires. 
September 30
Thank you to many patrons who have called and emailed about the fires in our area. We are deeply touched.
We are safe. The Glass Fire is not a threat to us here in Alexander Valley, although it is quite smoky. The fire is burning to the southeast in the outskirts of Calistoga and St. Helena in Napa Valley as well as in the hills of eastern Santa Rosa. The winds were calm over night with the fog rolling in this morning giving the firefighters some reprieve.
We feel fortunate to be a distance from this fire, but any relief is offset by our concern for others. The damage the Glass Fire has caused is devastating. We are thinking of our friends who have lost homes, colleagues who have lost wineries or vineyards, and all who have been impacted by these fires. As time passes, it becomes more apparent what the fire consumed. It will take weeks to learn the full extent of the damage, and this waiting time for many, wondering the status of their properties, is gut-wrenching.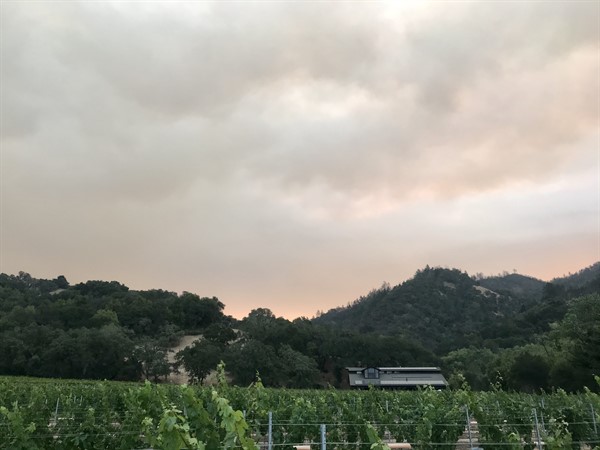 Smoky sunrise at Hafner Vineyard on Monday, September 28
The outpouring of support from people all over is humbling. Patrons have asked how they can help. Here are a few organizations supporting fire victims:
While the Glass Fire is the prominent fire in our area, fires are burning across California and have burned parts of Oregon and Washington. We feel for the hundreds of thousands of people impacted by these fires over the past few months. And we are eager for rain.
A red flag warning has been issued for our area tomorrow afternoon (10/1) through Friday evening (10/2), which means that dry conditions and potential high winds are expected to return.
We will update this blog if there are any significant changes that impact our standing with the fire.
In the meantime, here are some resources that may be helpful to gather more information throughout the fire if you wish to follow it more closely:
I said this in our Fire Update on the Walbridge Fire in August, but I hope this is the last fire blog we need to write this year. Two fire blogs in one year is plenty. Actually, two is two too many. But fire season is still here, so now we hope for rain.