Every other Friday around 1:30 pm, I head to the winery with my dog, Sally. We go into the caves to check that everything is ready – wine glasses, wine thief and, of course, a few bottles of wine. We then go upstairs to check in with Kate to see who is coming for our Friday Tour.
Tours here at Hafner Vineyard in Sonoma County's Alexander Valley are different from most winery tours. We are a low-profile winery…there is no sign at the road, and we do not publicize our street address. The reason for this is simple: we do not have a tasting room or hospitality staff and are not able to handle "drop-ins". Instead, every tour is led by a family member and most of the time, it is me, sometimes it's Parke or Kate or Scott. We take pride in what we do, and we want to be the ones who share our story with patrons and guests. We feel it is the gracious thing to do. It reminds us of our visits to small wineries in France, a more old school way.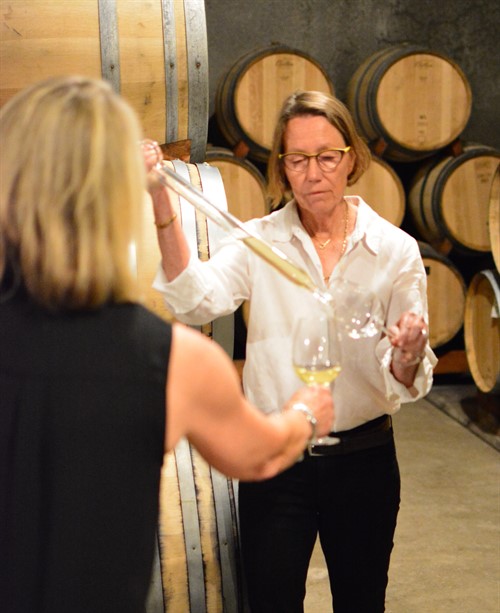 For simplicity, we give tours on the first and third Friday of each month at 2 pm. (Of course, we always try to accommodate our patrons' schedules, so there are exceptions to the "every other Friday" schedule.) Kate (who organizes the visits) is a great coordinator; not only does she gather the groups together and provide precise directions on how to get here, but if requested, she also gives suggestions on what to do in Healdsburg, where to eat or stay. The best way to contact Kate is by phone (707) 433-4606 or email kate@hafnervineyard.com.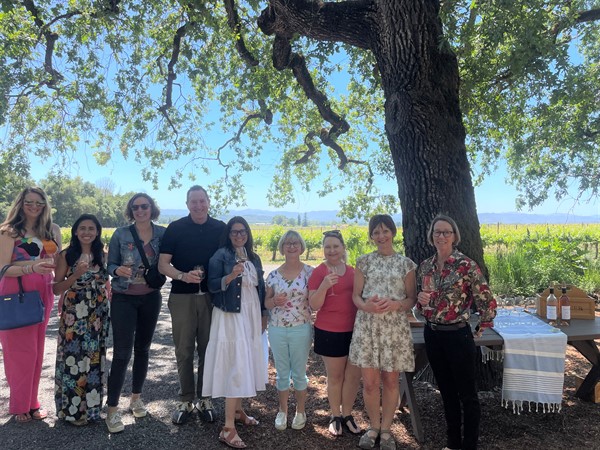 Our tours begin in the Grove, as we call it, with a glass of wine, Rosé in the Spring and Summer, Chardonnay in the Fall and Winter. When our guests are new to Hafner Vineyard, I begin with a brief history of the property starting with my parents-in-law, Dick and Mary Hafner. For me, it is fun to talk about how Hafner Vineyard began because while our story is unique to us, it is also reflective of the time. (Life was simpler and the possibilities were endless back in 1967.) We then go out into the vineyard to see how the vines are progressing; I talk about our regenerative and sustainable vineyard practices and specifically about the growing season thus far. Some seem amazed by all of details that farming requires, but I remind them that is what makes our business unique and enjoyable. Stepping into the vineyard, looking at the vines firsthand congers up a lot of questions…what's the watering regime? Why do you cover crop? How do you determine when to pick?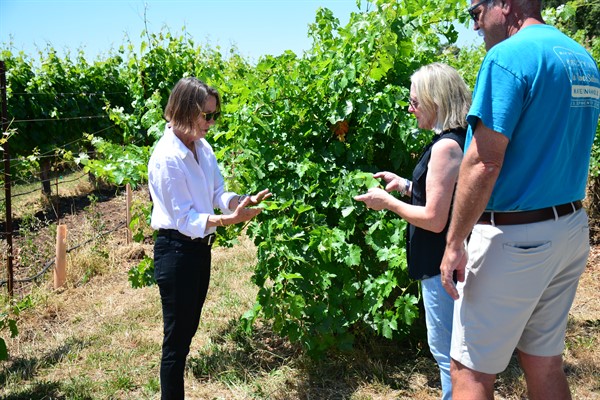 After all the vineyard questions are answered, we go into the winery, our fermentation room, where I explain the basics of making Chardonnay. While I have been working in the cellar for 40 years (yikes!), I don't come from a technical background. I am an UC Davis grad, but unlike my husband, Parke (who has been our winemaker since Day One), I did not study viticulture and enology (I majored in English and History), so I come to this business with a different perspective. My explanations of winemaking are more humanistic and less scientific. Another reason our tours are different from other wineries is that I do work in the cellar (filling barrels, monitoring sugars, etc.), so I have firsthand knowledge to share. The group below is treated to a unique scene... Harvest in action!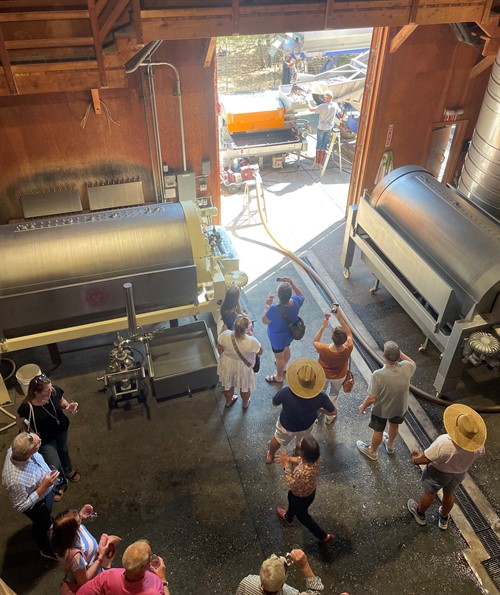 The best part of the tour comes next…we go into the caves where our wines are aged in barrels. When I open the door, someone invariably says, "Wow, it smells so good and it's so cool." I explain why we dug the caves (to save wine by storing it in a humid environment; our caves stay at 62° F and 85% humidity year-round). I love being in the caves where I am able pull a sample of our Reserve Chardonnay from the barrel to share with our guests. I find it interesting to taste a wine that is still in production and then compare it with a finished wine. This year I have been pulling a barrel sample of 2022 Reserve Chardonnay; after everyone has enjoyed it, I then pour a taste of our current release, the 2020 Reserve. I am always interested in hearing which wine people prefer; some really love the barrel sample; others prefer the bottled wine.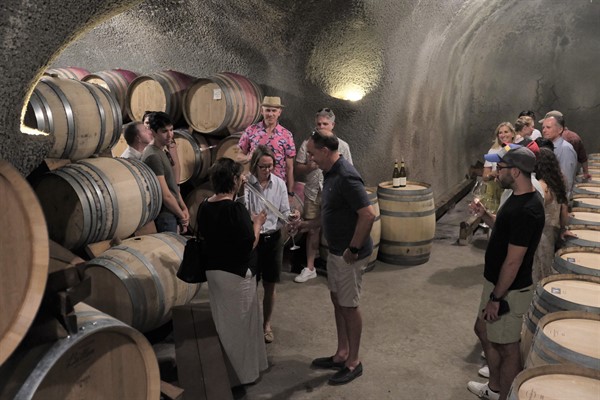 Once we have finished tasting the Reserve, we move to the Cabernet side of the caves where I explain the red wine production process and I offer two Cabernets to taste: our current release which is 5 years old and a 10-year-old Cabernet from the Wine Library. Our guests often comment that these are some of the oldest wines they've tasted and are impressed by the differences and ageability.  
When we taste the two wines, I remind our patrons that our winemaking practices remain consistent, so the differences between the two wines they are tasting is how the wine is developing and aging. People always ask which I prefer, and I defer the question back to them because each person's preference is what's most important. Wine is personal and yet our industry has made it elusive. As I say to our guests, if you like your wine fruit-forward, then drink your wines young; if you prefer elegance and complexity, then drink your wines older. The comparative tasting allows them to decide which wine they prefer.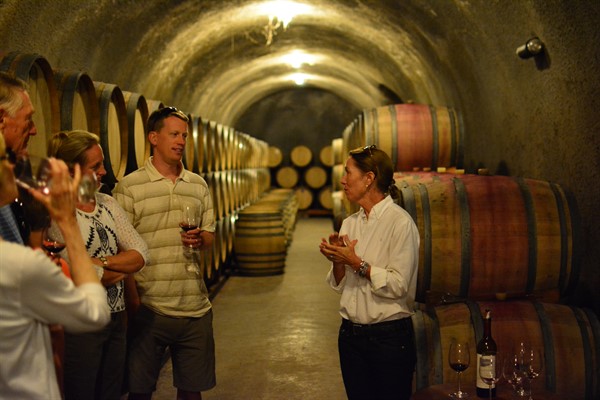 After we've finished tasting in the caves, the tour ends back in the winery where Kate, Scott, Sandy, Laura or Quinn join us to help visitors who are interested in "taking some Hafner home". We are grateful that patrons want to remember their time here by purchasing some of the wines they've tasted. We either load them into their cars or ship directly to them at home.
I enjoy giving tours for several reasons. I love what I do and I love sharing my knowledge and passion with others. Every tour is different because the questions that guests ask reflect their perspective and knowledge, so my tour's focus is determined by their interest. I am fortunate to meet our patrons, the people who enjoy our wine (many of whom have become friends over the years). At the end of every tour, I realize how lucky I am to live this gratifying life.