Every Saturday morning, you'll find me at the Healdsburg Farmers' Market. I like to support local farmers because of the quality and the variety and because it is local. The market began in 1978 and continues to be as vibrant and lively as ever. Most of the purveyors have farms within ten miles of Healdsburg. They bring many different provisions from wild fish and locally raised meat to fresh eggs and cheese to the most abundant…seasonal vegetables and fruits.
The market begins at 9 am on Saturdays and 3:30 pm on Wednesdays. I arrive a few minutes before to get a favorite parking spot and to situate myself near Ed Miller and his divine lettuce. (He is a veteran farmer, participating in the Healdsburg market since 1988.) Ed and his wife, Maureen, grow the most coveted "little gems" (a specially crisp lettuce) and attracts quite the early bird crowd to ensure we each have a few for the coming week.
In order to create fairness, no one is allowed to buy before 9am. Right at 9, the manager of the market, rings a bellto signal the start. It does become a bit of a mad house for the first few minutes at Ed Miller's stand. I come prepared with my own plastic bags and the right change. Eight heads of lettuce and I'm off to other purveyors.
I visit my favorite farmers to pick up staples for the week. Yael Bernier for peppers, arugula and garlic; the Kiff Family at Ridgeview Farm for melons and eggs; Emmett at Foggy River Farm for tomatoes; Hank Wetzel for corn; Bumblebee Fish for salmon, and Six Oaks Farm for zucchinis. Baskets now full, I take my provisions to the car and head back for another lap around the market. This time I meander through the rows, admiring each person's selections. While I stroll, I am greeted by many local friends. Fresh produce and handmade products plus wonderful friends…a terrific combination.
As I make my way to the car, I notice the bustling chefs foraging through the stands for the perfect accompaniment to that day's menu; the children dancing to a small band playing folk music, and the farmers explaining their newest addition to their assortment. It's a lovely scene…one I enjoy every week and boy, are we lucky to have the local farmers who commit their lives to nurturing and sharing such wonderful goods. I love buying my food from people I know!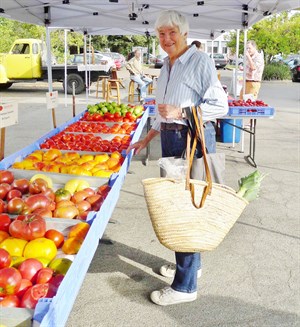 To learn more about the Farmers' Market, visit them online or on Facebook to see great photos from the market.