It may come as no surprise that we enjoy reading and referencing wine books. Viticulture and enology have a rich history with plenty to learn. Here are my top 5 wine books. I've included links to Amazon, so you can read more about them, but I encourage you to shop at your local bookstore. It's always fun to pop into a local bookshop and get to know the owners. You may stumble upon another surprise book that you just have to have.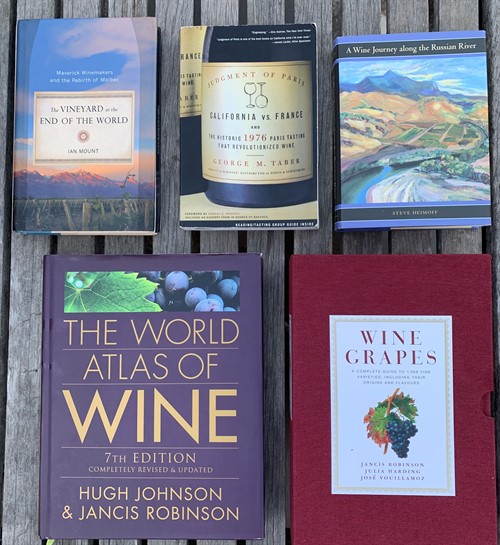 We hope you enjoy browsing this selection, and we look forward to any recommendations you might have.
A Wine Journey along the Russian River by Steve Heimoff
The Russian River is an integral part of our area and runs through a number of different wine appellations here. This book recounts the river's history and the influence that it has on each region. It is a great way to learn about our area and some of the winemaking pioneers.
Judgment of Paris by George Taber
This book tells the story of a historic tasting in 1976 that helped California become a key player in the wine world. It was a blind tasting that pitched the most prestigious French wines against California wines. California at the time was not considered to make wine of high caliber. The result of the tasting (spoiler alert!)… California wines won both the red and white wine tastings putting California on the map. (Or skip the reading and opt to watch Bottle Shock. It is a movie that retells this tasting through the perspective of the Chardonnay winner, Chateau Montelena, from Calistoga.)
The Vineyard at the End of the World by Ian Mount
Having worked a harvest in Mendoza, this book was a fun read. It recounts the winemaking history in Argentina and how the country became known for their Malbec wines.
The World Atlas of Wine by Hugh Johnson and Jancis Robinson
This book is a great reference for learning about various wine regions around the world and their typical varietals, key players and general climate. We refer to this often when we want to understand more about an area or compare regions. (This is the 7th edition. The 8th edition is set to be released in October 2019.)
Wine Grapes: A Complete Guide to 1,368 Vine Varieties, including their Origins and Flavours by Jancis Robinson, Julia Harding and Jose Vouillamoz
For the wine nerds out there, this 1,424 page book is the ultimate guide to grape varietals – their origins, lineage and history, viticultural tendencies and current state in the wine world. Our book sits in a bookshelf near our dinner table. We pull it out with regularity, particularly during dinners with family when we're tasting a varietal that is new to us or debunking varietal myths.