For me, nothing says Summer like a glass of chilled Rosé…it reminds us of a trip to Provence where we discovered Rosé back in 1985. After a long day at the winery, we enjoy sipping Rosé on our terrace with family and friends. And more often than not, we enjoy it with dinner as well.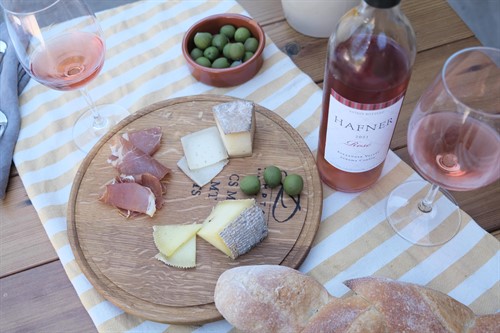 Our Rosé program began as an experiment to intensify the color of our red wines. By draining off 15% of the juice at the fruit sorter, we fermented 85% of the juice with 100% of the skins and produced a darker red wine. What to do with 15% juice? Initially, we sold most of it to another winery, but we always kept some to make Rosé for ourselves. Called "saignée" (which means to bleed in French), this is the classic technique to produce Rosé.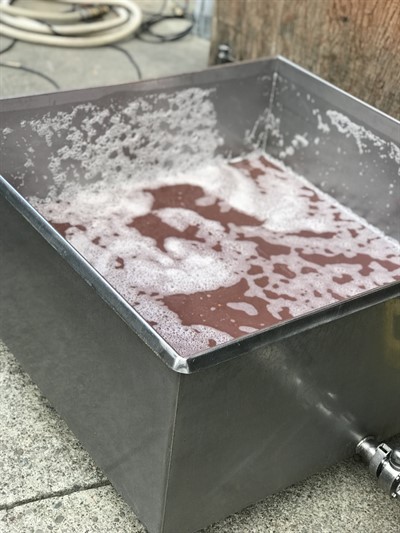 Saignée juice
For years, it was our Christmas gift to family and friends, then Scott suggested that we make it commercially which we did and it became a huge success. Due to its popularity, we now make 50% from saignée juice and 50% is made direct to press. (We pick the Malbec grapes as though we were making white wine and press it right away.)
All of our wines are "Estate Bottled", which means we grow the grapes, make the wine and bottle it all at Hafner Vineyard. Here on the ranch, we grow three red varieties: Cabernet Sauvignon, Malbec and Petit Verdot. While you can make Rosé from any red grape, the key to producing a lovely Rosé is its bright, lively fruit-forward quality. We tried making Rosé from Cabernet, but Cabernet has more concentrated grape aromas of blackberries, cassis, and Mexican chocolate. Petit Verdot's primary descriptor is India Ink; likewise, it does not produce a lively, fruity Rosé. Malbec is perfectly suited for Rosé with its large berries (perfect for saignée) and its intense fruity components. We describe our Rosé of Malbec as having aromas of watermelon, strawberries, and powdered candies. We ferment the juice cool, in temperature-controlled tanks so we can retain those lovely fruit aromas.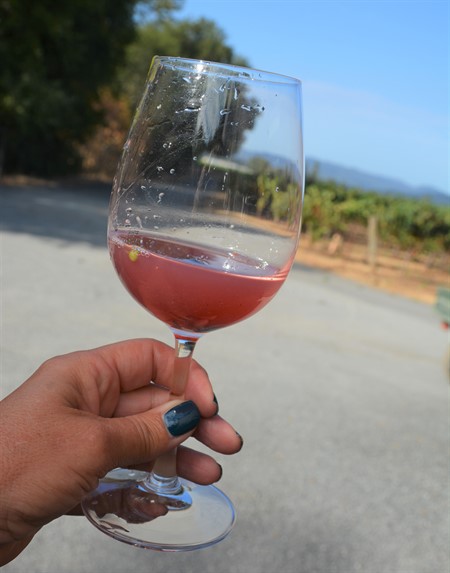 Rosé juice from the press
One challenge of making Rosé is its color. Rosés can vary from almost white/ pale pink to dark magenta. When we have a competitor tasting of Rosés, we see the gamut of hues in the glasses before us. The color is partly dependent on the variety – Pinot Noir makes a lighter hued Rosé whereas Mourvèdre, Syrah and Malbec Rosés all tend to be darker in color. It is difficult to make a magenta hued Rosé from Pinot Noir grapes.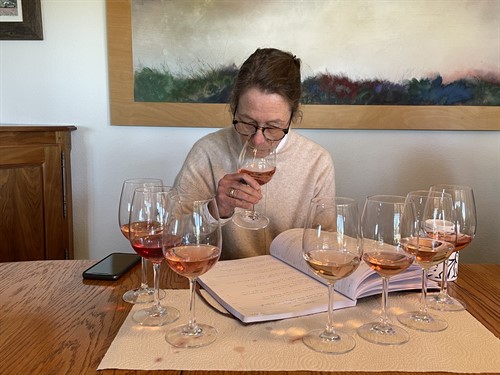 While the varietal plays a role, it is the integrity of the skins which truly impacts the color. In cool years, grape skins are generally thicker and don't release as much color. Warmer vintages produce thin skinned grapes that allow the juice to extract color more readily. It's a bit of a Goldilocks situation…we don't want too little color, nor too much color, we want it just right.


To complicate the process, as the juice ferments into wine, some of the color is lost. The color we begin with, is never the color we end up with. Although color is not integral to the flavor of Rosé, it is the intriguing and alluring element that makes Rosé, Rosé.
Enjoy!