There's no denying it…I am very lucky, luckier than most. I live and work on a vineyard with my husband, Parke and our yellow lab, Annie. And thanks to Annie's persistence and enthusiasm, she and I take daily walks and runs through the vineyard. Typically, our longest ones are in the evening because I love the light at dusk; as the sun is slowly setting, the colors seem more vibrant, more intense. As an artist, this exercise is a perfect activity because it gives me inspiration for new work.

Each season has its own distinct characteristics and color. While most think of Spring as bright and exciting with all of the vineyard's new growth, it is early Summer that I enjoy most. The vines have bloomed (small berries begin to appear under the shade of its leaves) and are beginning to grow exponentially. When you picture a vineyard, you see it as a blanket of green, but when you walk through a vineyard, there are a vast number of hues, perhaps as many as 50.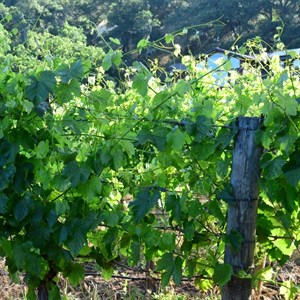 The leaves at the center of the vine (the leaves that were the first to grow) are now the darkest green and the leaves at the tips of the vine, the newest leaves, are always the lightest in hue. Look at the plants and trees in your own yard and you will notice how the new growth looks fresher, brighter, lighter than the other leaves; they are also more tender. The older, darker leaves absorb more sunlight and hence photosynthesize more effectively than the new, lighter leaves.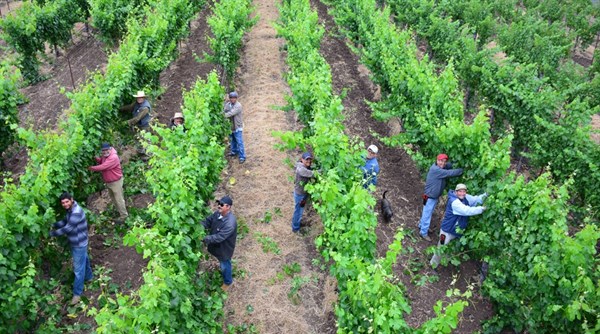 Another color variation in our vineyard comes from the different varieties of grapes we grow. If you stand on my porch and look out across the vineyard, you will see swath of Emerald green, then a strip of Forest green, next to that Army green and finally Shamrock green. Our vineyard blocks mark themselves by their color: Cabernet Sauvignon, Malbec, Petit Verdot, Chardonnay.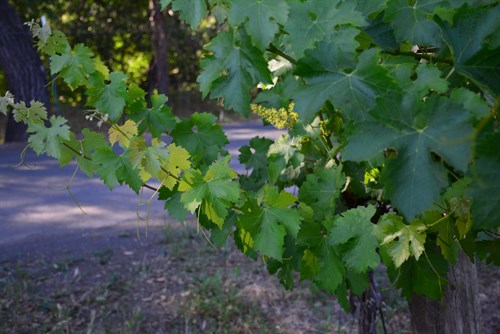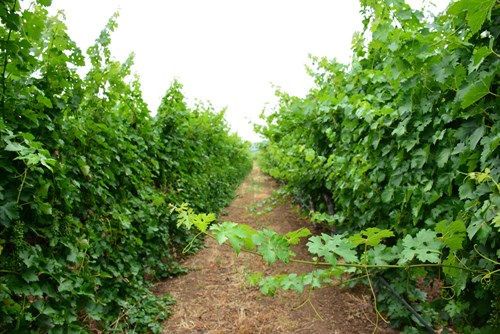 When I paint, it seems like I spend more time mixing paint than actually painting. Perhaps my fastidiousness comes from my time in the vineyard. Chardonnay ranges in color from the Shamrock green and Apple green for the oldest leaves to Chartreuse and Lime green for the younger leaves to Citrine for the newest leaves. Cabernet is on the other side of the green spectrum. It has more blue tones – Emerald and Myrtle green, Pine green and Viridian. And then when you add in the shadows that leaves create, the variations of green hues are simply mind-boggling.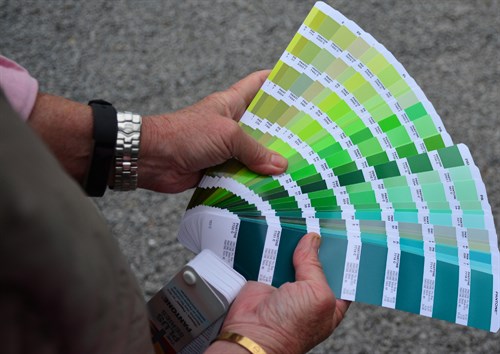 Every year, every season brings new color to the vineyard. Thanks to this year's generous rainfall, the vineyard seems brighter, fresher, greener. Soon the vineyard will add a bit of red and gold color as our grapes mature; then after harvest, we will have our own magnificent Fall color display. Until then, I will enjoy our vineyard's vast array green.