Big bottles mean big celebrations and in our family, a big bottle means a jeroboam, it's the equivalent of 6 regular sized (750 ml) bottles! What would be better to celebrate my father's 90th birthday (that's Dick Hafner to all of you) than a jeroboam of Hafner Cabernet? I looked through my cellar and found a 1990, which was an excellent year here at Hafner Vineyard. A 25-year-old wine!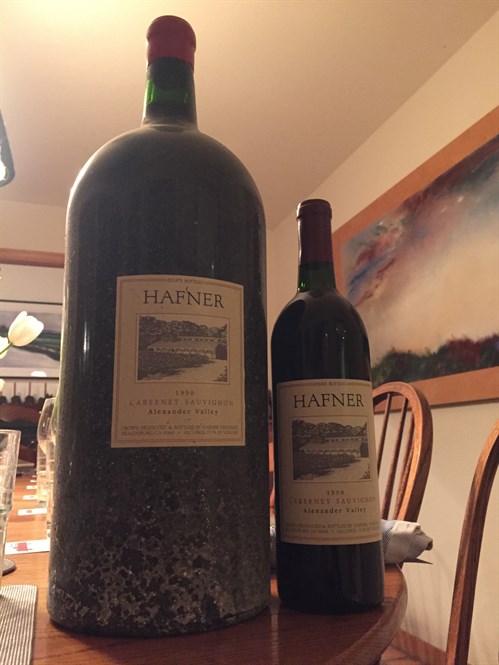 Opening a jeroboam takes patience and strength. The cork in a jeroboam is much larger than normal corks; traditional corkscrews don't fit jeroboams. Also, the cork in 25 year-old wine is not as sturdy as it was when it was first corked and this cork was no different. I was able to extract most of it, but the very end slipped off the corkscrew and into the bottle; this meant I had to decant the wine carefully and slowly, not because of sediment but rather to keep cork bits out of everyone's glass.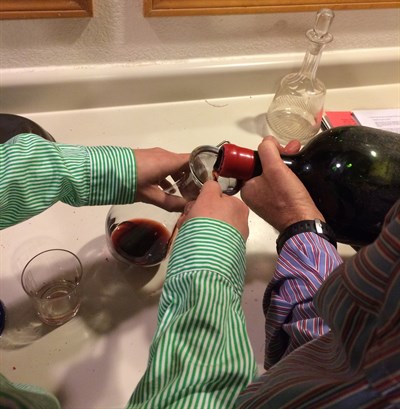 Tasting older wines is always an unexpected pleasure for a winemaker. You hope you know how the wine will be, how it has aged and matured. And yet it is not until you open the bottle that your hopes are confirmed. This wine rose to the occasion; it was elegant, soft and more youthful than I expected. It had aromas of violets, cassis and a little sweet vanilla. Someone at the table asked if it was youthful because it was in a jeroboam. (There is a theory that the larger the bottle, the slower the aging process.) To test the theory, I went down into my cellar and found a 750 ml bottle of the same vintage.
We had the wines side by side in two different glasses so we could tell them apart. Surprisingly, the 750 ml wine was not significantly more aged than the jeroboam; it too had violet and cassis aromas as well as a hint of coffee beans. This 25-year-old Cabernet proved once again that our wines age well.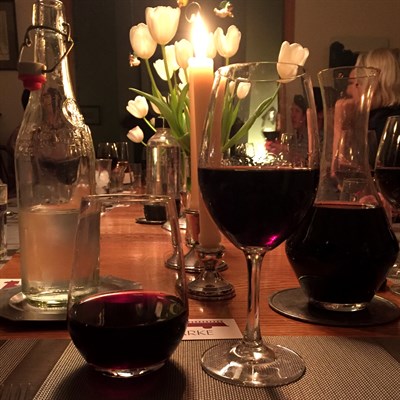 Winemaking is my passion. It always gives me great pleasure to open older wines. We hold our wines longer than most wineries because we enjoy drinking older wines, wines that have the nuances and development that come with age. We release our Cabernets at 5 years of age in regular bottles (750 mls); our magnums (1.5 l) are released at 10 years of age and our double magnums (3.0 l) are 12 years old at release. If you are interested in a specific vintage of a larger format (perhaps birth year or anniversary), please give us a call. We're happy to look in our Wine Library for you.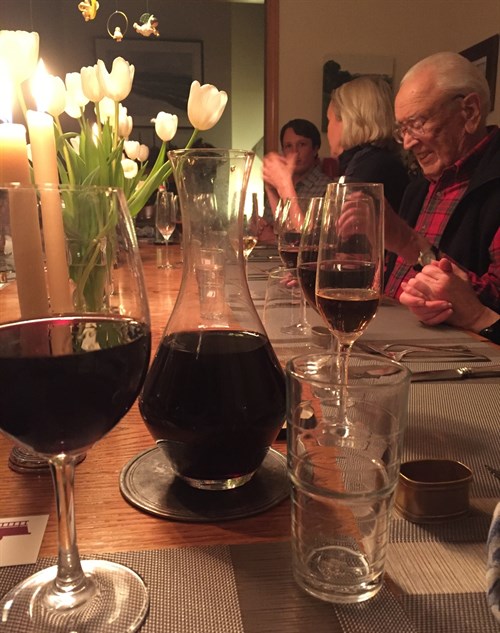 It was a grand celebration for my father. 90 years! Surrounded by his family to honor him and the vision he had of Hafner Vineyard. He encouraged me to become a winemaker and allowed me to create the wines that we enjoy and those that we will enjoy in the years to come. Salut!