At the start of September, I moved to Bordeaux to study Vineyard and Winery Management through Bordeaux Sciences Agro's Master of Business and Science program that is 28 months long. When I received my acceptance letter and decided to make the move, Dad/Parke emailed a slew of our interns in the area to let them know that I was moving. Bernard, our first intern from 1985, responded with an excited email. His daughter, Sophie, would also be attending graduate school in Bordeaux and needed a roommate. Soon thereafter, Sophie and I started researching apartments and making plans for our new life in Bordeaux. 
One of the things that I was most excited about my move, in addition to the copious amounts of cheese I was going to eat, was the family of interns that I would get to see. Since 1985, Hafner Vineyard has had a French intern from a university in Toulouse to help with harvest. The young man lives with my parents (and me when I was younger!) and usually is between 19 and 21 years old. Growing up, our interns were always big brothers to me; now, they're still usually bigger, but they're no longer older. But regardless, I have 33 "brothers" and seeing them makes me feel at ease and at home. 
Soon after arriving in Bordeaux, I started meeting up with our interns. So far, I've checked 7 off the list, but I have a ways to go still. There is quite a contingency in Bordeaux. The first intern I saw was Mimic, our intern from this past spring and the second son of our intern Ludovic who was at Hafner Vineyard in 1990. I've seen him since then with his brother, Guillaume, our 2017 intern. The three of us had lunch at the Brasserie Bordelaise, and it felt like we were back home sharing a meal, joking around like siblings.  
Then, I visited their father, Ludovic. He organized a tour and tasting for me and two friends at Château Marquis de Terme, where he is the general manager. He showed us some of the interesting experiments he's working on there, and we even tried a 1975 Marquis de Terme!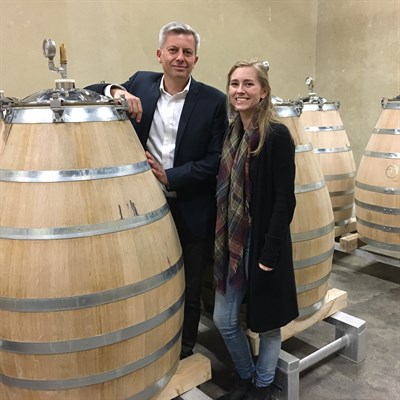 Rico, our intern from 2015, is from Bordeaux and is interning just outside of the city. One night after class, a classmate and I realized that we had a connection in common - Rico! We quickly called him, and Rico jumped in his car and met us for dinner. It was fun to have another link to Rico through my classmate. He also biked to the city on a Sunday and showed me around the city, even demonstrating how to get into the Cité du Vin without paying so that we could see the view of the city. Having many Bordelaise interns to visit, I know that I'll get quite the experience in this town.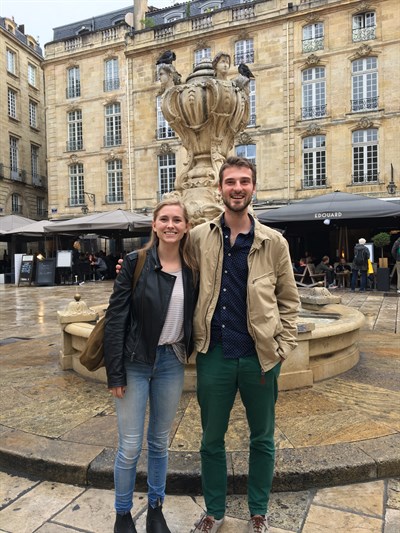 Another fun aspect of having so many interns is that I can travel around France to see them, plus I get an insider's guide to the region! Sophie and I spent a weekend with her family in Carcassonne, which is about three hours from Bordeaux. As I mentioned before, her father, Bernard, was our intern in 1985 and is still good friends with my parents. We all video-called them, which was really fun. Sophie's family has welcomed me into their home and family, which has been very comforting.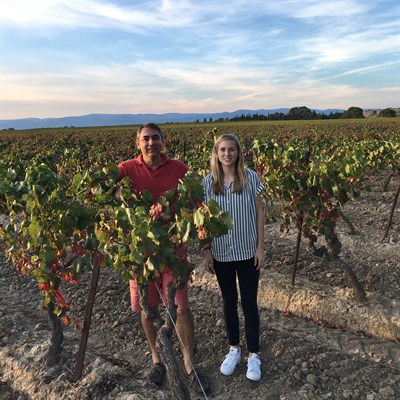 I even took a trip a bit further – to Paris! Paris is now only 2 hours from Bordeaux by the TGV train, so I can definitely see myself doing this trip again. Our intern from 2010, Clément, lives there, so I spent a weekend at his apartment. While I was there, it happened to be Nuit Blanche, the one night a year where the museums are open all night and art installations are installed around the city, so we spent the better part of the night wandering around Paris, enjoying the exhibits. An added bonus…Uncles Scott and Bill were visiting the city, so we all had a fun dinner together!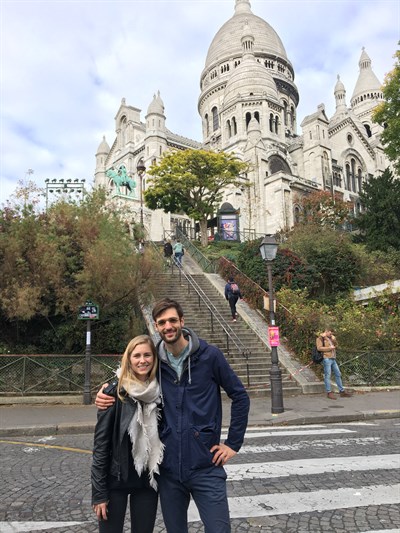 Being in a foreign country can be overwhelming, but knowing that I have all these brothers scattered across the region brings me comfort. I'm excited to connect with more over the coming months and share my stories of our reunions in another blog. Until then, "Salut!"