Why paint, why watercolor? The answer for me is both simple and complex. The simple answer is… Scott, my boss, liked my pen and ink drawings, but he felt that color would add to the illustrations. When I went to the art supply store, the watercolors were in front; oils and acrylics were in the back. The saleswoman explained that watercolors require only paper, brushes and paint, whereas with oils and acrylics there was a whole list of items I would need, plus the cleanup seemed daunting. Watercolor was less complicated to me, so a watercolorist I became.

When I begin a new project, I study photographs of the subject (winery, vineyard, people) to determine perspective and light. Then I sketch and create an illustration that becomes the template for the watercolor. If you look closely, you will see that all of my watercolors have the pencil drawing behind the paint; sometimes they act as shading and are quite visible; other times they disappear into the paper.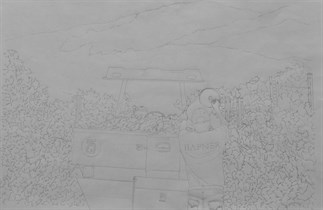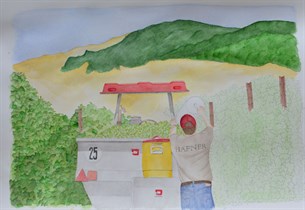 One of my greatest challenges is creating the colors that I want to use; I spend hours mixing paints in order to find the most perfect shade of green or brown or blue. I want the color to have both depth and luminosity; I continually evaluate how the color changes if I apply a second layer. Mixing colors takes time and patience; key to having an expansive palate is the ability to tweak the color – by adding a little water or letting the pigment dry out just a bit – you can create a broad spectrum of colors. And it's those minute differences that give a painting dimension and perspective.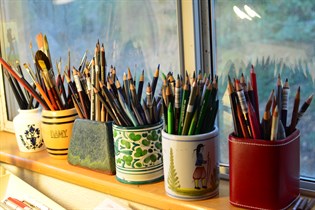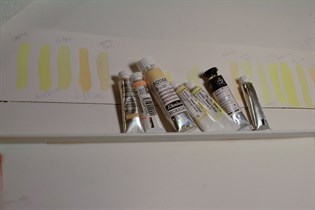 I did take one lesson (a long time ago) from a very talented friend. We spent the afternoon together; she painted and I watched. She taught me some very valuable tricks – start from the top and work down, so your hand and arm don't smudge what you have already painted; you can correct a mistake only if you do so quickly (if you let the paint absorb into the paper, you will never be able to "erase" it completely); don't be afraid, you can always start over (so long as you don't have a deadline!) I also spend time studying artists I admire, analyzing how they captured the essence of their subject and then I attempt to recreate it.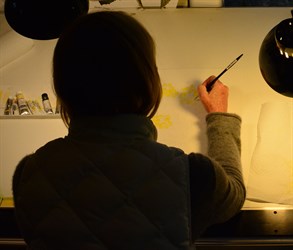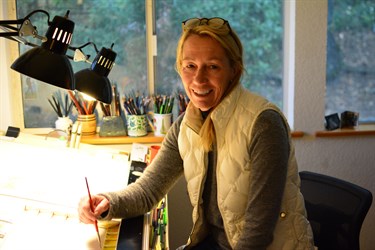 I don't consider myself a visual artist because I cannot sketch from memory; I would love to have that talent! I have to create the subject either by photographing or by using several images that I then merge together. The fun part of my job is watching the watercolor come to life; I never really know how well it will turn out until I'm done. And the funny thing is I'm never completely finished with a work; I can always tweak it more. In essence, I am a graphic artist who, thanks to the encouragement of many, has become proficient in the medium of watercolor.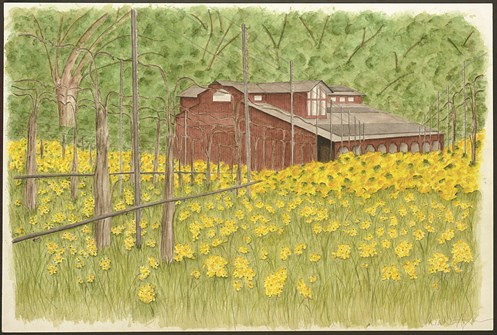 I am fortunate to have my work used by Hafner Vineyard on invitations, note cards, gift tags and the like. Patrons who receive them have been very generous with their compliments of my work and I truly appreciate them. It is those kind words that inspire me to continue to paint. Thank you one and all.