Each July, a little reminder pops up on my calendar at work: "Next Gen Ahead! Start brainstorming!" This notification sets off excitement across the entire Hafner Vineyard team. When I joined the team four years ago, Uncle Scott charged me with cultivating my generation and bringing in new patrons. One way we do this is by hosting a gathering each October that we call our Next Generation Harvest Party.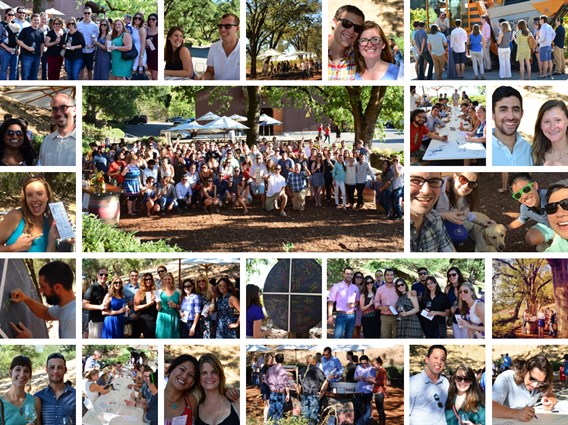 We are in planning mode for our fifth Next Gen Party! What I am always excited about is seeing how many of the "Next Gen-ers" are children or grandchildren of longtime patrons. They've grown up with Hafner wine on their family tables, just as I have. It reminds me that we are in it together! At the Party, it is fun to hear stories of the family traditions with Hafner wine. It is also wonderful to have an infusion of newcomers (often guests) who are learning about Hafner Vineyard for the first time. What a dynamic! We've even had Next Gen-ers teaching their parents about Hafner wine…sending the tradition upward instead!


Each Party is in the afternoon where Next Gen-ers taste Hafner wines, nibble homemade snacks, learn about wine, engage in fun activities and meet fellow Next Gen-ers. People are invited to bring a friend or two and it's often surprising who many people find a connection with other Next Gen-ers – mutual friends, college classmates, work colleagues in different offices, you name it!
This day is not just fun for us Next Gen-ers but I know it is rewarding and humbling for Dad, Mom, Uncle Scott, Grandmother and Grandfather meeting the second and third generation of many longtime patrons and seeing all these new, enthusiastic and young smiles.


Next Gen-ers are a young demographic (typically between 25 – 40 years old) who are interested in wine. If you have a friend, child, grandchild or niece/nephew who might fit into this cohort, please feel free to email or call me (707-433-4606). We would be happy to add them to the list and hope to meet them in the future! Space is limited.


While the Party only lasts a few hours, I like to relive the Next Gen energy throughout the year, so my office wall is covered with the stories and tales from our communal table. It reminds me of all the people our wine touches…it's not just a product but often a unique relationship with people that I am grateful for.