Giving back to the community has been instilled in our family and thus in our business. That notion is thanks to my grandmother, Mary Hafner. She embraced community and devoted much of her time to others. She listed her profession not as "winery owner" but as "community volunteer". She helped her children's school and spent years working with organizations to protect wild lands, especially with the Sonoma Land Trust. She also used her volunteer work to push boundaries, serving on the board of the San Francisco AIDS Foundation during the AIDS epidemic when most wouldn't and later, visiting San Quentin prison to meet with prisoners.
When Grandmother and Grandfather started Hafner Vineyard over 50 years ago, Grandmother made sure that giving back to the community was part of our business model. She began our wine donation program, supporting a variety of causes. She made sure that we made enough wine to give away, a bit of a unique concept in the business world. But that didn't matter to her.
Grandmother managed our donations program up until she was 80 years old. She then handed it off to me.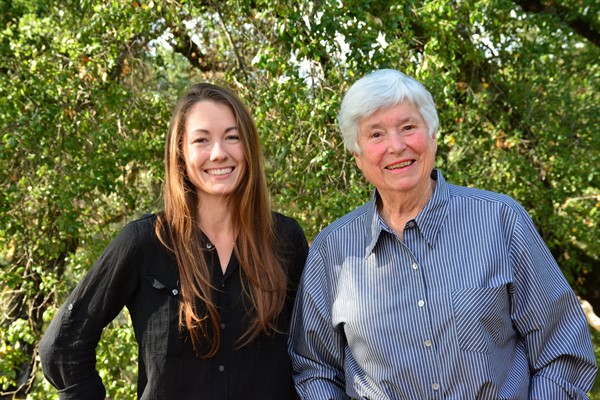 Me and Grandmother in September 2014
Hafner Vineyard supports a wide variety of causes in various ways, whether it be silent auction lots or wine to pour during an event. We have been working with some nonprofits for years like Greenbelt Alliance, Boys and Girls Club of Sonoma/Marin, Las Patronas in San Diego, Redwood Empire Food Bank, Pepperwood Preserve, San Francisco Zoo, Race to Erase MS and countless schools. We are always honored when patrons solicit us for wine donations for causes in their communities that they support with their time and resources.
We are pleased to donate to over 200 nonprofits annually, with donations valued at about $150,000. And we are deeply impressed with the difference those organizations make in the lives of hundreds of thousands of people each year.
In the past few months, we have noticed a significant uptick in the number of donation requests. We are happy to hear that organizations are getting back to events and fundraising following a challenging few years. Unfortunately, that means that we cannot fulfill every request. Learn more about our donations program and submit a request. 
Our commitment to the community doesn't stop with our wine donations program. Many of us at Hafner Vineyard volunteer in our spare time whether it's serving on boards or being a volunteer firefighter or running races to raise awareness for important causes. Every effort matters. We applaud everyone else for their contributions, big and small, to the community they care about.