As the Holidays approach, many of us find ourselves thinking how to make gatherings with family and friends even more festive and fun. Looking for that "little something extra" that makes an evening even more special.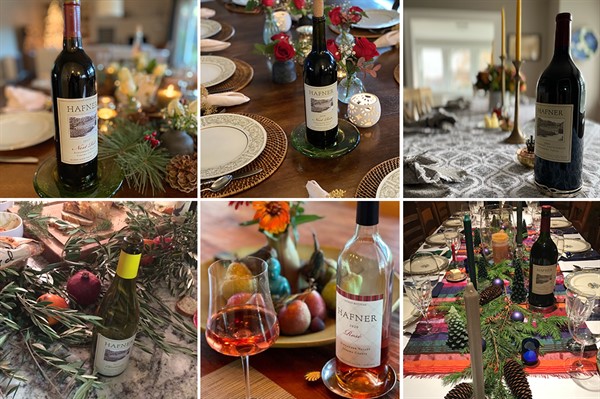 I suspect that many of you, like me, look to others for inspiration and advice. I reached out to a very creative group of friends and patrons who always host memorable and enchanting parties. I thought you might enjoy hearing the top ideas that my "experts" shared: 
Have a bowl of spiced nuts out before guests arrive so the first glass of sparkling wine has an accompaniment, even if you are serving other hors d'oeuvres.
For a dinner party, dim the lights to very low and dine by a forest of unscented candles. Collect at least a dozen candlesticks, mismatched is fine. Everyone looks more beautiful by candlelight.
During the Holidays, we like to have a couple of bottles of sparkling wine chilling in the refrigerator in case friends stop by to drop off gifts or Holiday treats. It is special to be able to pop open a bottle and offer a toast.
For the dinner table or Holiday buffet, create a stunning centerpiece, simple and elaborate at once, whimsical or traditional, Christmassy or nature-flecked, including an array of candles. Have fun with it, creating numerous little surprises that guests notice at the dinner table.
Welcome fragrance offering: have a pot of mulled cider or wine simmering on the stove. Spice it with cinnamon sticks, cloves, allspice or star anise, slices of lemon. Even if you have no takers for a cup, the house smells festive and holiday-ish. 
During the Holidays, we like to serve a signature cocktail that reflects the season. Favorites include peppermint martinis, cranberry margaritas, pomegranate daiquiris, hot buttered rum. 
Serve "big batch" cocktails so that the host has more time to spend with their guests versus constantly making individual drinks.
Include telling a Holiday story about family members or friends who have passed, as a way to keep their presence alive. For example, I love remembering the time my Dad told me to look in the shed, only to discover a new bike for Christmas. 
We love to splurge a bit over the Holidays and serve caviar with ice cold sparkling wine. After years of complicated presentation with all the extras, we decided to simply and now serve caviar next to a small bowl of crème fraiche and a bowl of Lay's potato chips. Fabulous without all the fuss. 
Honor traditional family recipes by serving them to guests. In our case that would be my Mom's pecan puffs, a cookie we all looked forward to, and now our guests do also! 
Make small "to go" bags for guests with a homemade gift inside. Sometimes they are cookies, dried lemon slices for cocktails during the year, a small container of home roasted/spiced nuts. 
I hope these ideas inspire you, as they did me. Entertaining during the Holidays is a wonderful testament to our important friendships and how they sustain us all year round.