For some, the concept of food and wine pairing is intimidating, but in reality it can be as complex or as simple as you want. I prefer to have it be simple. The first decision is: do you decide on what you are having or do you have a special wine that you want to serve? Either way works. If you have a menu in mind, then you can search for the wine and vice versus. Although we often select wines from our cellar, it is always fun to stop in a wine shop, peruse the shelves to see if there's something new to try and then build dinner around that wine.
To make the proverbial question "what's for dinner?" easier, I created a cootie catcher* to make it more fun.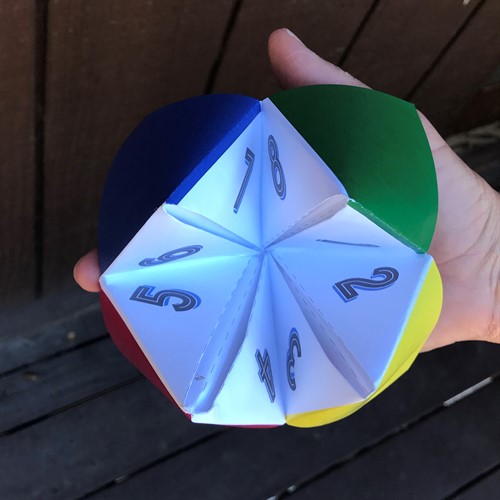 As you will see, there are eight pairings (Reserve Chardonnay with Poached Salmon, etc.), but don't feel limited to them. These are basic pairings and follow the rule: if the entrée is light (or white) in color, choose a light (or white) wine; if the entrée is rich, you need to have a wine that will balance with the flavors.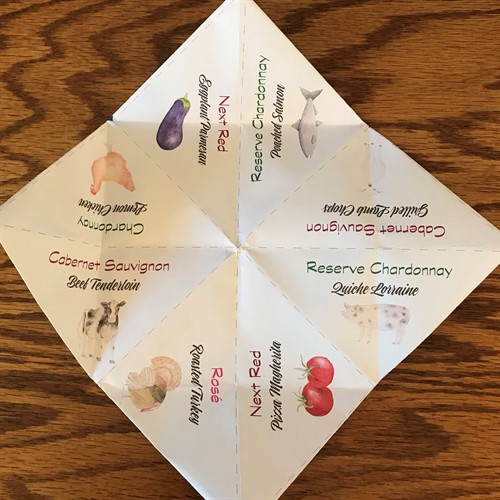 Wine is meant to complement and enhance the meal, not overpower it. We enjoy lamb chops with tapenade (made with cured olives and garlic, it is very flavorful and strong), so we pair Cabernet with it. Our other favorite lamb recipe is leg of lamb and mint pesto. It is more subtle and elegant, so a Pinot Noir would go better with that dish. 
The one pairing that may surprise you is Turkey with Rosé…it is one of my favorites. I discovered it a couple Thanksgivings ago, and it's a great combination. That's what makes food and wine pairings fun. You have a traditional meal (like Thanksgiving) and you try something different which then becomes the family favorite.
Download your Food and Wine Pairing Cootie Catcher.
I hope you enjoy using my cootie catcher! And if you discover a great food and wine pairing or have a favorite that's not included here, let us know. We'd love to hear from you.
*I know, some of you are wondering what is a cootie catcher? Think back to recess in grammar school and you may remember playing with them. In case you can't recall how to fold them, here are some instructions.