We love hearing from our patrons! It is not simply the pleasure of being in touch with thoughtful people who enjoy wine, but also it means we hear what patrons are thinking about and looking for.
During the Summer, when things are a little quieter for the marketing team, we send a survey to a specific group of patrons. We ask six to ten questions about issues we are eager for patron feedback on. The questions range from the general ("How would you rate the quality of Hafner wine?") to the specific ("During the year, we give Annual Tasting Program members a gift or two. Which are your first, second and third favorite?").
The answers and the anecdotal feedback are invaluable and help us to make sure we're satisfying our most important constituency...our patrons! Sometimes we also learn that despite our best efforts, patrons may not know everything we're doing here at Hafner Vineyard.
Here are some questions that were asked by patrons, and our answers:
"Why don't you make a Rosé?" Guess what! We do! We thought everyone knew this but we were wrong. Parke has been making Rosé, from our Malbec grapes, since 2011. It is released in April, along with the Reserve Chardonnay, and is available generally until August. Many patrons have added the Rosé to their Annual Tasting Program so they receive it automatically in April.
"Make more Next Red!" This is music to our ears and we've been doing just this since our first vintage of the Malbec-based blend in 2009. In 2018 when we release the 2014 Next Red, we will finally have enough to satisfy patron demand. Parke's target is to make 2000-2400 cases of Next Red each year and in 2014 we finally reached that level. Our thanks to our patrons who've been waiting patiently to stock their cellars with Next Red...relief is in sight!
"Please make large format bottles like magnums available!" Done! We've been bottling magnums of all four main releases and they are released shortly before the Holidays. Patrons have found that magnums make unique and exciting gifts, and that they are impressive on the dinner table when entertaining. Magnums tend to be available all year long and we generally have several vintages of Cabernet Sauvignon magnums to choose from. Patrons have also found that magnums are a wonderful way to mark a child's or grandchild's birth. They've purchased Cabernet magnums from the birth year and then cellared them at home waiting for their 21st birthday...or perhaps a wedding. We found this to be a very thoughtful and meaningful tribute.
Patrons also suggested we make "Barbera!" "Tempranillo!" "A Sauvignon Blanc". This is testimony to patrons' wide ranging and curious palates. In our opinion, Alexander Valley is particularly well-suited to growing Chardonnay and Cabernet Sauvignon. And four decades ago, we decided to focus our efforts and keep our selection tight. We began with three wines and have grown to five releases each year.
A very small group of patrons mentioned that they would prefer "red wines only" or "white wines only". We have solution for you! Please give us a call or shoot us an email, and we are happy to explain how this works.
Survey responses suggested we make the following reminders:
Wine shipments, and especially Annual Tasting Program shipments, can be easily adjusted. We can schedule your shipment to go out on a different date as long as we have at least a week's notice.
For Annual Tasting Program members, there is always a special offering of two older vintages that can be added to each shipment. We find tasting these Library Wines with a new release is fun and a great indicator of how the new release will mature with time.
We were heartened by two statistics that underscore our goals from Day One: to make quality wine from grapes grown in our own vineyard and to offer that wine to patrons at a good value.  Here is what our patrons who responded said about that!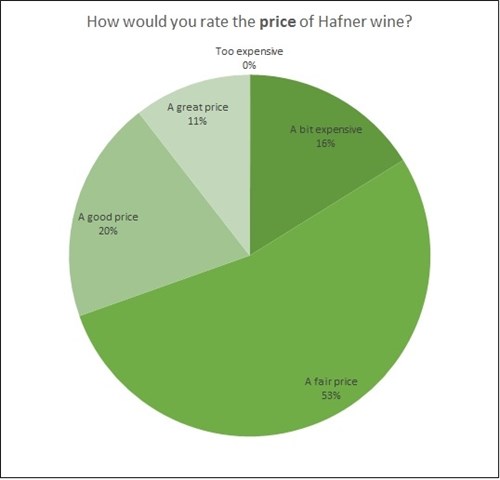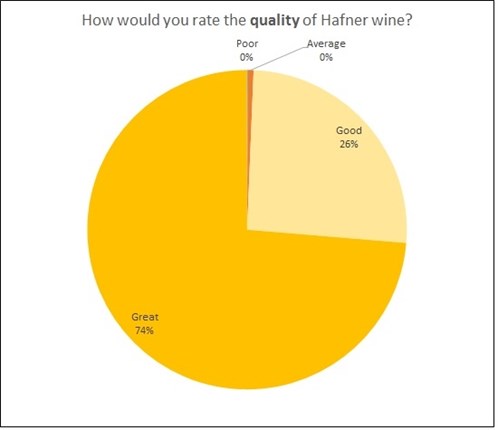 Thank you to everyone who completed the survey and to all our patrons who share their feedback with us!