A few weeks ago as I walked through the vineyard with our dog, Annie, my eye caught sight of a lone Eschscholzia californica, a California poppy. It caught me by surprise, because poppies typically start blooming here in the Spring. It was a bit tattered by the rain, but it stood out amongst grasses with its vibrant orange hue. When I returned home, inspired by its defiance of Winter, I decided to paint a botanical rendering of it.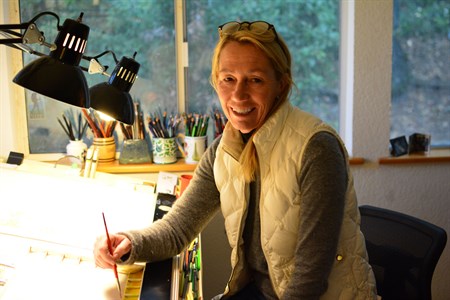 I always begin my watercolors with a rough pencil outline of the subject and this poppy was no exception.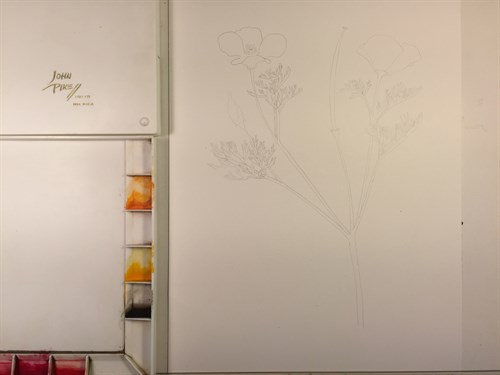 Then I spend time mixing colors; it seemed especially important with this subject because both the colors of the poppy flower and its leaves are so distinctive and emblematic. I wanted to make sure I captured it accurately.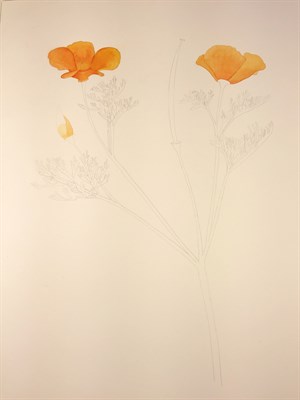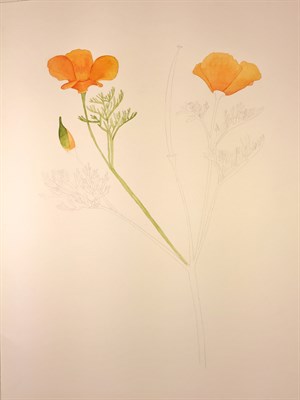 Watercolors require patience; allowing the paint to dry is always my true test. I try to have a second project in the works whether it is another watercolor or a graphic design job. I work in layers starting with the lightest color and over time add darker ones to allow the painting's dimension to unfold. The paint has to dry between layers otherwise the colors become muddy, so I paint for a bit and then work on another winery project. Sometimes I become too anxious to see the finished painting, but watercolors are unforgiving and if I rush it, I risk ruining it. For me, a painting is never truly finished; I can always see another place where I can add a bit more detail, so deadlines always work in the painting's favor. Better to leave it a bit muted than to overwork the piece.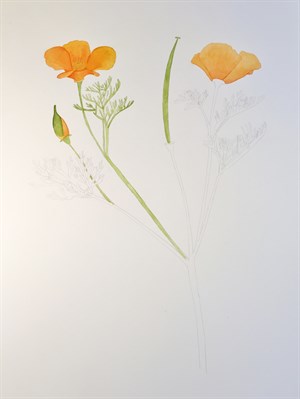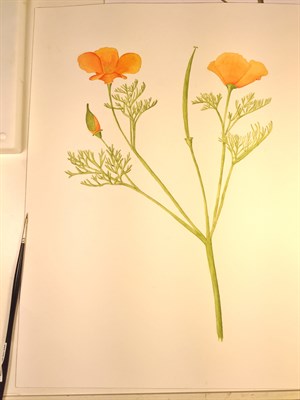 At Kate's suggestion, I took a few photos as I painted so she could see how the painting evolved. We thought you might enjoy them too. And here is the end result!