When we began our winery in 1982, we wanted it simple…make two wines: one red (Cabernet), one white (Chardonnay). That quickly changed and in 1984, we introduced our Reserve Chardonnay. Why make two Chardonnays from the same vineyard? We do grow several different clones of Chardonnay (each clone has its unique characteristics) and we do have several soil types (clay loam and sandy loam) on the ranch, but our goal in making the Reserve is not to say that the Reserve has the better clones or the richer soil. Rather our goal is to make a wine following the techniques of my mentor, René Lafon.
After graduating with an enology degree from UC Davis and working in Napa Valley for almost three years, I had the privilege of working the 1981 harvest at Domaine des Comtes Lafon in Meursault, France. René Lafon was the owner and vigneron. He was generous with his knowledge and passionate about his craft.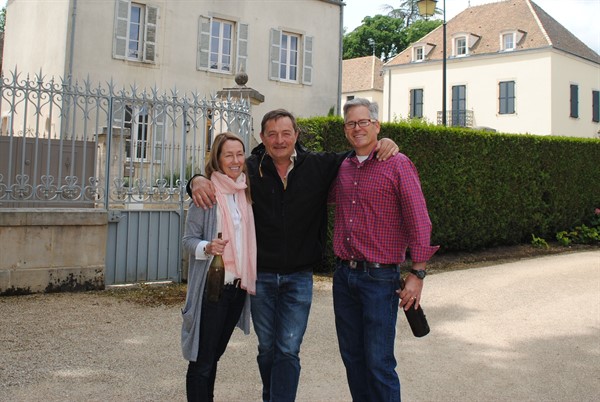 Visiting Dominique Lafon (René's son who runs the winery) in 2016
My time in the California wine business had given me a good foundation in the science of winemaking, having access to the latest technology, equipment and scientific knowledge. Although little of this was in evidence in Burgundy, it was there that I learned about the art of winemaking. Mr. Lafon relied to a large extent on techniques and traditions that were centuries old and were passed down to him from his father. One tenet Mr. Lafon taught me was "on doit attendre" (which in English means "one must wait"). The key to "on doit attendre" was knowing when to wait and when to proceed and that was the part of Mr. Lafon's craft.
When I returned to California and we started the winery, I utilized many of Mr. Lafon's ideas in our first Chardonnay. Typically, Californian Chardonnays are fermented in stainless steel, temperature-controlled tanks. Mr. Lafon did not have any temperature-controlled tanks and hence he could only ferment in small oak barrels. (Heat is one of the by-products of fermentation and the cooler the fermentation temperature is, the more fruit components are retained. Barrel fermentation produces wines with a different flavor profile. A tank fermented Chardonnay is fruit-forward with notes of pears and peaches whereas a barrel fermented wine has a roasted nuts component.) For our first vintage, we experimented with barrel fermentation and we really liked the component. In 1982, our Chardonnay was 25% barrel fermented. Over the years, that percentage has increased to 50%, so our current release of our main Chardonnay is 50% barrel fermented and 50% fermented cold in stainless steel.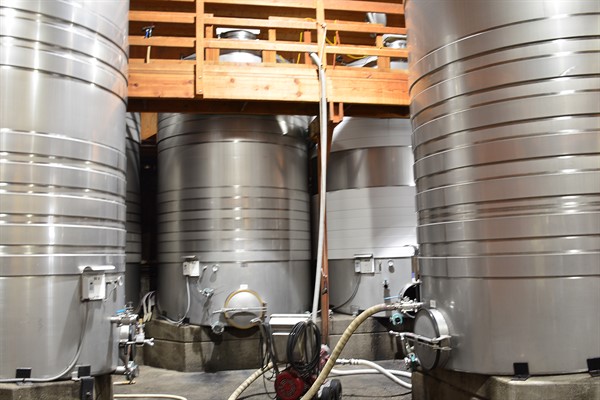 Back in the '80's in California, malolactic fermentation (a secondary fermentation) for white wines was uncommon. In Burgundy, however, most wines (both white and red) underwent malolactic fermentation. The reason for this is simple. The latitude of Meursault is 46.9° whereas the latitude of Healdsburg is 38.6°. Here in Healdsburg, we have a warm growing season; in Meursault, the growing season is cooler and hence the grapes have a higher acidity and a lower sugar at harvest. Malolactic fermentation converts the grapes' natural malic acid to lactic acid and by doing so, lowers the acidity of the wine. If a white Burgundy does not go through the secondary fermentation, it might be too acidic for us to enjoy. Malolactic not only lowers the acidity, but also adds richness and weight to the palate. Like barrel fermentation, we experimented with malolactic fermentation in our first wine. Our 1982 was 20% malolactic; today our Main Chardonnay is 40%.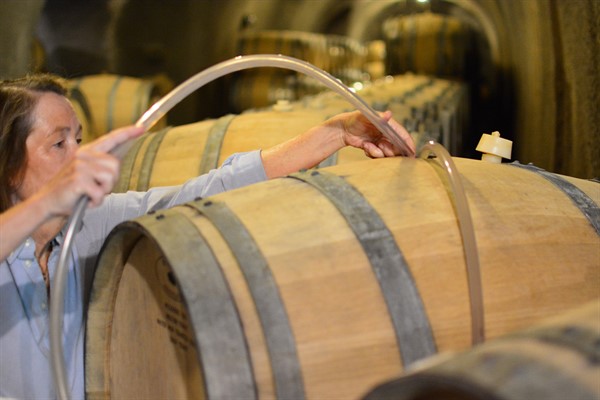 Back to the original question: why make two Chardonnays from the same vineyard? While I had incorporated several of Mr. Lafon's ideas into our Main Chardonnay, I wanted to make a wine that more closely followed his footsteps from vineyard to glass. We have a small block of grapes whose clone originated in Burgundy which we use for the Reserve. Also, we utilize two yeasts that come from Burgundy and like Mr. Lafon, we only ferment in French oak barrels. After alcoholic fermentation is complete, we move half of the Reserve to older barrels because, we don't want the wines to become too oaky. (Our Main Chardonnay has 20% new oak and is aged in oak for 9 months whereas the Reserve has less than 10% new oak, but receives more barrel time.) Another technique that I learned from Mr. Lafon was bâtonnage (lees stirring).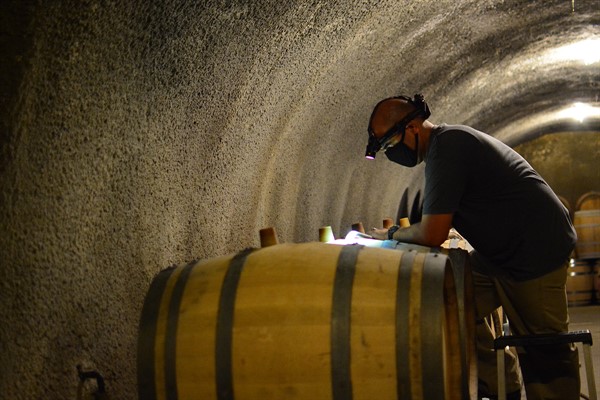 Every two weeks before we top each barrel, we stir the lees of the Reserve. This gives the wine a flinty quality that only comes from bâtonnage. After 16 to 17 months of aging in barrels, we bottle the Reserve. We then hold it for another 14 months before we release it to you. It is a long process, for sure, but thanks to Mr. Lafon, I have learned that "on doit attendre".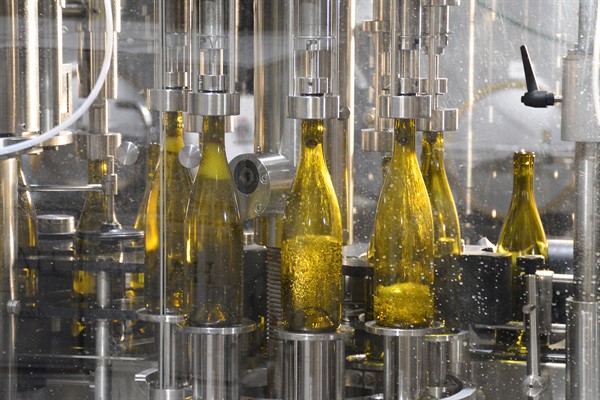 Now that you know the philosophy behind our two Chardonnays, the real test is tasting the wines and finding the differences. While both wines have similar components, the main Chardonnay is more fruit-driven with notes of Comice pears, white peaches and Ruby grapefruit. The Reserve, in contrast, is more complex with flinty, toasted brioche and sweet vanilla flavors. Sarah and I tend to enjoy our Chardonnays older when they have developed some bottle bouquet, some richness that comes with aging, whereas my Dad, Dick, likes his Chardonnay young and fruity. The best part about wine is there's no right or wrong; it's all personal preference.