When people ask me what it's like to drive the grape harvesting machine, it's a bit hard to imagine, so we thought it might be fun to have you ride along with me. During the Chardonnay grape harvest, I wore a GoPro on my head so that you could see what it's like to drive the machine harvester through my eyes. Warning! I tried to keep as steady as possible but I did have to move quite a bit. (I'd suggest watching it in full screen to make it feel even more like you're here with me.)
You might notice that my seat is just slightly to the left of the row that the machine is picking. I often look down to make sure I am positioned correctly over the vines. Occasionally I check behind me to ensure that the grapes are being safely delivered to the bins on the shoulders of the machine. Gerardo (who also drives the harvester) is my second set of eyes. He's seen in the video walking behind me to make sure that we are picking cleanly and not leaving grapes behind. Once we've finished a row, he helps guide me to the next one. (Watch for Satanas, the vineyard dog, who brings moral support!)
Once the bins are full and we've reached the end of a row, Antonio drives the tractor and gondola behind me. I raise the bin slowly so that all the grapes easily slide into the gondola. Once it's full, Antonio heads to the winery where Parke and the cellar team begin the winemaking process.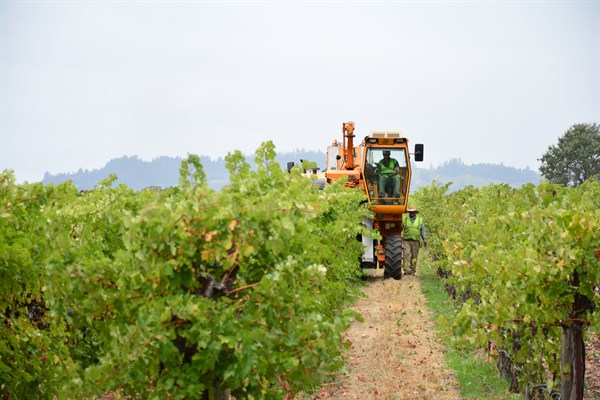 And for us? Well, we continue down another row and keep picking!
To read about more harvest adventures, check out these blogs I wrote:
Night Harvest
Machine Harvesting
The First Day of Harvest in 2014