When patrons and friends are planning a trip to Wine Country, we often hear, "What should I do that's off-the-beaten-path?" We love helping people create fun itineraries that make their trips more memorable, so we decided to write a few blogs sharing a day's itinerary in a local town. Here we will include some of our favorite restaurants and hang-outs. We hope you enjoy them!
First up is Geyserville – a small town just north of Healdsburg in Sonoma County, about 15 minutes from Hafner Vineyard. If you blink, you will miss it! Well, not quite, but it is small. (No stop lights!) With a population hovering around 1,600, it has maintained a true farming community feel. Although it may be overlooked when planning a trip to Wine Country, Geyserville has been home to many Hafner Vineyard employees over the years, so we thought we would share some of our favorite restaurants and activities in the area.
Morning
Jump-start your day with an espresso beverage and pastry at the Geyserville Coffee Company. It is a cozy café where you will often find the owner, Kim, serving you.
Sonoma County is filled with stunning scenery. To immerse yourself in the native landscape and catch a glimpse of vast views over the valley, head up to Lake Sonoma for a hike. The brisk morning air gives you a feeling of the fog's impact on our climate. Take layers of clothing, water, a couple dollars cash for parking and your energy! Check out the different trails. Stop in at their visitor center and fish hatchery. It's a fun visit, particularly with kids.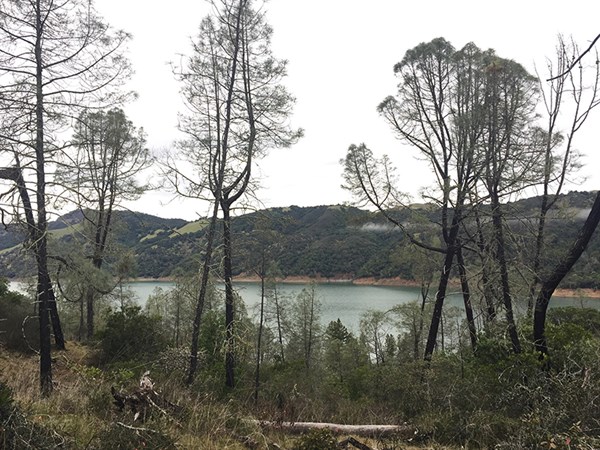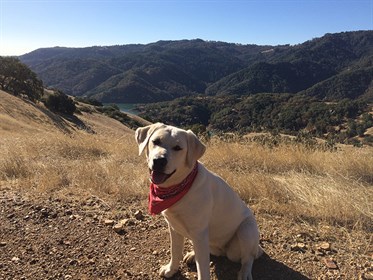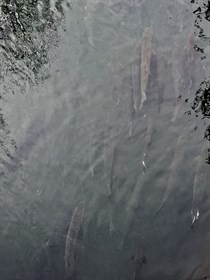 Afternoon
After a strenuous hike, you'll need some sustenance. A picnic lunch is a fun way to enjoy the outdoors and warm afternoon sunshine. Head south through picturesque Dry Creek Valley and stop at the Dry Creek General Store. Here you can grab sandwiches and other provisions for lunch. Then we suggest taking your picnic over to Preston Farm and Winery. Our team had an educational (and very fun!) field trip to this iconic winery out on West Dry Creek Road. They are biodynamic and specialize in Rhone varietals. You are welcome to buy a bottle of wine and enjoy your picnic on their grounds. They also make delicious homemade bread available for sale as well as some produce from their garden.
From there, you'll have time to explore another winery. There are many options! Trattore Farms is perched on a hill with stunning views overlooking the Dry Creek Valley. In addition to many wines, they make their own delicious olive oil that you can sample. Or head south to a longtime family favorite of ours, Nalle Winery. They are only open on Saturdays from 12pm until 4:30pm.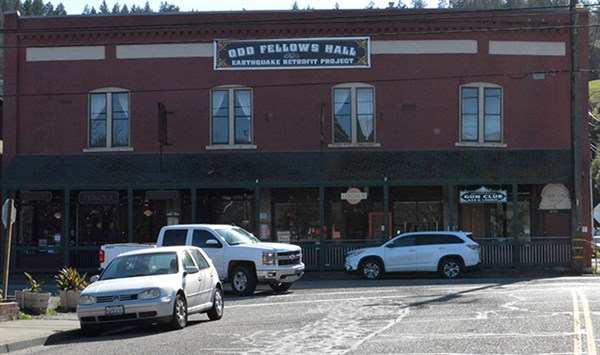 Back in the town, browse some local shops. Bosworth's is the icon of Geyserville, although closed for renovations as this was written. Gin'Gilli's Vintage Home houses antiques and country trinkets.
Evening
Sonoma County has no shortage of incredible restaurants, and Geyserville is no exception. Diavola Pizzeria is our go-to. They serve amazing brick oven pizzas, creative salads and plenty of Italian dishes. Often you can even sip a glass of Hafner Chardonnay! They are quite busy on the weekends, so do as the locals do – put your name on the waitlist and then pull up a seat at the Geyserville Gun Club and enjoy a cocktail while you wait.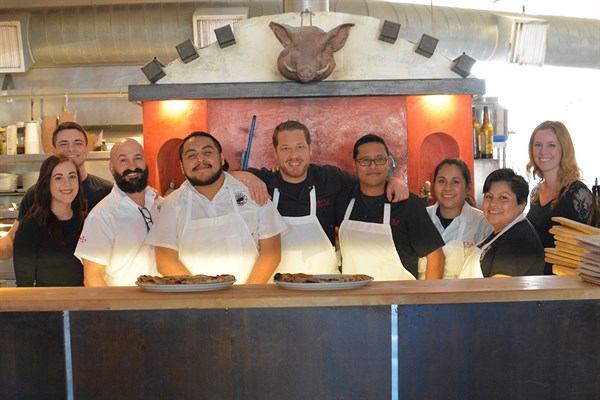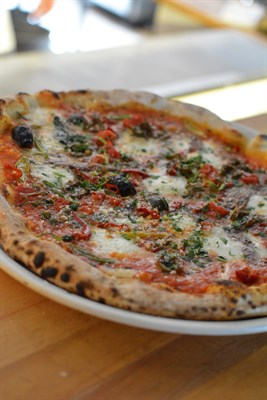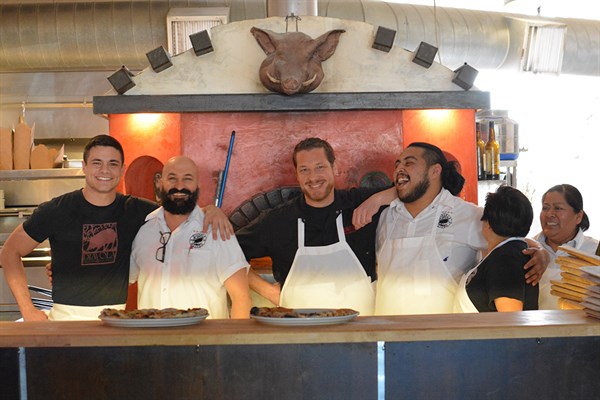 Clearly the Diavola Team has fun together!
Although Geyserville may appear small, the town and its surrounding landscape has a lot to offer. Hopefully this itinerary has helped to guide some of your plans for your stay here. Enjoy!
Want to make sure you receive all the itineraries? Subscribe to our blog and enjoy.