The charming coastal town of Mendocino was a favorite weekend getaway for my grandparents, Mary and Dick Hafner. They often stayed at The Little River Inn, a bed and breakfast overlooking the Pacific Ocean. They always hoped for a room with a wood fireplace, giving the foggy, cool evenings a bit of warm and relaxation. Grandmother and Grandfather shared their love of the Mendocino coast with us, so my husband and I try to make an annual trip there.
When patrons visit the winery, we ask about their travels, and we've heard from many people going to Mendocino, so we wanted to share some of our favorite places in the town as well as a few other worthwhile stops on along the drive.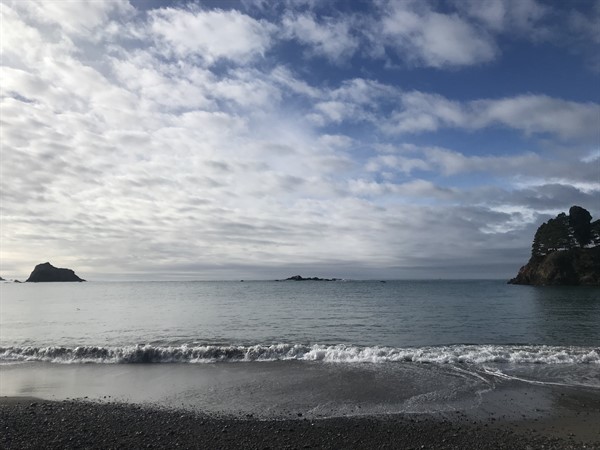 MORNING
Mendocino is about 90 minutes north of us. The winding Highway 128 takes you through the rolling oak woodlands as you leave Sonoma County and move into Mendocino County. We make a point to stop in the town of Boonville, the heart of Anderson Valley, for a coffee on our way up. We typically plan a longer visit on our way back home.
Shortly after in Philo, we visit Hendy Woods. The redwoods here are stunning and a walk along the Navarro River is refreshing. (Hint: State Parks often have EV chargers for free to use.) We also make a point to swing by The Apple Farm to stock up on apples and apple juice. (It's surprising how long apples will last, so don't miss that opportunity!)
AFTERNOON
As you drive from Anderson Valley to the Pacific Coast, soak up the giant redwood forests surrounding the highway. Once on the coast, we often go for a nice hike at Big River near the town or up Van Damm State Park.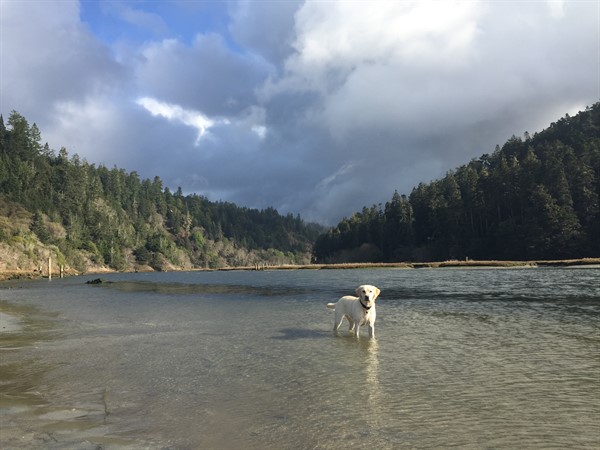 Our dog Millie loved playing in the river - a total water nut.
After stretching our legs, we enjoy pizzas and beer (gasp!) in the garden of The Brickery.
The town of Mendocino has many shopping opportunities, including a family favorite stop, Anderson's Alternatives, a wood gallery with incredible lumber options or Gallery Bookshop with a large array of books, especially nature ones. Take in the history of the coast at the Kelley House Museum.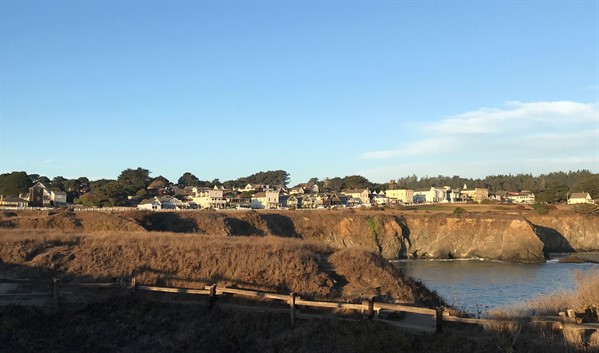 EVENING
Café Beaujolais, run by Julian Lopez, is a favorite. The food is amazing, particularly the pastas. Grandmother and Grandfather always made a point to have dinner there. For many years, they poured our Chardonnay by the glass. Now, you can find it there occasionally. Trillium is another favorite who we have had a decades' long relationship with. They serve our Cabernet.
STAY
Here are three unique lodging options that we have enjoyed over the years:
Little River Inn: quaint inn about 15 minutes from town with a view to the Pacific. Some rooms have wood stoves and lovely porches. There are a few cabins with private hot tubs and one or two dog friendly rooms.
Heritage House: modern hotel being renovated with a small beach access. Rooms are dog friendly and lovely grounds for kids to play and run. About 15 minutes from town. Ability to host weddings.
Nicholson House: run by Julian Lopez of Café Beaujolais, newly re-opened and renovated Victorian House in town. Incredible attention to detail. This is where we stayed most recently and were impressed. However, no contact with a concierge. It's all contactless.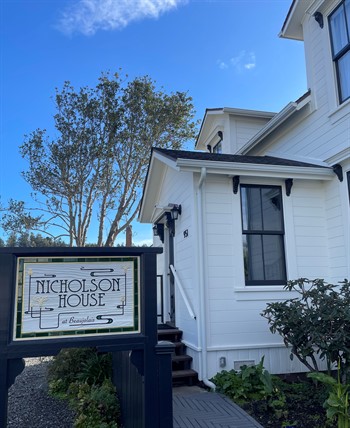 MORNING
The Waiting Room is a great place for breakfast; the pastries are delicious! We also enjoy The Goodlife Café for a more hearty start to the day.
We always make a point to stroll along the bluffs. Once we were treated to whales migrating down the coast but close enough to shore to see.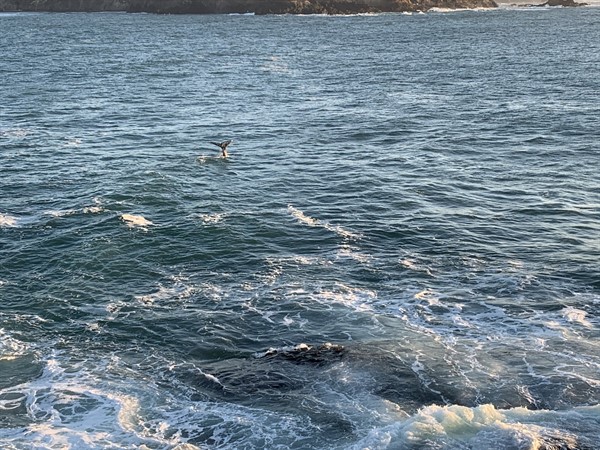 We typically head home shortly after breakfast, making sure to have plenty of time for wine tasting and shopping on our way back. We often stop at Roederer Estate for sparkling wine and enjoy tasting at Handley or Navarro, both small family-owned wineries. For lunch and great wine shopping, visit Disco Ranch. Owner Wendy makes tapas and has a vast selection of local and imported wines both to enjoy there or take home with you. She's a wealth of knowledge. We always wander through Farmhouse Mercantile, an adorable home goods shop. Often with kids and/or dogs, we take a picnic to The Anderson Valley Brewing Co. to run around their rounds and play disc golf. The ultimate treat to close the weekend is a dinner at The Boonville Hotel, a prix fixe seasonal menu.
We look forward to hearing about your Mendocino adventures and any recommendations you have. Enjoy!
To explore and learn more about Mendocino, here are some helpful links:
Visit Mendocino
Mendocino County Winegrowers
Compare our Itinerary to the New York Times' 36 Hours in Mendocino
Albion River Inn's Mendocino History