Name: Jose Benito Mendiola Ramirez
Number of years at Hafner Vineyard: 4
Department/Role: Vineyard Team Member/Jokester/Padre of Satanas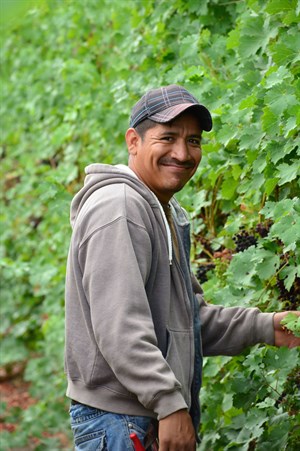 Hometown: Aldama, Guanajuato, Mexico (about 1 hour from the Gulf of Mexico)
What's something most people don't know about you? I love drinking tequila.
Favorite local restaurant: El Farlito in Healdsburg
What's your perfect weekend look like? Spending time with my family. I have a big family – two brothers and four sisters, plus many cousins.
How else do you spend your free time? I like running or listening to music. I enjoy all kinds of music, but definitely banda music.
Favorite Hafner wine (yes, just one!): Rosé
What's the best part of being part of the Hafner Vineyard team? The best part is everything that I learn from the rest of the guys on the crew. They've all been working there so much longer than I have that they are always teaching me new things about the vines or the equipment.
What's your favorite time of the year at Hafner Vineyard? Pruning. I know it's cold but it's not a problem for me. Pruning is one of the most important jobs in the vineyard. We select the buds that will grow next year and ultimately produce grapes. Plus I get to listen to music while working and the job is quick, so the day also goes by very fast.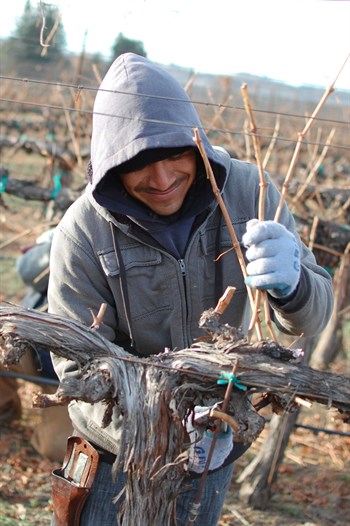 What's the best part of living in Sonoma County? The climate
Personal motto or saying that you live by: Live life focused on yourself and don't worry about others.
Favorite day of the year: Christmas and all the presents!
What's a memory of when you started working at Hafner Vineyard? I remember that I was surprised that I made it through the entire first week. The job I had before, I worked five days per week and eight hours a day. In the vineyard at Hafner, we work ten hours a day, six days a week, so I wasn't sure that I would like it. Now I don't even notice a difference. Time goes by quickly. Maybe it's because we are always laughing and joking.
What's a crazy/funny job you've done here? Every day I bring a small piece of bread to our small vineyard dog, Satanas. I started doing this after my first week here. Now, he follows me everywhere. When I drive the mule (our vineyard ATV), Satanas runs so fast behind me! I don't know how old he is but he is in very good shape. We are good friends now.