Cooking wasn't always easy. The first meal I made for Dick as a married couple 61 years ago was a disaster. I overcooked the lamb chops, burned the yellow squash and Dick had to teach me how to make rice. So the next night we went to my mother's for dinner.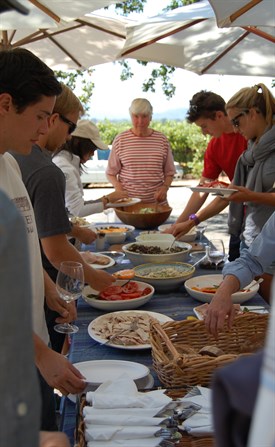 Thankfully for my family, I've expanded my repertoire. (I am glad not to be making meatloaf for four hungry children anymore.) Dick tends to our modest garden here in Alexander Valley. It is such fun to pick and then cook and serve the produce he's grown. Dick's most bountiful crop is garlic. He usually harvests it in June and when the fresh garlic comes into the kitchen, it reminds me of Spiced Olives.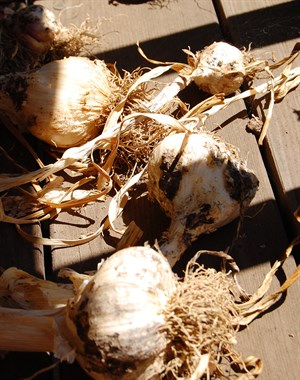 Spiced Olives are a simple hors d'oeuvre that I make often. This combination has a three olive varieties and Provençal herbs from our garden or the Healdsburg farmers' market. The different colors and flavors make the bowl more interesting.
Writing down a recipe is a challenge for me because, well, I rarely have specific measurements. And this is no exception to that! "Some" or "until done" are frequent directions on my recipe cards. (I always write recipes on 3 x 5 notecards and in pencil so I can make adjustments.) For the Spiced Olives, the measurements are very flexible.
Here is what you need:
Extra Virgin Olive Oil
Same quantity of Niçoise, Picholine and black Provençal olives
Same quantity of Provençal herbs:

Garlic (chopped)
Lemon zest
Shallots (chopped)
Thyme (chopped)
Rosemary
For 2 quarts of olives, use about 2 2/3 cups of each type of olive, about 1 tablespoon of each Provençal herbs and about ¼ cup of extra virgin olive oil.
Put all the olives in a large mixing bowl. Next take each of the herbs and place them on the olives in sections so you can see if they are about the same amount.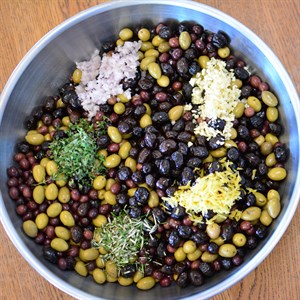 Then add the extra virgin olive oil...but not too much since you don't want it to be too oily.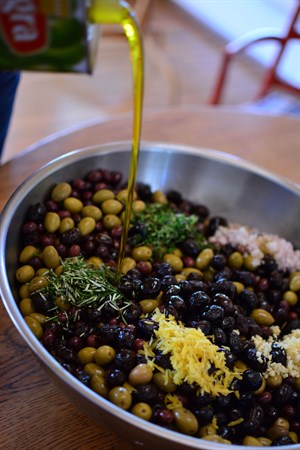 Mix them together and then taste! They will last for 2 – 3 weeks.
Spiced Olives is an easy hors d'oeuvre to share with friends and family, plus it is delicious with chilled Chardonnay. Such a treat during the Summer months! It brings me joy fixing food for family and friends. We often enjoy these olives together and I hope that you can share them with your friends and family too.
As Julia Child said, "…no one is born a great cook, one learns by doing it."