Early each year, we sit down at Mom and Dad's dining room table overlooking the vineyard for our annual vertical tastings. Held over a couple of days, these tastings give us an opportunity to compare vintages, to evaluate how the wines are developing, to notice trends and assess the continuity of our winemaking style. We all have our bias: which vintage is our favorite, which is our least. And it is in these tastings when those biases can change.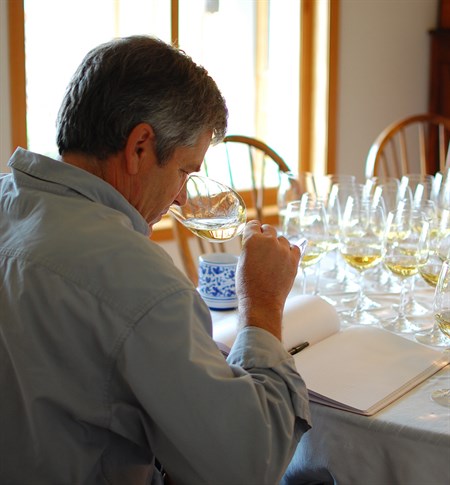 Wine is a living product and it is always interesting to see how it develops and matures. In its youth, a wine's fruitiness is very apparent. As the wine ages, this decreases; complexity and bottle bouquet come to the forefront. It's always fun to look back at our tasting notes from the previous year, see how we rated each wine compared to a year earlier.
We always taste mid-morning when our taste buds are the most sensitive. We have two flights of wine, which means by the end of the tasting the table is filled with glasses. The first day, we focus on Chardonnay – both our main release and our Reserve. We taste eight vintages of each wine – the vintage that will be released that year and the previous seven.
This year, the first flight was the 2006 – 2013 main Chardonnay and the second was 2005 – 2012 Reserve. Another element of the Chardonnay tasting is comparing the same vintage of the main to that of the Reserve. Typically, the main Chardonnay is more fruit-driven and lively on the palate while the Reserve focuses on the influence of winemaking techniques like malolactic fermentation and lees stirring. The hardest part of the tasting is at the end when we must pour the glasses out and return to the winery and work.
A few days later, we tasted 16 vintages of our Cabernet Sauvignon from 1997 to 2012 in two flights, beginning with the oldest wine. What we found pleased us – all of the wines were complex, rich and drinking wonderfully – so we had another tasting beginning with 1993 through 1997. And wow, even the 22-year-old wine showed no signs of decline! It was lovely with components of plums, mint, black trumpet mushrooms, cigar box and beef.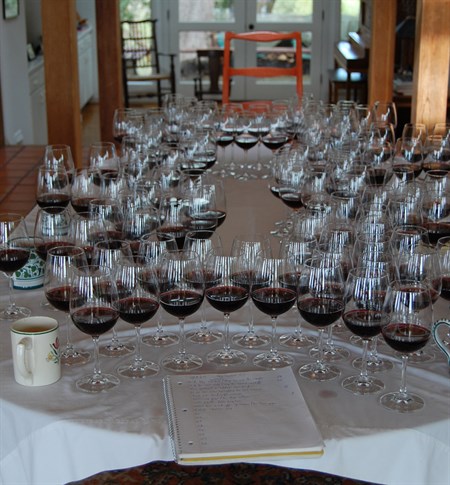 For me, the most exciting part of the tastings was the continuity of the wines; while each vintage did impose its mark in richness and weight, the overall flavor profiles, thanks to the consistency in vineyard practices and winemaking philosophy, were remarkably similar.