Name: Dick Hafner
Number of years at Hafner Vineyard: 50…from the very beginning
Department/Role: Founding co-partner/rain gauge reporter/rattlesnake dispatcher/expert fire builder/Hafner Vineyard counselor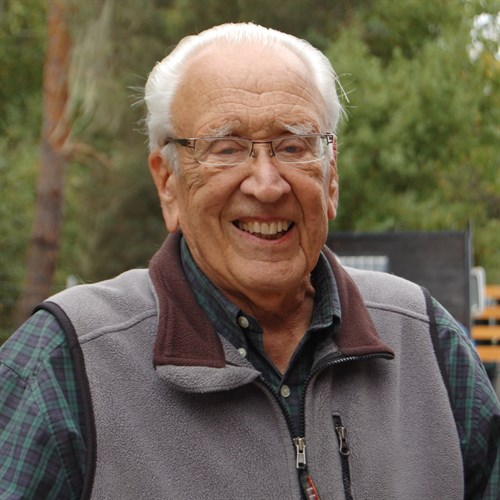 What's something most people don't know about you? I was the voice of the UC Berkeley administration during the 60s, 70s and 80s, including the Free Speech Movement and Vietnam. 
Where did you grow up? Missouri (1925 - 1933) and California (1934 - on) 
Favorite local restaurant: 50 years ago, my favorite restaurant was Catelli's in Geyserville, but now Healdsburg has so many great restaurants that it's difficult to select just one. 
What's your perfect weekend day look like? Warm, blue skies, billowy clouds, time in the vineyard or the garden. And maybe a trip to the coast with one of the next two generations. 
How else do you spend your free time? Gardening, writing a memoir, and enjoying having part of my family right around me. And meeting friends at The Flying Goat coffee house in town…keeping up with small town news.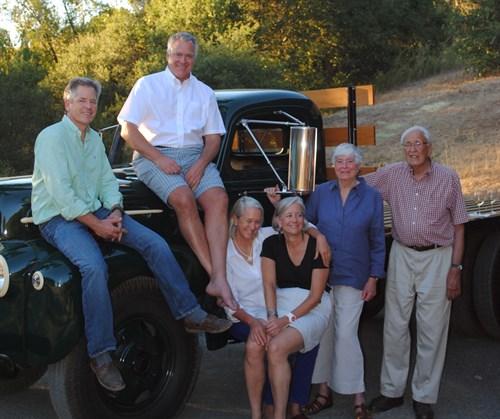 Our kids Parke, Scott, Julie and Betsy with Mary and me. On my 75th birthday, they surprised me by restoring the 1946 Ford that was here on the property when we bought the ranch.
Favorite Hafner wine (yes, just one!): The 1982 Cabernet Sauvignon, we had a jeroboam of the '82, and it had a beautiful bouquet. We opened it with the entire Hafner Vineyard crew at a lunch we had to celebrate our 50th Anniversary.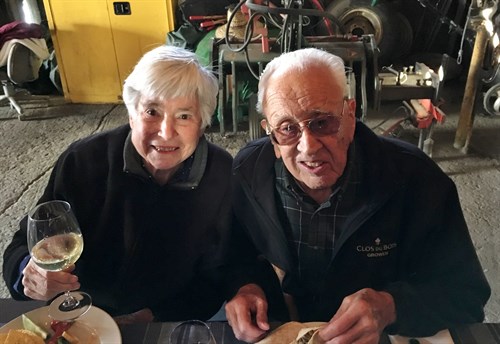 Mary and me at our 50th Anniversary lunch in January this year
What's the best part of being part of the Hafner Vineyard team? The best part is being with such caring and wonderful people in a beautiful setting, and creating something that will make people happy. 
What's the most exciting time of the year at Hafner Vineyard? No doubt the harvest! Because how good that year's wines will be depends so much on how the harvest is. We have been lucky that our harvests have been consistently good. 
What's the best part of living in Sonoma County? The beauty of the county. The fact that it is big enough to be convenient to live in and yet small enough to have feeling and emotion to it. 
Personal motto or saying that you live by: "Save it today, enjoy it tomorrow."
Favorite day of the year: Every day of the year. Well, I suppose the last day of harvest is the most exciting.
What's a memory of when you started working at Hafner Vineyard? There are so many, but two come to mind – one trying to get the business going and the other about working together with family.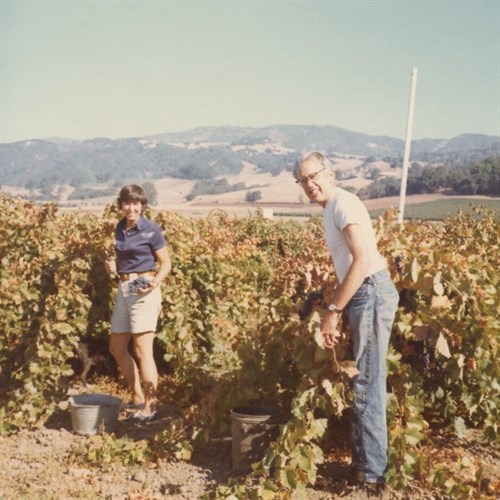 Mary and I harvest grapes in October 1974
In the 70s, I, myself, sold and delivered our grapes to wineries. Grape contracts then were not signed on paper, but sealed with a handshake or phone conversation. Things were much more relaxed. Once we had a few years together, the buyer and I became more relaxed, and we knew we could trust each other. Trust is the most important part. Nearly all of my grape sales were successful, although there were a few "teaching" experiences.
The second story reminds me how much time our family spent together at the ranch. All six of us (Mary, our four kids and I) were lying under Mary's tree (a large valley oak) getting ready to go to sleep. The vineyard manager's dog Tippy heard us from afar and came to visit. Shortly after, he saw a skunk and started herding it toward us. We were all nervous but luckily the skunk wasn't interested in us and waddled off in another direction. We loved sleeping outside and hearing the sounds of wildlife.
What's the craziest/funniest job you've done here? When we converted the orchard to a vineyard, I laid out most of the first 9,000 grape stakes. That was done on Saturdays over three weekends. Doing a job well gave me pleasure, no matter what the job was.  
How many times did you come to see the ranch before buying it? Just one
How many places did you compare it to? Zero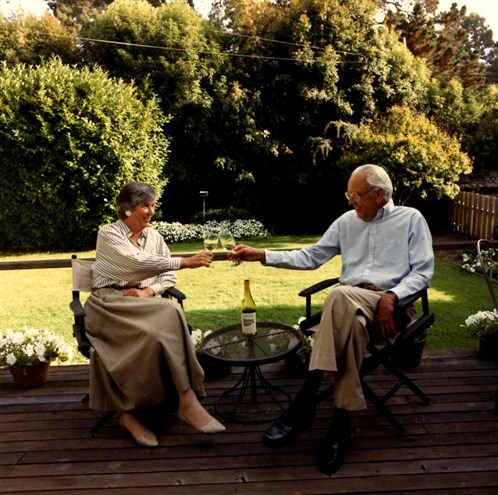 A Berkeley toast to Hafner Vineyard!