Sonoma County Grape Growers Foundation (SCGGF) Vineyard Employee Recognition Award honors outstanding vineyard workers monthly throughout the year. Each month focuses on a different category of vineyard work. We consider all of our vineyard team to be exceptional, hard-working and dedicated. This year we decided to nominate our three longest tenured employees: Gerardo Lopez, José Luis Lopez and Martín Aleman. All three won!
This past Saturday, they were honored at the Employee Recognition Celebration and David Huebel (our Vineyard Manager) and I had the privilege of joining them and their families.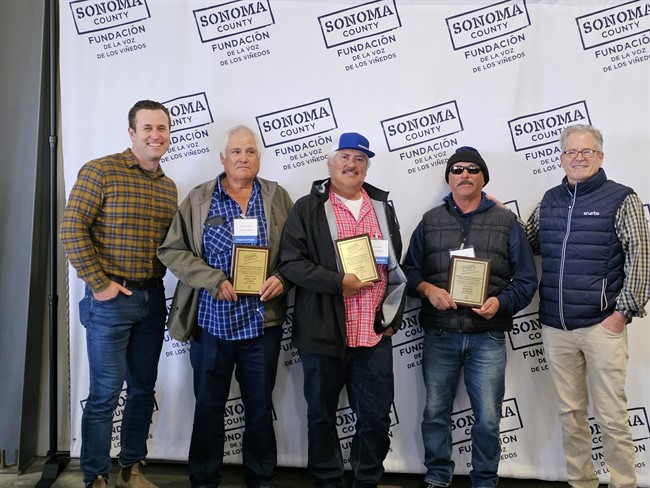 Gerardo was nominated for the category "Harvest". Over his 41-year tenure at Hafner Vineyard, he has mastered the operation of our machine harvesters. We have had three harvesters since 1982. Each successive harvester is more advanced and more technically complicated, and Gerardo adapted to each machine flawlessly. He knows when the harvester is not running smoothly and makes the necessary adjustments to ensure that the grapes are picked perfectly. He joined Hafner Vineyard in 1982 when the winery was built. At the lunch, he reminisced with me about building the barrel racks and crushing our first grapes.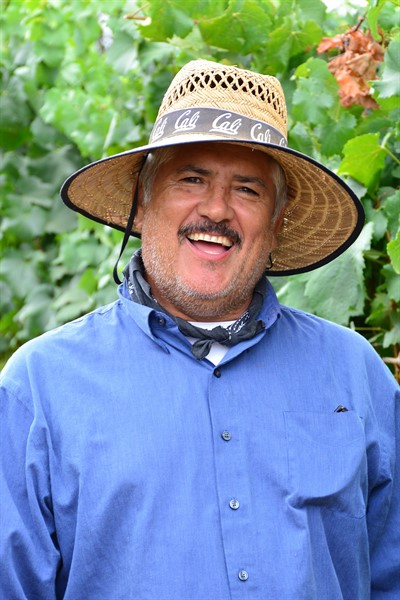 José Luis, Gerardo's brother, was nominated for the category "Canopy Management". José Luis not only knows how best to position shoots and where best to remove leaves, but more importantly he understands the significant impact this work has on wine quality. While he has worked fulltime for Hafner Vineyard since 1992, prior to that he worked for us part-time since the 1960's. He is our only employee who has worked with every one of our six Vineyard Managers. In his early years, he worked for Hafner Vineyard from 7 am – noon and then went to his fulltime job at Louisiana Pacific Mill in Cloverdale. José Luis works tirelessly; he has a nursery and fruit stand that he operates after work and on the weekends.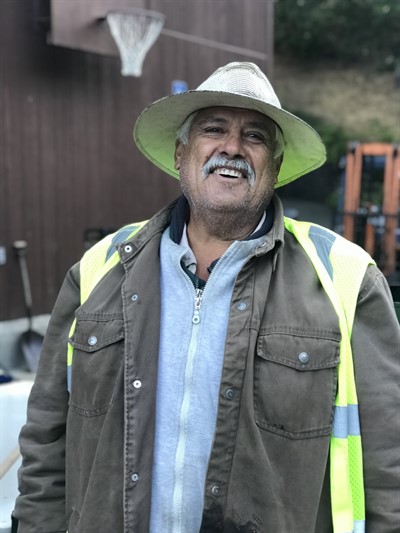 Martín was nominated for the category "Collaboration". He has worked with us for 30 years. He is our "Yes" man…the first to say "Yes" when something out of the ordinary requires attention whether it is taking a run to the recycling center or herding loose goats, Martín is always ready to help. Not only does he work in the vineyard, he also works on the bottling line and in the Shipping Department with Matt preparing the two-packs and cases that arrive at your home. A reserved man, Martín (like all our crew) is integral to our Hafner Vineyard team.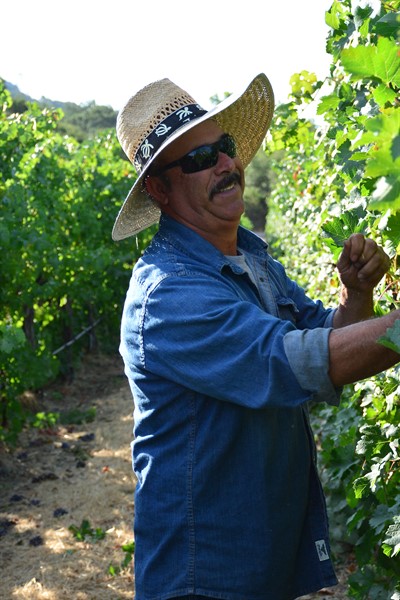 All told, these three men have worked a cumulative of over 100 years at Hafner Vineyard. Our entire vineyard team deserves the recognition as well. While some are brothers, sons-in-law, cousins, we consider all of them family. We are grateful to them for their dedication, enthusiasm, compassion, work ethic that makes Hafner Vineyard who we are.