Every day, no matter what, we stop work at 10am for "Break". Break is 15 minutes (okay sometimes 20) when everyone at the winery gathers together upstairs in our "break room" for a latte (for those who choose) and a quarter of a muffin or sticky bun from a local bakery. But Break is more than just a caffeine (and sugar!) boost. It's a moment to share time together, a moment to connect, a moment to appreciate the simple things in life, realizing that work is not everything. In a world that is so fast paced (and only getting faster), Break reminds us of the importance of slowing down and enjoying each other's company.

Break is when we celebrate birthdays, talk about weekend plans, share family news, read emails or notes from patrons, discuss what's happening in the vineyard and winery, brainstorm sustainability efforts and ask Siri challenging questions. (This is Parke's job… to ask Siri any questions we don't know the answer to. Her response is about 50/50, but we always have a good laugh.)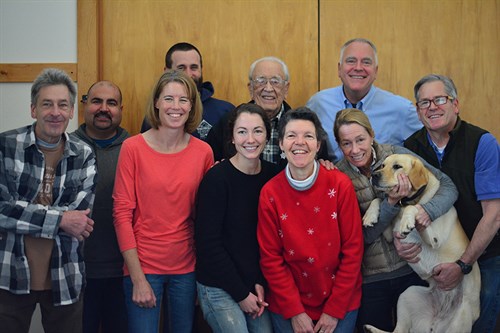 Celebrating Dick's 91st birthday on December 7, 2017
Most of our suppliers know exactly when Break is, placing their coffee orders with Parke and showing up right at 10am for the fun. Even in the midst of Harvest, we don't miss Break. Instead of being upstairs, we take everything down to the crushpad. That means we're all closer to the action, and it's a fun reminder of what our work is all about.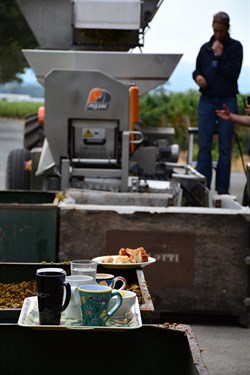 It's a special Break when we splurge to have donuts. This normally happens only around bottling (turning Parke's frowning/concentrated face into a smile) or when the other donut lover, Grace, is home.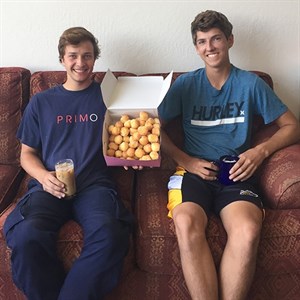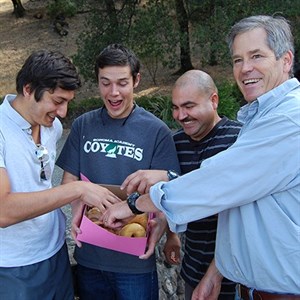 Last year's "Coupe de Donut Hole Competition" and the 2012 bottling team excited about donuts
Break has been deeply embedded in the Hafner Vineyard culture for decades. No one knows exactly when it started, but we do have photographic evidence that it's been a longstanding tradition. Here you see the crew enjoying Break outside during Harvest in 1990 and celebrating a birthday in 1989.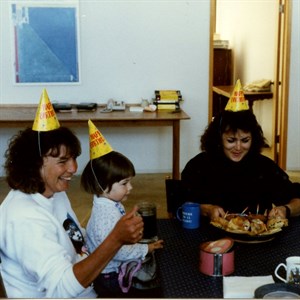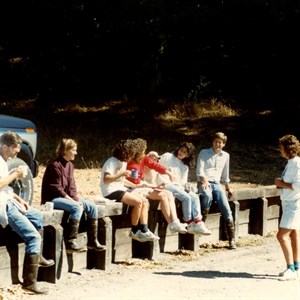 And Break definitely isn't going anywhere. We'd be seriously "hangry" (both hungry and angry) and caffeine deprived… we don't want that!