Name: Michele Osborne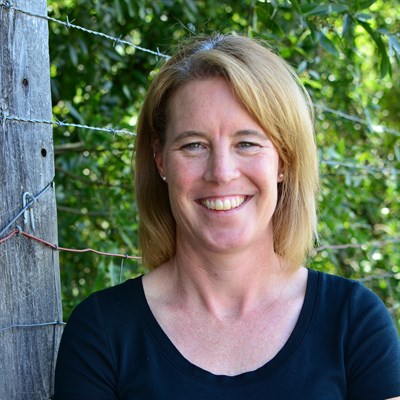 Number of years at Hafner Vineyard: Depends! My first job was the bottling line in 1989. It was my summer job during high school. My mom worked here, so I've worked on and off for a long time. I also babysat Parke and Sarah's daughter Kate for many years. (My mom worked here for ten years, starting in 1988.) Then I started part/full-time in 2003.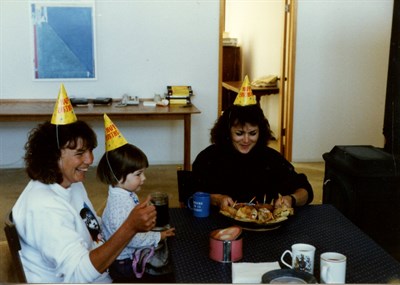 Breaktime Birthday Celebration 1989. My mom is on the left holding Kate.
Department/Role: Sales/Compliance/Cow Chaser/Any hat that needs to be worn – shipping, mailing, washing glasses, etc.
What's something most people don't know about you? I am a fifth generation Alexander Valley resident… on both my parents' sides. My family has been farming in the valley for 100 years. My great, great grandmother moved here around 1910.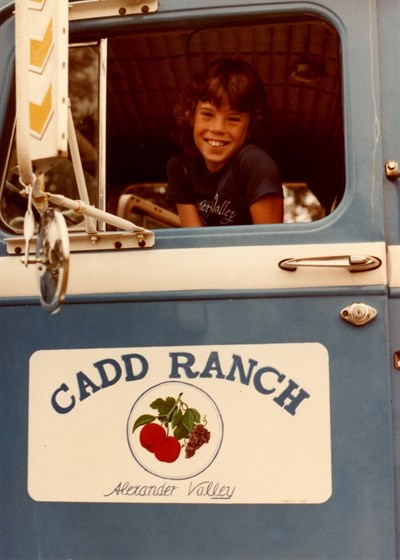 Helping out with harvest in 1983.
Where did you grow up? See above!
Favorite local restaurant: Catelli's in Geyserville (formerly the "Rex" as a kid… same place, same family)
What's your perfect weekend day look like? Spending the day with my family, which usually involves going to the races. Both our daughters have been racing "outlaw go karts" for the last two years. It's an all weekend event – one day of racing and one day of repairing and cleaning.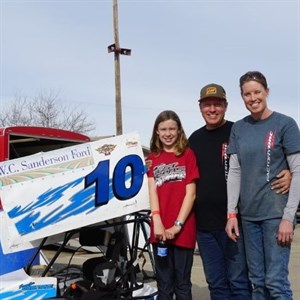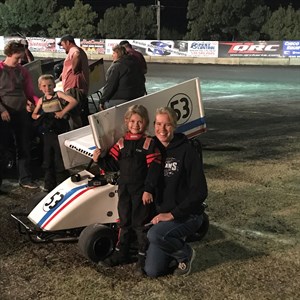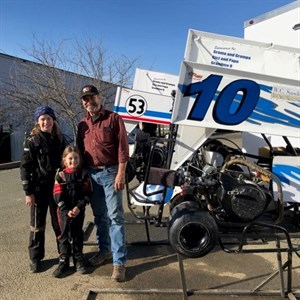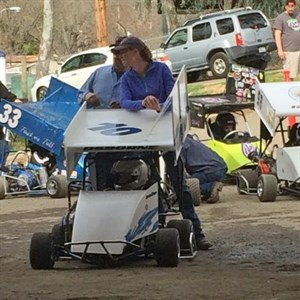 How else do you spend your free time? There isn't any other free time! I do love to garden. My grandparents (who live next door) and I share a large summer garden. 
Favorite Hafner wine (yes, just one!): The one that's open! Okay, well I guess if I had to choose… Cabernet Sauvignon
What's the best part of being part of the Hafner Vineyard team? First of all, I get to work with my cousin, Sandy. And it's also fun to be part of a group of people who take pride in what we make/sell.
What's the most exciting time of the year at Hafner Vineyard? Christmas! Because there's lots to do here in the office. We are constantly busy.
What's the best part of living in Sonoma County? Being able to live rurally and feel like part of a small community.
Favorite day of the year: Christmas. I have two kids!
What's a memory of when you started working at Hafner Vineyard? When I worked the bottling line, I remember breaktime and the donuts. There were four of us high schoolers who made sure there were no donuts left at the end of break. (Each box held at least a dozen donuts.) We also had one-on-one basketball games with Parke at lunch time.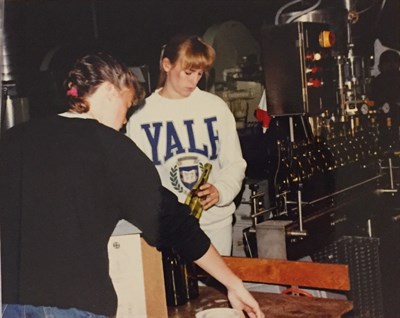 Bottling line 1992. I'm on the left and my cousin/Sandy's sister, Tracy, is on the right. 
What's the craziest/funniest job you've done here? Last summer, I was at work and a cow escaped from the hillside pasture above the winery. She was in the creek and then wandered into the vineyard rows, which made it pretty difficult to herd her. With the help of the French intern, we managed to coax her through the row a quarter of a mile. After two hours of this, we finally got her to turn up the road and into the pasture. She was happy to be back home and her calf was even happier!