Explaining in writing how our wines age can be difficult to comprehend. Actually tasting the differences between vintages gives you a chance to see the aging process in action. That is why we often have vertical tastings, both at the winery for education purposes and at home with family and friends.
Inspired by my internship in France, I aim to replicate their style of winemaking by making wines that both age well and pair well with food. Enjoying a vertical tasting of Cabernet Sauvignon is a perfect way to experience this. We conservatively suggest that our Cabernets will age well for 15 – 20 years from their vintage date.


One of my great joys is being able to share a vertical of Cabernets with friends and family over a delicious meal. At the winery, we always hold back some cases from every vintage so that we can re-release them later and offer the opportunity to our patrons to taste these older wines with their friends and family.
When hosting a dinner party with six or more people, I often think about which Cabernets I will share. 
Here are five tips for hosting your own Cabernet Vertical Tasting:
It's best to choose vintages of Cabernet that have two or more years between them. This will help demonstrate the differences more. Since our winemaking style is consistent year-to-year, and we farm all our grapes the same, the variation can be subtle. A larger spread between vintages will highlight the impact of aging.
We serve the youngest Cabernet with our main course, the medium aged wine with cheese and salad and the oldest one with chocolate. The younger Cabernet will have stronger tannins and structure that will complement the main course's bounty of flavors. The oldest Cabernet will be soft and supple that is perfect with chocolate.
Or you can do a side-by-side comparison to start off the party. That way you can invite your guests to enjoy whichever vintage they prefer with their meal. In this scenario, I would suggest setting up the way that we do here when we are tasting for analytical purposes. We taste the vintages oldest to youngest. Since the older wines are softer and more delicate, we taste these first. The younger ones have richer fruit flavors, but can be more tannic which tend to overpower the older vintages.
Another fun part of vertical tastings is thinking about what happened in your life during the year the wine was made – whether it's the year a child was born or when you started a new job or moved into a new home.
One interesting element of a vertical tasting is to see how each wine evolves as the evening progresses. Is the wine you liked at the beginning of the tasting, still your favorite at the end of the meal?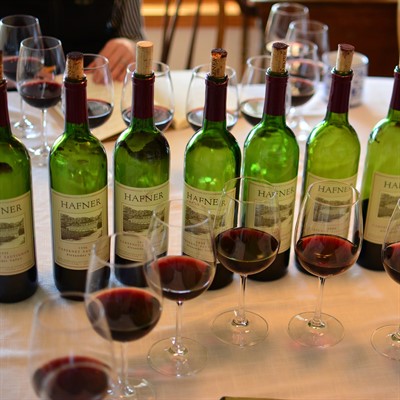 Every year at the winery, we have an annual tasting of 16 vintages of Cabernet to see how the wines are aging. It's during this tasting that we make notes on their progression and then we share our thoughts on our website. Each year I'm always surprised by at least one wine; this year it was the 1998. To read notes on a specific vintage, visit this page, then select the wine you are interested in and the vintages will all be listed on the left side. Choose the vintage then scroll to the bottom to see our most recent tasting notes.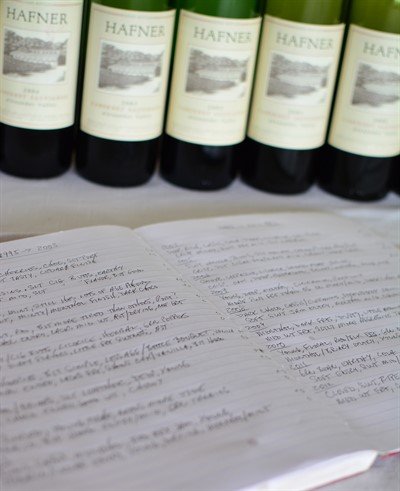 Each Holiday Season, we share with patrons a Wine Library Cabernet Collection that includes three different vintages of Cabernet Sauvignon. This Collection offers the unique opportunity to try a Vertical Tasting. This tasting will wow your friends. Few people have the opportunity to taste different vintages from the same vineyard made by the same winery side-by-side. We selected these vintages because the spacing between them demonstrates different stages in the life of a Cabernet. Also the differences are more pronounced than consecutive vintages.
I enjoy hosting vertical tastings because it allows me to dig through my cellar, find fun wines to compare and prepare a meal that complements those wines. Preparation for the tasting is just as much fun as the actual tasting. While I am in the business (and I have to taste a lot!), I try to have some tastings that are not serious endeavors, but rather a great way to get together with family and friends. I encourage you to try the Wine Library Cabernet Collection we have selected for you to enjoy. Let us know what you think!