Patrons and other visitors to the winery get a close-up view of how a small, working winery operates. Knowing that many people aren't able to visit because of distance, we "took the roof off" the winery to give a bird's-eye view of the cellar.
What you see is the south end of the winery – the cellar where Parke and his crew make wine. It is a snapshot of a day we are harvesting Chardonnay fruit.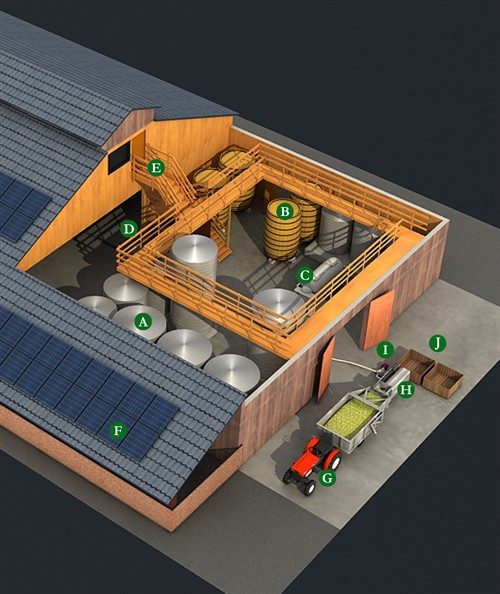 A. Eleven stainless steel tanks are used for fermentation of red wines and some lots of Chardonnay, plus blending and preparation for bottling.
B. Four French oak tanks purchased in the early 1980's provide additional storage, mainly for red wines.
C. Our German wine press is in operation for about two weeks a year, spread out over 2½ months during Harvest.
D. Parke's work bench, built by the winemaker himself, holds supplies and tools and is the location of many quick cellar tastings.
E. Stairs lead to the second floor where Parke's Wine Lab is, along with offices for the rest of the winery crew.
F. Solar panels provide 40% of our energy.
G. Right from the vineyard, a tractor delivers a gondola full of Chardonnay grapes.
H. Our French fruit sorter separates the grapes from any leaves and stems.
I. The pump moves the grapes from the fruit sorter into the press (C).
J. These bins at the end of the fruit sorter (H) collect all the stems and leaves, which will be composted and added back to the vineyard soil.
The bird's-eye view is fun but no substitute for visiting Hafner Vineyard in person. We hope to welcome you to Alexander Valley! To learn more about the cellar and our winemaking practices, click here.